Posted on
Thu, Apr 22, 2010 : 11:15 a.m.
Eat garlic mustard for Earth Day
By Edward Vielmetti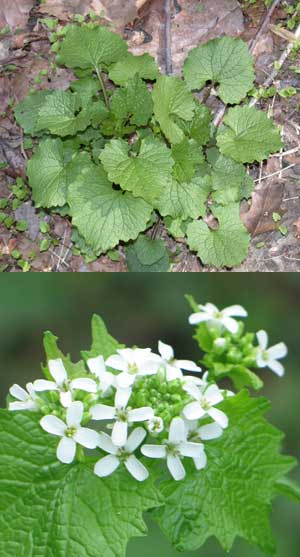 Courtesy National Park Service
"What is a weed? A plant whose virtues have not yet been discovered." Ralph Waldo Emerson, "Fortune of the Republic,"1878.
Every year my backyard turns from brown to green in the spring, and for the first few years after my first child was born I was just glad that there was something growing on its own. My parents came down to visit one spring and they discovered much to my horror that the pretty green plants that grew in such profusion all by themselves were really garlic mustard, a prolific weed.
Bless their hearts, they helped me pull out five big black plastic bags of garlic mustard that spring, and since then I've been celebrating Earth Day by making sure that the back yard gets its annual garlic mustard pull. Every year I also make a point of making some small recipe to eat some of this unwanted bounty.
The first record of garlic mustard in the U.S. dates back to 1868 on Long Island, NY, according to the University of Maine Extension service report on the plant. Here's more information on this plant, how to recognize it, how to eradicate it, and how to make it palatable for an annual ritual meal.
What is garlic mustard?
Garlic mustard (Alliaria petiolata) a biennial flowering plant in the mustard family, Brassicaceae. It grows for two years; the first year, it has green leaves close to the ground, and in the second year it grows up to 3 feet high. You'll see white flowers this time of year at the top of the stalk, and if you don't pick them they will go to seed and scatter the seed around in the summer.
The Wikipedia page for garlic mustard is a reasonably complete introduction, written from both the perspective of Europe, where the plant is native, and from the Americas, where it's an invasive species.
Where does garlic mustard grow?
Garlic mustard likes to grow in rich, moist, shady and forested areas. It grows in great colonies, and if it's left to spread on its own each year it will cover a greater area. The habitat of garlic mustard is similar to that of other, more desirable species like jack-in-the-pulpit, morel mushrooms, liverworts, toothworts, solomon-seal, trilliums, trout lilly, sweet-cisley and others. It outcompetes them by growing more aggressively year-round and by releasing compounds which effectively poison the soil, making the land more suitable for garlic mustard and less suitable for everything else.
Michigan State University Extension has a guide on garlic mustard subtitled "stopping this woodland pest," which gives more details on control.
Recipes
Garlic mustard was introduced deliberately, so there must be something good about it. Here's some suggestions on how you can control its spread by eating it.
Garlic mustard is not a delicately flavored herb, so in most cases you will look for a recipe where you can mix it in in smaller proportions with some other greens as part of a mix.
Linda Diane Feldt's book Spinach and Beyond: Loving Life and Dark Green Leafy Vegetables (Moon Field Press) has some sample recipes for cooked greens that will work with garlic mustard. Use garlic mustard in a proportion of 1-to-4 in recipes like this; you don't want to eat it straight if you have a choice.
Aromatic Greens

Serves: 4-6.
Time: 5 minutes to prepare, 20-30 minutes to cook.
Type of dish: side.
Equipment: basic.
Leftovers: use within 3 days, can be frozen.
Ingredients: asafetida, cumin, coriander, cardamon, cloves, cinnamon, tumeric, 2 bunches greens or 2 packages frozen.

In a large skillet, use about 1 cup of water. Add 1/8 teaspoon asafetida, 2 teaspoons ground cumin, 1 teaspoon ground coriander, 1 teaspoon ground cardamon seeds, 1/2 teaspoon ground cloves, 1/2 teaspoon ground cinnamon, 1 teaspoon tumeric.
While simmering, wash and sort through the two bunches of greens. Spinach, kale or collards are best. Tear or chop into bite-sized pieces. Or use two packages of frozen greens. Add to skillet and cover. The cover may not fit right away, stir occasionally until they are reduced in size and the cover settles. Let saute covered, on low heat for at least 20 minutes or until very tender. Stir a few times, add more water if needed.
Remove from heat and blend in about 3/4 cup yogurt.
Used with permission from the book "Spinach and Beyond: Loving Life and Dark Green Leafy Vegetables" by Linda Diane Feldt www.moonfieldpress.com
Pesto
I'm not going to recommend a specific pesto recipe for garlic mustard, because it's not basil season here, and in almost any pesto recipe you can sneak in a few leaves of garlic mustard. You won't consume enough garlic mustard in pesto to make any kind of dent in the forest. If you're brave you can try "Wildman" Steve Brill's garlic mustard pesto, which incorporates the taproots of the garlic mustard which are said to taste similar to horseradish.
Cyanide
Garlic mustard, unlike most other members of the Brassica family, contains measurable levels of cyanide, and thus it must be consumed with some measure of caution. Garlic mustard is not the only plant containing cyanide that is still consumed by people; cassava root must be competently prepared to avoid getting sick from the bitter cyanide compounds in it, and bitter almond kernels and apple seeds also contain trace amounts.
In addition to seasoning your garlic mustard mix with strong flavored spices, it's generally recommended to cook it or serve it with something acidic, like lemon juice or vinegar. I wasn't able to locate a source that referred to this style of preparation as a way of neutralizing the cyanide compounds, but I'm looking for someone who has connected these two observations together. You might also cook the greens in a change of water, in order to pull off the bitter compounds in the cooking liquid.
Eradicating garlic mustard close to home
The City of Ann Arbor's Natural Area Preservation unit is hosting its 12th annual Garlic Mustard Weed-out Day on May 1, from 10 a.m.-1 p.m. Volunteers will gather at any one of 13 parks in the area to pull garlic mustard from the parks, and the event is capped off by a barbecue at Leslie Science & Nature Center from 2-4 p.m. Bring your best garlic mustard recipes to share.
More links
In an effort at completeness, here are a bunch more links to garlic mustard information online:
I first spotted garlic mustard this season at Parker Mill Park in March.
Last year, there was garlic mustard in the planter near Caribou Coffee on East Stadium. Note to self: pull these if you see them again.
The Garlic Mustard Pickers is a Wisconsin based traditional music group.
The Ohio Nature blog has a video on garlic mustard identification and control.
The Wildflower Association of Michigan has a page of garlic mustard photos to help you identify the plants.
Edward Vielmetti pulls garlic mustard for AnnArbor.com, and sometimes eats it. Contact him at edwardvielmetti@annarbor.com.