Posted on
Thu, Mar 25, 2010 : 11 a.m.
A look at the Michigan Militia, then and now
By Edward Vielmetti
Bridgewater Township officials turned to members of the Michigan Militia for help in search and rescue operations in January and February.  After the January effort, militia member James Schiel issued an incident report to Liberty Tree Radio with details of the effort 
Today I've compiled a set of links to Michigan Militia activities, both during its peak period of activity in the 1990s and now. The focus is on two individuals who were key to the early era of the Michigan Militia, which had its peak of popularity in 1995: the founder of the movement, Norm Olson, now in Alaska; and the voice of the movement, radio broadcaster "Mark from Michigan," Mark Koernke of Dexter who runs Liberty Tree Radio.
Norm Olson, Michigan Militia founder, now in Alaska
Michigan Militia founder Norm Olson is now a resident of Nikiski, Alaska. The Anchorage Daily News of March 19 reports on a meeting he organized calling for for armed militias to be ready to resist "tyranny" by the federal government. The Redoubt (Alaska) Reporter gives an account of this meeting "buoyed by abundant doughnuts donated by The Moose is Loose bakery in Soldotna," and quotes Olson as saying "Are you more frightened of me, are you more frightened of the Alaska Citizens Militia, are you more frightened of the uniforms than you are of the federal government — the tyrants, the oppressors that are coming our way? That's the question you must ask and answer."
Olson first hit the national news scene in 1994, when an Associated Press story, printed in the Petoskey (Michigan) Daily News, said "We're not here playing soldier, we're not foolishly looking for trouble ... but tyrants should know that they will be met by force".
An account of the decline of the militia movement in 2001 following the bombing of the Federal Building in Oklahoma City by Timothy McVeigh quoted Olsen as a former militiaman, saying "The militia grew because of fear, and without fear, the militia will recede. People have the feeling George Bush is America's savior. They have cable TV, and the beer's cold."
Mark from Michigan, back on the air in Dexter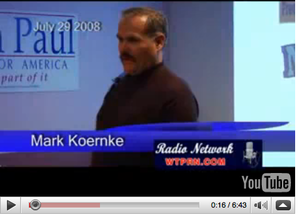 A 1995 Washington Post story, syndicated in the Milwaukee Journal-Sentinel, tells of Mark from Michigan, a University of Michigan maintenance worker who by night ran an hour-long shortwave radio broadcast that the story described as "whose talk is so violent they're shunned by even the most far-right citizens' militias."
Mark Koernke was imprisoned in 2001 after fleeing the scene of a bank robbery and leading police on a 50 mile chase. Judge Melinda Morris sentenced Koernke on charges of assault with a dangerous weapon, resisting and obstructing an officer and fleeing a police officer. Washtenaw County Assistant Prosecutor Rolland Sizemore III tried the case. On March 15, 2007, Koernke completed his sentence and was released from prison.
After Koernke's release from jail, he went back online and on the air under the name of Liberty Tree Radio, broadcasting from Dexter. Koernke is back broadcasting on shortwave radio with a show called The Intelligence Report, which runs from 6-7 p.m. on 9.265 kHz.
Edward Vielmetti writes for AnnArbor.com. Contact him at edwardvielmetti@annarbor.com.