Posted on
Fri, Apr 19, 2013 : 5:59 a.m.
251-unit apartment project proposed for Traverwood Drive raises concern at public meeting
By Lizzy Alfs
The development team behind a 251-unit apartment project proposed for Ann Arbor's Traverwood Drive met with about a dozen community members Thursday night to detail plans and receive public input.
The majority of attendees at the citizen participation meeting raised concerns about how the development, proposed for a vacant property at 2225 Traverwood Drive, will affect or eliminate the site's natural features.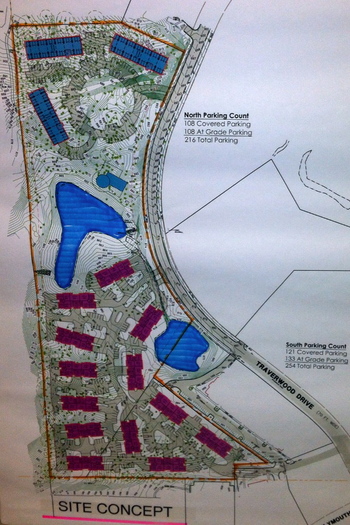 Lizzy Alfs | AnnArbor.com
"This is a magical portal right in the middle of Ann Arbor," long-time Ann Arbor resident Tanya Brown told the developers. "There are habitats of animals out there. You've been sitting on this land for (more than 20) years. You know it is precious, precious land."
Ann Arbor's First Martin Corporation has owned the land since the 1990s and is proposing the project. It's divided into two parts: the north end of the property would have three four-story buildings, and the south side would have between 11 and 13 two-story buildings. Existing wetlands and a community building would separate the north and south sides.
Plans are still in the preliminary stages, but the project would have about 251 one-and-two-bedroom units that would range in size between 550 square feet and 1,250 square feet. Pricing has not been determined.
Two parking spaces would be provided per unit in either attached garages or interior parking underneath the buildings. A portion of the site would require a rezoning from office/research to multi-family.
First Martin's Mike Martin told attendees that the timing is right to build apartments.
"The occupancy rates across Ann Arbor have been very high…I also think there are a number of people saying the area is expected to grow from an employment standpoint," he said.
Mitchell Bleznak, co-founder of Bleznak Real Estate Investment Group and the owner of apartments in the area, said a project like this is "definitely needed."
Lizzy Alfs | AnnArbor.com
"I think you're doing something very useful for the community and I think it's a good thing," he said. "It's very well needed and there is growing demand."
Because the property neighbors both Stapp Nature Area and the Leslie Woods Nature Area, some attendees at the meeting requested that First Martin reduce the scale of the project.
"My major concern has to do with the trees to the north of the site," said attendee Clark Charnetski. "I would personally rather have you go to greater height on the buildings on the south end in order to eliminate some of the buildings on the north end…because then you'd be able to keep more of the trees."
James Sharba of Hobbs + Black Architects showed attendees a variety of building layouts the developers considered for the site, but said the attached garages and interior parking was the best way to retain some natural features.
Added the project's civil engineer, Earl Ophoff of Midwestern Consulting: "It's about where is the financial feasibility as well as the physical feasibility."
Another attendee asked if First Martin would consider donating the land instead of developing apartments. The company donated the Stapp Nature Area property to the city about a decade ago.
"It would be very good karma," Brown said.
Courtesy photo
Nearby resident Lisa Dusseau pointed out that residents have been utilizing the First Martin property as a park area for years, and to have that taken away is "really disappointing."
Other concerns raised by attendees included:
Whether there is demand for more apartments in the area
How Ann Arbor is becoming overdeveloped
"I'm not against the development; it's your property. But along with our other pleas for the trees and stuff, sometimes smaller is better," said Peggy Rabhi, a park steward for Leslie Woods. "And again…are we going to wind up with some of these buildings empty?"
Brown added: "I'd just like First Martin to remember that Ann Arbor is tree town. It's tree town for a reason, and we really don't have that many trees left right here…we are your neighbors. I sure would like to be able to go back there and visit the trees and the animals."
Martin told AnnArbor.com the development team will consider residents' feedback and how to incorporate it into the plans. He said they likely won't remove the buildings on the north end of the site, but might try to rearrange them so there is less impact to the nature area.
Lizzy Alfs is a business reporter for AnnArbor.com. Reach her at 734-623-2584 or email her at lizzyalfs@annarbor.com. Follow her on Twitter at http://twitter.com/lizzyalfs.