Posted on
Tue, Apr 16, 2013 : 5:58 a.m.
First Martin proposes 251-unit apartment project on Ann Arbor's north side
By Lizzy Alfs
An Ann Arbor real estate company wants to construct a 251-unit apartment development on a vacant property on the city's north side.
First Martin Corporation will host a citizen participation meeting Thursday to discuss its plans for 2225 Traverwood Drive, which is just north of Plymouth Road and south of the Traverwood library branch.
According to a notice circulated to residents living within 1,000 feet of the property, First Martin is proposing 251 apartments distributed among 11 two-story buildings and three four-story buildings. The two-story buildings would have 13 units each, and the four-story buildings would have 36 units each.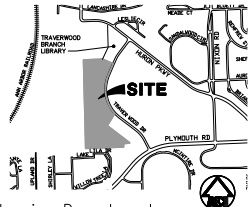 Two parking spaces would be provided per unit in either attached garages or interior parking underneath the buildings. A portion of the site would require a rezoning from office/research to multi-family.
"I think that there is obviously existing demand if you look at occupancies of apartment communities in Ann Arbor," said First Martin's Mike Martin. "I think if we look at the community in general with all the positive news and job employment growth, from a long-term standpoint, (this development) really makes sense."
First Martin has owned the property since the 1990s and it owns an office building adjacent to the site. Martin said the company was waiting for the right time to build apartments.
"I just think that we've always seen that as a great multi-family site," he said.
He added: "I think there has been a little bit of that switch in the world where people are more open to renting than owning."
First Martin is still working on the preliminary plans, and Martin said details on unit size and demographics will be determined as the project moves forward. He said the apartments would not be targeted toward University of Michigan students.
The news comes on the heels of increased housing activity on the north side of Ann Arbor; Trowbridge Companies announced plans in February to build 19 homes on the unfinished Hideaway Lane site, and Ann Arbor's McKinley Inc. purchased and renovated two apartment buildings on the north side in 2012.
First Martin — which has an extensive commercial real estate portfolio — hasn't developed an apartment building in 28 years. First Martin owns Homestead Commons Apartments and Mill Creek Townhouses, and Farmington Hills-based Village Green manages those buildings.
Village Green could manage the new apartment development for First Martin, but First Martin would retain ownership of the property, Martin said.
"We are long-term owners and developers," he said.
The citizen participation meeting is scheduled for 6 p.m. on April 18 at the Traverwood library branch where the developers will discuss the project and solicit public feedback.
Lizzy Alfs is a business reporter for AnnArbor.com. Reach her at 734-623-2584 or email her at lizzyalfs@annarbor.com. Follow her on Twitter at http://twitter.com/lizzyalfs.