Posted on
Mon, Sep 13, 2010 : 1:45 p.m.
34 tax-foreclosed properties in Washtenaw County head to auction this month
By Paula Gardner
The vacant gas station on the corner of Platt and Packard in Ann Arbor may not look like a gem: Deserted and dirty, it's been closed all year.
But the location - and the building's potential after cosmetic improvements - land it among the hottest properties on this month's Washtenaw County online tax foreclosure auction.
"It's one of the ones that we have gotten the most interest in," said Washtenaw County Treasurer Catherine McClary.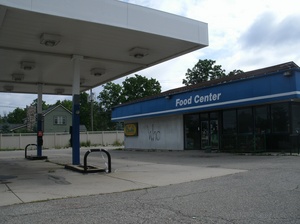 Paula Gardner | AnnArbor.com
The minimum bid for the property is $84,194, compared to its estimated market value based on the assessment: $625,800.
The starting bid of this property and all of the 33 other parcels put up for auction by the treasurer reflects a minimum price that covers all back taxes and fees associated with the tax foreclosure.
The sale, McClary said, covers the delinquent tax payments and associated fees from the online auction company, Bid4Assets.com.
"We don't try to make a profit," she said. "… We try to break even so taxpayers are made whole and the property goes back on the tax roll for a productive use."
The tax foreclosure auctions start at 10 a.m. Tuesday for 31 parcels, with staggered end times and dates:
• Vacant land auctions end at Wednesday; 16 parcels are up for bids, including 5 in Ypsilanti Township and 4 in Ypsilanti.
• Eight residential properties - 5 of which are in Ypsilanti - will be auctioned through Thursday.
• Seven commercial property auctions - including a building on 3.82 acres in Superior Township in addition to that gas station in Ann Arbor - will be active until about noon on Friday.
Then a second round starts next Tuesday involving three multifamily housing properties:
• 33 acres in the Wellesley Gardens condominium complex in Pittsfield Township, where 218 units have been approved for this unbuilt 2nd phase.
• 31.47 acres in Milan, where Delcor Homes once envisioned phasing more construction of its Uptown Village development. The minimum bid is $193,327.
• 63 townhouses in the 151-unit Liberty Square complex in Ypsilanti Township, with a minimum bid of $299,926. Her staff has visited every property multiple times
The conditions of the properties vary, McClary said.
"There is some very good vacant and agricultural land," she said.
One example: two parcels on Stony Creek in Ypsilanti Township that are being farmed.
Among the buildings listed is a commercial building in downtown Milan located at 271 First Street.
The property had been owned by Progressive Textile Inc. , which paid $182,547 in 2005, according to county records.
"The windows are (not boarded up), the roof is intact and it's right in downtown Milan," McClary said.
A house on Faust Court in the Bryant School neighborhood of southeast Ann Arbor may appeal to buyers due to the price - the minimum bid is $24,056.
However, McClary said, the home is fire-damaged. City officials recommended rehabbing the property, but a buyer could demolish it.
And in Liberty Square, the township condemned the entire property and is pursuing legal remedy against the owners due to multiple code violations. Due to those issues - which include leaking roofs and mold infestations - the purchaser is likely facing a tear-down scenario.
"Whether condemnation has been finalized or not," McClary said, "they probably have to be demolished."
The estimated cost of that demolition on a per-unit bases is $10,000, she said.
While the property has an estimated market value of $822,000, "the place has been let run down for so long, I don't see how it could be worth that," McClary said.
The other two development properties in the auctions that start next week could yield a barometer of how investors view local vacant land.
Both the Wellesley Gardens and Uptown Village properties indicate how some national builders missed the market when Washtenaw County new home construction soared in 2003 and 2004, said Maureen Sloan, CEO of the Builders & Remodelers Association of Greater Ann Arbor.
Going through the approval process could take up to 5 years, she said.
"And no one expected the recession to last as long as it did," she added.
So some high-density projects - particularly in outlying areas - got into trouble when the demand didn't meet the number of units a developer needed to sell.
Today, there are thousands of lots available in the county, many still held by builders and lenders.
And while new construction is fighting its way back - particularly as the inventory of resale properties drops - it's still growing by the dozens and not hundreds, leaving plenty of vacant land and little appetite to buy it.
The results of the tax foreclosure auctions could be telling, experts said.
''At some point someone will buy it up," Sloan said of those parcels and others that face inactivity. "The market's not there right now."
This round of auctions follows another one in July. In that auction, 28 properties sold; this month, 15 that went unsold then will be repackaged for a second try.
Paula Gardner is Business News Director of AnnArbor.com. Contact her at 734-623-2586 or by email. Sign up for the weekly Business Review newsletter, distributed every Thursday, here.