Posted on
Wed, Nov 21, 2012 : 5:58 a.m.
A Black Friday strike? It could happen, and it's legal
By Ben Freed
As retail stores continue to move Black Friday hours earlier, there have been some rumblings of dissatisfaction from employees at the country's major chains over the increased hours and lack of holiday time.
Walmart and Target have been at the center of the controversy. Petitions asking retailers to change their minds about opening on Thanksgiving Day have garnered hundreds of thousands of signatures on Change.org and there have even been some low-level walkouts at Walmart stores around the country.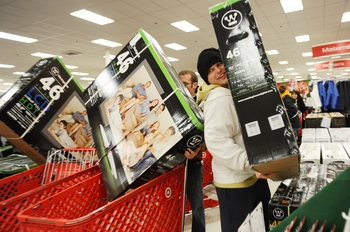 Melanie Maxwell | AnnArbor.com
Roland Zullo
, a labor expert at the
University of Michigan Institute for Research on Labor, Employment and the Economy
, said that Walmart has a long history of being hard on workers and heavy-handed in ensuring that their stores remain union free. However, from what he's heard, the current strike threats and walkouts have less to do with organization than with protesting specific pay and working condition issues.
"This is an important protest, it really is important for our times," he said.
"This is a group of workers who are not saying they want a union, they're just protesting their treatment in the workplace, which they have a perfectly legitimate right to do."
Groups such as OURWalmart and the Corporate Action Network have been attempting to convince workers in as many stores as possible to take some form of action on Friday.
The CAN website lists Black Friday "events" scheduled across the country. There is an "Occupy Black Friday" protest scheduled outside a Walmart in Kalamazoo that has a leader and is listed as the top event on the website.
A spokesman for the United Food and Commerce Workers union, a union that has a particularly bitter history with the retail giant, said that while the union has helped Walmart organizers in an advisory capacity, there has been no monetary support and no effort to unionize workers as part of these demonstrations.
A Walmart franchise in Quebec was shut down in 2005 after workers at the store decided to join with the UFCW.
"The UFCW has had a longstanding interest in trying to organize Walmart," Zullo said.
"The reason is that when Walmart stores come into an area they often undercut wages and negotiated conditions that unions have achieved in other retail areas. They represent the bottom of the labor market and labor wants to pull that up."
Walmart has taken the first legal action in the dispute over holiday hours. The company filed an unfair labor practice charge with the National Labor Relations Board on Thursday alleging unlawful attempts to disrupt business by the UFCW.
According to a report in the Christian Science Monitor, union officials were unimpressed with the claim and expected the NLRB to dismiss the suit.
AnnArbor.com inquiries left for the corporate offices of Walmart and Target were not returned.
Zullo said that future legal challenges could come if any Walmart employees are fired for protesting or striking on Black Friday.
"What many workers don't know is that you do not have to be in a union to engage in what is referred to as 'protected concerted activity,'" he said.
"Private sector labor law in this country protects certain concerted activity, meaning you can't be fired for engaging in it."
Zullo said protected activities including walking out or striking to protest unfair working conditions.
"If a group of workers tried to trash the store in protest, that would be unprotected," he said. "But to my knowledge, there's been no violence involved and it seems like they might just not show up, or be in front with signs."
Workers protesting or not showing up "together" could also be a crucial part of future legal action.
"The key is it has to be collective," Zullo said.
"The law protects concerted activity. So if one person does it, they're likely on their own. If a group does it, it really forces Walmart's hand. If Walmart then goes after those workers it could be bad for the store from a legal, monetary, and reputation standpoint."
Walmart has been adamant publicly that the number of employees who may take action is miniscule compared to the wide scope of the company. Zullo said he couldn't put a number on how many it would take to form a critical mass of protest that would affect the store, but workers are maximizing their leverage by using Black Friday.
"This is the biggest shopping day of the season. If a group of workers did do this, they certainly would have chosen the right day for impact," he said.
"I think the larger issue for Walmart is one of reputation. The bigger the story gets, the more likely it is that people will decide to shop elsewhere ... . The larger effects would come down the line."
Ben Freed covers business for AnnArbor.com. You can sign up here to receive Business Review updates every week. Reach out to Ben at 734-623-2528 or email him at benfreed@annarbor.com. Follow him on twitter @BFreedinA2