Posted on
Tue, Nov 13, 2012 : 5:58 a.m.
It's official: Black Thursday is the new Black Friday
By Lizzy Alfs
Melanie Maxwell | AnnArbor.com
Remember the days when, after a big Thanksgiving Day dinner, a game of football and some quality family time, you could catch a little shuteye before hitting
Black Friday
sales early in the morning?
Kiss those days goodbye.
Brick and mortar retailers, in an effort to compete with online shopping giants and bargain-hungry customers, are pulling out all the stops this holiday season to attract shoppers.
And for many big-box stores and malls, that means opening earlier than ever.
Several retailers already have announced plans to open as early as 8 p.m. on Thanksgiving Day, including Walmart, Sears and Toys R Us.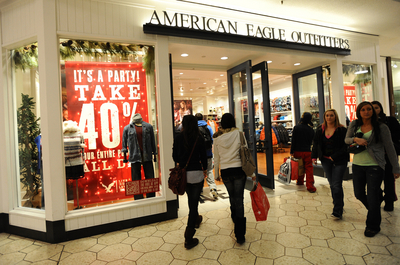 Melanie Maxwell | AnnArbor.com
Target follows close behind, with plans to open at 9 p.m. on Thanksgiving Day — three hours earlier than last year.
For shoppers, that means an early start on Black Friday's "doorbuster" deals. It also means people could finish their Black Friday shopping before the clock even strikes midnight.
But for employees, it means possibly missing out on Thanksgiving Day festivities and getting stuck with long overnight hours on the holiday.
For that reason, thousands of people petitioned Target last year to get the retailer to cancel its midnight opening for the sake of its employees — but that effort clearly didn't phase the Minnesota-based retail chain.
In Ann Arbor, Briarwood Mall is planning its earliest Black Friday, with doors opening to shoppers at 12 a.m. In 2011, Macy's and 21 other Briarwood retailers opened at midnight, while the rest of the shopping center waited until 4 a.m. to open.
Mall manager Ida Hendrix told AnnArbor.com last year that Black Friday is the mall's biggest shopping day, with many retailers recording about 30 to 35 percent of their yearly sales from Black Friday until the end of the year.
Other Ann Arbor area retailers, including Best Buy, Old Navy and Kohl's plan to open at midnight. Meijer has Thanksgiving Day hours, but hasn't yet announced its Black Friday plans.
But not all retailers are jumping on the "Black Thursday" bandwagon. Iowa-based department store Von Maur won't open until 9 a.m. on Black Friday.
"Being non-promotional and staying true to what we do has been successful for us," Iowa-based marketing manager Amy Davis told AnnArbor.com in 2009. "… There's no need to change that strategy. We think customers appreciate that. It sounds like a simple approach, but it works for us."
Office Depot, which opened at 4 a.m. last year, is planning on a 5 a.m. opening on Friday this year. Meanwhile, the new Costco Warehouse store in Pittsfield Township will open at 9 a.m. on Friday.
Lizzy Alfs is a business reporter for AnnArbor.com. Reach her at 734-623-2584 or email her at lizzyalfs@annarbor.com. Follow her on Twitter at http://twitter.com/lizzyalfs.