Posted on
Wed, Dec 29, 2010 : 2:31 p.m.
'A dying art': College Shoe Repair closes Dec. 31 after 7 decades in downtown Ann Arbor
By Paula Gardner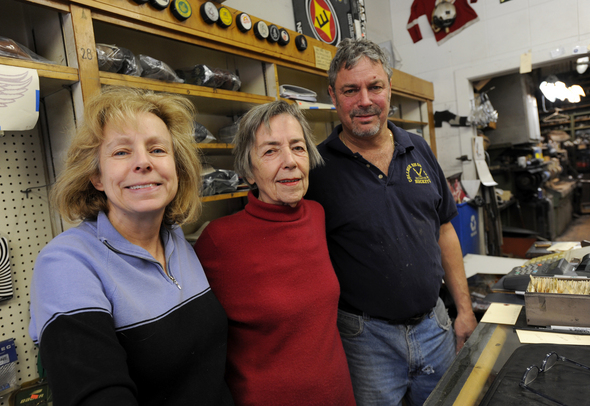 Lon Horwedel | AnnArbor.com
College Shoe Repair
opened in Ann Arbor during the Great Depression because the owners couldn't foresee a world without the need to fix shoes.
Today, massive changes in the industry have finally touched the local business. College Shoe Repair, located on East William near South State, will close on Dec. 31.
"There's not enough shoe repair (work) to keep us going," said owner Dorothy Brown.
The use of plastics in mass market shoe manufacturing is one reason. Another is the local and online competition in the other aspect of College Shoe Repair's business: hockey equipment.
The closing accompanies significant change for both the family, which also lives in Ann Arbor, and the building that houses the store.
Brown's husband, Bill, died on July 4, and she's been spending some of her time at meetings for widows run by Arbor Hospice.
Her daughter, Dale Ann Camfield, who has worked at the store's counter and made many purse repairs for customers, has started looking for a new job.
Pat Brown, her son, is the last of what once totaled three people who did shoe repairs in the store before business tapered off. He'll soon start work at the new Advantage Sports store on West Stadium, continuing to sharpen skates.
And the building, which also houses the White Market, was listed for sale this year. A deal is in the works, Brown said, with an undisclosed buyer.
"We hope it'll close the first of January," she said.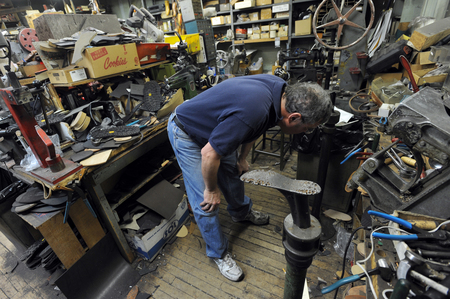 Lon Horwedel | AnnArbor.com
The shoe repair business was started by Bill Brown's father and grandfather during the Great Depression.
"They figured that people would always need shoes fixed," Dorothy Brown said. "But they didn't foresee plastic."
Rich Bellas, owner of Van Boven Shoes around the corner in Nickels Arcade, calls the business "a dying art."
Van Boven also dates back to the 1930s, Bellas said, "and we've done business with them for as long as I can remember."
Bellas praised the work done at Campus Shoe Repair, and noted that the transitions in the industry mean less choice for customers.
One trend is the move toward cheaper materials, which lessens the ability and need to make repairs. But some manufacturers also are offering repair service in their own manufacturing centers, Bellas said, shaking up the foundation of any local shoe repair business.
One remains in downtown Ann Arbor: Park Shoe Repair on North Fourth Avenue. Another, Town Cobbler, operates at Briarwood Mall.
"Shoe repair would be a difficult niche to continue," Bellas said. "But it's one more service in the community that you hate to lose."
As Brown considers her future once the store closes, she knows her days will be much different. She's considering volunteer work, and also may get a dog, she said.
Customers are telling Brown that they're sorry to see the store close.
"We're sorry, too," she said.
Paula Gardner is Business News Director of AnnArbor.com. Contact her at 734-623-2586 or by email. Sign up for the weekly Business Review newsletter, distributed every Thursday, here.