Posted on
Sun, Dec 4, 2011 : 1:38 p.m.
A massive logistical feat: University of Michigan moves patients, staff, equipment to new Mott Children's Hospital
By Nathan Bomey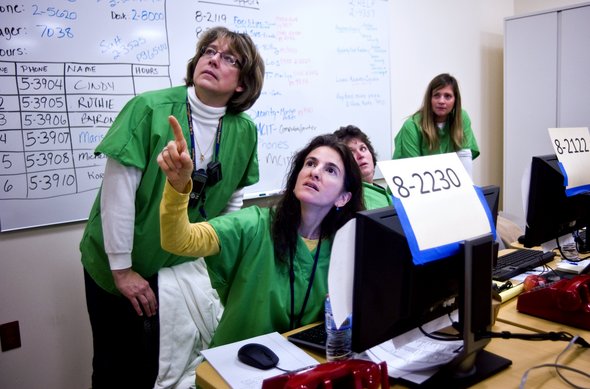 Joseph Tobianski I AnnArbor.com
(See related story:
How Mott Hospital handled childbirth while moving to new facility
)
The University of Michigan Health System's C.S. Mott Children's Hospital has been home to 9-month old Mia Wilson for most of her life. She was transported to the hospital by helicopter a week after she was born in Akron, Ohio, for treatment of a congenital heart defect.
Today, Mia's home got the ultimate makeover.
After more than five years of construction and seven years of planning, the U-M Health System opened the new $754 million Mott Children's and Von Voigtlander Women's Hospital in the heart of the university's medical campus in Ann Arbor.
Photo courtesy of the University of Michigan Health System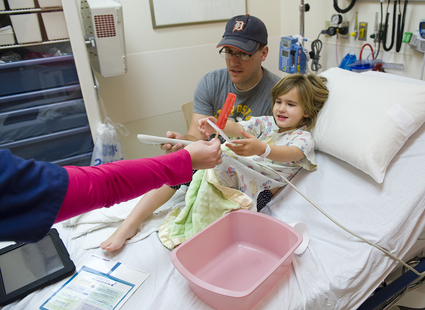 Photo courtesy of the University of Michigan Health System
But opening a new hospital is far different than opening a new office building or residential complex.
Some 3,000 hospital employees and 300 volunteers started moving about 168 patients into the new hospital shortly before 7 a.m., marking the start of a day-long transition in which all children and women staying at the hospital will be shifted to the new facility.
Wendy Wilson, Mia's mother, said it "wasn't nerve-wracking" because hospital staff members handled the lead up to the transition with professionalism and sensitivity. She said the best thing about the move is that her daughter's room will triple in size, providing more space for visiting family and friends.
"It's not like this has been a hospital stay. This has been her home for her whole life," Wendy said, describing Mia's room at the old hospital as approximately 10-by-10 feet. "So she has the majority of her belongings here. It will be nice to have places to put things."
Moving equipment, patients and staff to the new building from the old facility reflects a massive logistical feat. How do you move a hospital in a single day? The university's been planning for the move for nearly two years.
The most difficult part of the transition — moving pediatric intensive care patients, congenital heart patients and launching the new pediatric emergency room — was completed without any major problems, executives said.
"Getting to the point where we're actually physically moving patients into the building today is extremely rewarding," said Loree Collett, associate hospital administrator and operational lead for the expansion project. "The patients have done a great job of cooperating. This is the moment we have been waiting for."
The new facility officially opened when the children's emergency room accepted its first patients at about 6:30 a.m.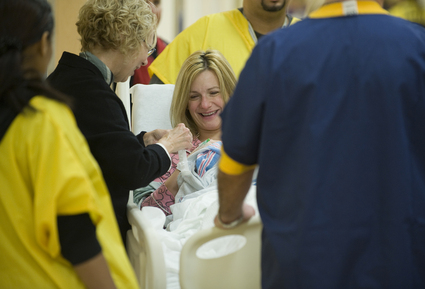 Photo courtesy of the University of Michigan Health System
Photo courtesy of University of Michigan Health System
The hospital has 348 inpatient rooms, 50 maternity rooms, 48 neonatal intensive care rooms, 15 operating rooms that will be open right away and another five that will open eventually. The hospital's inpatient tower is 12 stories and 855,000 square feet, while its clinic facility is nine stories and 245,000 square feet. The outpatient facilities, which can be moved more gradually, will be moved over the course of the next week.
"This is the dream you thought would never come," said Pat Warner, executive director of the hospitals. "This is just a huge milestone. We are one of the largest children's hospitals in the state of Michigan. The fact that all of our services will now have space to grow, to do all of their high-technology services, but most importantly to see all our patients and families in their single rooms is just an incredible opportunity and privilege."
In preparation for the move, hospital employees established an 800-foot-long indoor pathway stretching from the old facility to the new building. The pathway is stocked with medical devices and staffed by doctors who are prepared to address any issues that might arise.
The newborn intensive care unit, older children in the ICU and the "critical care unit" were among the first to move. Hospital executives said they were prepared to address a myriad of serious issues that could theoretically arise, but nothing significant occurred.
They set up a "command center," where 20 employees monitored the transition and provided solutions to any unforeseen problems, such as a door that wouldn't open or supplies that were needed. The command center has been open nonstop since Friday afternoon.
Chris Dickinson, Mott's chief medical officer and medical director for the move, said the hospital was prepared to deal with "just about every medical issue you could imagine" along the pathway. "You have to plan for every contingency."
General care patients — the least likely to encounter medical problems — were moved this afternoon. The move, originally expected to take until 7 p.m., was complete around 3 p.m.
The new hospital delivered its first baby at 8:40 a.m. (Click here to see a full story on how the hospital handled childbirth during the transition.)
One of the biggest changes at the new hospital is that patients will have their own individual rooms.
"It was very cramped," said Jacob Bontekoe, a Linden resident whose 12-year-old son, Maxwell, has been at Mott for 100 days since he was involved in a motorcycle accident. "There was really no room for personal belongings to have an extended stay. We didn't expect to be staying this long, but things accumulate."
"For people who want to come to visit, the room shrank," said Jacob's fiancee, Elizabeth Koski. "Everybody brings a gift."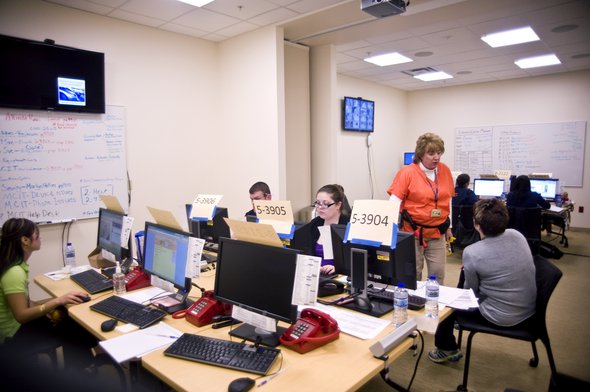 Joseph Tobianski | AnnArbor.com
Contact AnnArbor.com's Nathan Bomey at (734) 623-2587 or nathanbomey@annarbor.com. You can also follow him on Twitter or subscribe to AnnArbor.com's newsletters.