Posted on
Sun, Dec 4, 2011 : 5:59 a.m.
University of Michigan's $754 million Mott Children's Hospital set to open today
By Kellie Woodhouse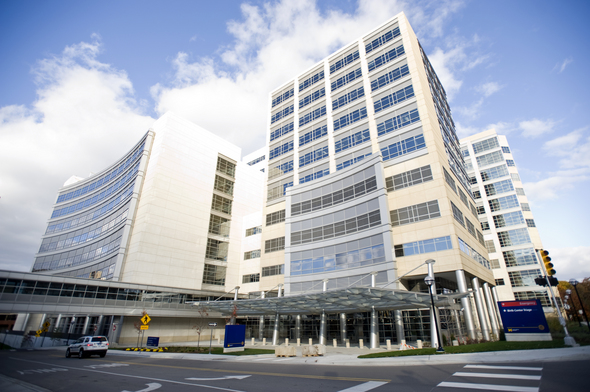 Joseph Tobianski | AnnArbor.com
The long anticipated $754 million
C.S. Mott Children's and Von Voigtlander Women's Hospital
is set to open today, and administrators say they're prepared for any problems that might come their way during the transition from the old hospital to the new facility.
As many as 210 patients —some very sick— will be transferred using an 800-foot indoor pathway to the new 1.1 million-square-foot hospital in an airplane-themed move. Children will be given a backpack and passport as the move begins.
The transition is scheduled to take place between 7 a.m. and 7 p.m. The University of Michigan Health System expects 3,000 people total to assist throughout the day, including 300 volunteers.
Nurses and physicians will man multiple checkpoints in case an issue arrises during the move. All involved officials will have a 'playbook' that outlines information on patients, emergency contacts, security plans, office and medical supplies necessary to each patient and other move-related details.
The new children's emergency room —the first-ever pediatric emergency center at UMHS— will be the first to move and will open around 7 a.m. the morning of the move.
UMHS says the driving push behind the move is to make the transition as safe and comfortable for pediatric patients as possible. The hospital, which was designed using input form staff, volunteers and former patients, was designed in the same vein, says Mott hospital director Pat Warner.
"It will not be a crazy day," Warner has said of the move into a facility that took more than five years to build and another decade to plan.
Chris Dickinson, the medical director of the move, said in a recent interview with UMHS that an organized move has not come easy.
"It's been a lot more work than I could ever have imagined," he told UMHS. "I suppose it's complicated because we made it complicated. We have spent a lot of time thinking of complicated "'what if' scenarios."
AnnArbor.com has published more than two-dozen articles about the new hospital, informing readers on everything from the elaborate financing of the state-of-the-art facility to the restoration of the beloved Big Bird statue to plans for the original 1969 Mott building.
For a comprehensive look at the funding, construction and history of the new hospital:
For coverage of events, gifts
Photo galleries
Reader interaction
Kellie Woodhouse covers higher education for AnnArbor.com. Reach her at kelliewoodhouse@annarbor.com or 734-623-4602 and follow her on twitter.