Posted on
Fri, Oct 19, 2012 : 5:58 a.m.
U-M energy engineer Levi Thompson says A123 bankruptcy a 'blemish' for industry
By Ben Freed
Levi Thompson has a unique view of A123 Systems and its bankruptcy, which was filed last week.
Thompson co-founded T/J Technologies, the Ann Arbor company that was acquired by A123Systems Inc. in 2006.
At the time, the pairing created the largest lithium-ion R&D effort in North America.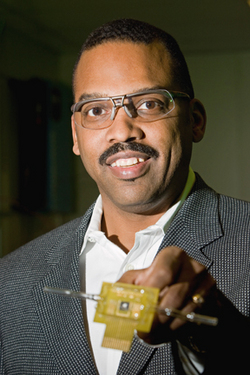 Courtesy Michigan Today
Thompson then co-founded a new company,
Inmatech, Inc.
, in 2010 and is in the process of moving the headquarters from Plymouth, Mich. to the
Venture Accelerator
run by the
Office of Technology Transfer
on the University of Michigan's North Campus Research Center.
Thompson is no longer involved with A123, but has continued his involvement with the energy storage industry. And he thinks it still possesses vital commercial potential.
While Thompson was disappointed in the news of A123's bankruptcy, he does not think the bankruptcy will adversely affect the energy storage industry for very long.
"It's certainly a bit of a blemish, but at the same time the potential there is still pretty significant," he said.
"The assets are being acquired by another company that will also make batteries, so they will still be in products. It might not be the same vehicles, but they are still going to be out there."
Thompson's new company is making prototypes that continue to build off of the intellectual property he develops at the university.
He said his company right now is focused on making the exteriors and shells that will allow for the best use in harnessing the energy stored by the new technology.
Rather than focusing on batteries, Inmatech develops super capacitor prototypes.
Thompson said batteries are optimal for storing large amounts of energy, but they do not discharge the energy very quickly. Using intellectual property developed at U-M, Inmatech makes products that have reasonable energy density and can discharge large amounts of energy at high speeds.
Five people are employed at Inmatech, which is leasing one cubicle at $125 per month from the university, according to a regents meeting agenda. The company has secured some funding from angel investors, but Thompson said revenue also comes from grants and contracts, including a grant from the National Science Foundation that provided some of the impetus for the move to Ann Arbor.
Rhythm Solutions, Inc., a U-M spinoff that owns licenses to software that can be used on irregular heartbeats known as atrial fibrillation, is also moving into the accelerator, leasing a single office in the space for $250 per month.
Thompson's wife, Maria, stayed on with A123 Systems as president of the Ann Arbor operations after the company's acquisition, but resigned in 2010.
Ben Freed covers business for AnnArbor.com. Reach him at 734-623-2528 or email him at benfreed@annarbor.com. Follow him on twitter @BFreedinA2