Posted on
Thu, Aug 9, 2012 : 5:57 a.m.
Helping 18 startups grow: University of Michigan Venture Accelerator 'surpassed everyone's expectations'
By Kellie Woodhouse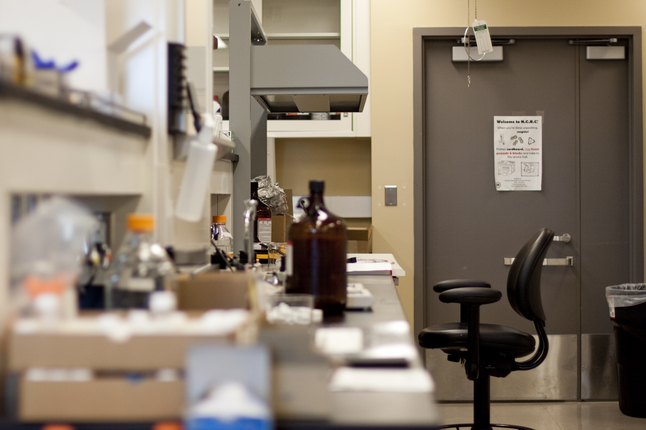 Jeffrey Smith | AnnArbor.com
For the past year and a half, Laura Schrader and her colleagues at the startup 3D Biomatrix haven't had to worry about their Internet and phone connection, getting access to specialized research labs or attaining expert advice on their next big business move.
It's all at their fingertips.
Schrader is one of roughly 50 people working at the University of Michigan Venture Accelerator, an incubator of sorts intended to give businesses that spin out of university inventions and patents a leg up in the increasingly competitive and risky startup world.
A year and seven months after it launched, the venture accelerator houses 18 university startups with a waiting list of more to join.
file photo
"We haven't had to worry about top-notch infrastructure. There's great meeting spaces, we have a beautiful laboratory, our offices are perfect," said Schrader, CEO of 3D Biomatrix, a 2010 U-M spin-out that makes three-dimensional tools for drug research. "There's a lot more detail that you have to take care of when it isn't an incubator.
"When it's your own space you're fending for yourself on everything."
The accelerator, coupled with the $25 million Michigan Investment in New Technology Startups initiative to invest in its own spin-off companies, also launched in 2011, is part of a growing emphasis at U-M to foster its entrepreneurs.
Ken Nisbet, director of the U-M Office of Technology Transfer, says startups that spin out of the university "wouldn't have the same potential" without the accelerator.
"We did a pretty good job of having companies emerge out of here before we had the accelerator, so this is not night and day," he explained. "But we feel we're giving them much better access to resources to increase the quality [and to] make them better companies."
"It has surpassed everyone's expectations for success," Nisbet continued.
According to Jim O'Connell, director of the venture center, U-M's incubator is more than "just cheap space and a phone."
In addition to square footage they lease, startups receive the use of much U-M infrastructure —including shipping facilities and specialized labs— advice on patenting and access to a wide network of university expertise and professional networks.
O'Connell said the incubator gives U-M-affiliated startups more visibility.
"The same level of activity existed, it's just we didn't have a focal point for it and we didn't have a physical entity. That makes such a difference when you bring alumni through or you bring investors through," he said. "They get the idea that this isn't just some imaginary thing that everyone talks about. There actually is somebody there."
When Schrader company first moved into the accelerator shortly after it launched in January 2011, there were only a handful of fellow startups occupying the offices and labs. The empty rooms were full of potential and the unknown.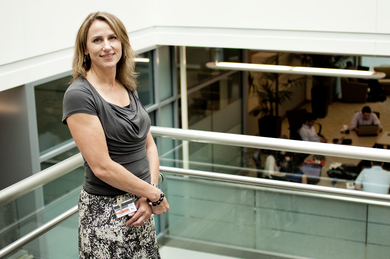 Jeffrey Smith | AnnArbor.com
Now the accelerator is at planned capacity, with just a handful of cubicles and three laboratories unoccupied.
"The biggest surprise was how quickly it filled up," O'Connell said.
When U-M launched the accelerator in January 2011, O'Connell had predicted it could take as long as three years to fill the incubator with 18 startups.
It took less than half that much time.
"We still have a bit of room, but it's really, really tight," said Nisbet. Whereas most accelerators operate at 60 percent or 70 percent capacity, U-M's incubator is well beyond that.
None of the startups, including those that have been housed in the accelerator for its full 19-month existence, have phased out of the incubator. The "typical time period" for phasing out of an accelerator is two to three years, said Nisbet.
"Most are pre-revenue. There's still an awful lot of work to be done," he explains. "When they're at the point when we think they should leave, or they fail, that's when they would exit the venture accelerator."
Added O'Connell:
"We see some potential move-outs happening in the next six months. ... It depends on how the businesses go, both good or bad."
The 16,000-square-foot accelerator is located in the North Campus Research Complex, across the hall from the Tech Transfer Center, which provides the startups assistance with patents and networking. Startups in the incubator also have the use of a wet lab, electronic lab, animal study lab, chemistry lab and energy lab.
The accelerator spent $500,000 on rent in fiscal 2012 and projects to spend $800,000 in fiscal 2013. The rent is paid to U-M's medical school, which shouldered the chief cost of NCRC's $108 million purchase. The rent funds come partially from the rate the accelerator charges startups —2,250 per month for the use of a full lab, $225 per month for an office and $85 per month for a cubicle— and partially from U-M colleges with stakes in the start-ups.
The accelerator is currently leasing eight of its 11 labs, 32 of its 33 offices and seven of its 14 cubicles.
U-M spends roughly $350,000 annually subsidizing facility costs for the incubator.
Additionally, U-M budgets roughly $150,000 for three mentors who share their time between assisting startups in the accelerator and university faculty and affiliates in the beginning states of creating a business.
Although the disciplines of the 18 spin-outs are varied —ranging from engineering to software to life science— the fundamental keys to startup success are the same, and being in close range of fellow entrepreneurs helps keep the companies sharp, says Schrader.
"It's motivating. We see each other at different mixers and in the kitchen and we talk about [things] from funding to finding customers to getting product ready to research," she said. "They've given me some leads and I've given them some leads. It's just serendipity that we've happened to be in the same place."
Kellie Woodhouse covers higher education for AnnArbor.com. Reach her at kelliewoodhouse@annarbor.com or 734-623-4602 and follow her on twitter.