Posted on
Fri, Feb 22, 2013 : 5:58 a.m.
A2Awesome Foundation gives 2 $1,000 grants to Ann Arbor initiatives
By Ben Freed
The Ann Arbor Awesome Foundation awarded two $1,000 grants to local initiatives Tuesday as part of its micro-philanthropy initiative.
According to a news release, the grants are cash awards given to organizations that promote "the creation of awesomeness" in the community.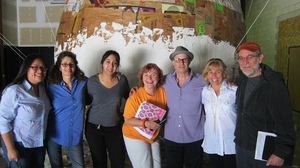 Photo provided by A2Awesome
The foundation chose a grassroots network of local entrepreneurs and a group creating a resource guide for citizens entering the Washtenaw County prison system as recipients of their funding.
"I think these two grants, when looked at together, really demonstrate just how broad our collective interests are," dean of A2Awesome Mark Maynard said in a statement.
"The important thing for us is that these small grants of ours can be leveraged to create a disproportionate amount of awesome, and these two projects are a perfect example of that."
According to the release, Small & Mighty is "a collaborative, scrappy little nuts-and-bolts support group" for people in the startup community. The organization has 144 members and hosts events geared toward helping small business owners interact with each other.
"Within Small & Mighty we can comfortably share our ignorance and failures as well as our successes," co-founder John Henry said in a statement.
"We talk 'learning curve' all the time. I'm not sure that happens at most networking events. Someone at [an event] brought up the team 'co-opetition.' We are committed to each other's success even when we're in the same field."
Henry said the grant from A2Awesome will be used to continue hosting events as well as building and cultivating the group's online presence.
The second grant was awarded to Lois DeMott who co-founded Citizens for Prisoner Reform. The prisoner advocacy group is devoted to spreading public awareness on the inner workings of Michigan's prison system.
Mott founded the organization in 2011 after she was shocked at the lack of information available to the public concerning the prison system when her own son was arrested.
The grant money will be used to print a 36-page handbook and resource guide in Washtenaw County that will help families and friends of prisoners better understand the system. The group says families of prisoners who suffer from mental illness especially need resources and ways to advocate for humane treatment.
The Ann Arbor Awesome Foundation has now given a total of $11,000 to local endeavors including tutoring program 826 Michigan, a local photographer's book publishing efforts, and the Bona Sera Cafe.
The foundation's grants are all $1,000 and the money is all contributions from the foundation's 12 board members. The group is based on the Boston-based Awesome foundation and is one of 40 chapters operating around the world including chapters in Detroit and Grand Rapids.