Posted on
Wed, Sep 15, 2010 : 6 a.m.
Motionless wind energy device startup recruits Accuri Cytometers' Jennifer Baird to become CEO
By Nathan Bomey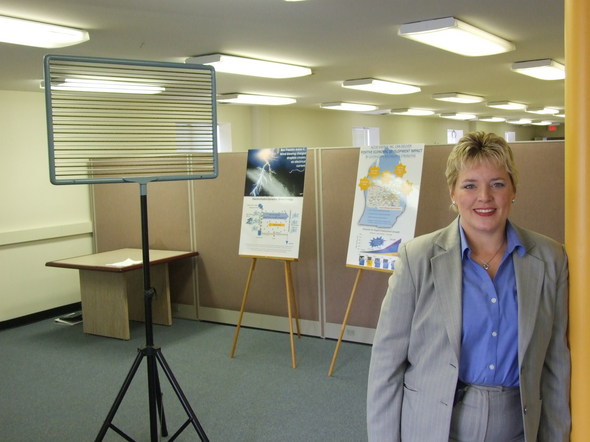 Nathan Bomey | AnnArbor.com
One of the Ann Arbor region's top entrepreneurial executives has agreed to become CEO of
Accio Energy
, which is developing a wind energy device that generates electricity
without moving parts
.
Accio plans to announce today that Jennifer Baird, who co-founded and led Scio Township-based Accuri Cytometers as CEO until stepping aside in January, will become its new CEO.
Accio's previous CEO, co-founder Dawn White, will stay on as president and chief technology officer.
White said she was "beyond thrilled" to have Baird, who was working with Accio as a consultant for the last several months, step in as CEO.
"It just became really clear that Jen and I have complementary skill sets and some overlap," said White, who remains on Accio's board. "We really like working together and we have an opportunity to solve our problem of extending the management team without any disruption to the business."
The leadership transition comes as the 9-person company is poised to ramp up its efforts to secure venture capital funding to support its technology development. The company recently signed a lease for a 12,000-square-foot office and R&D space on Airport Boulevard in Pittsfield Township.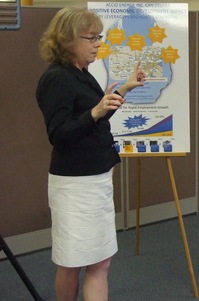 Nathan Bomey | AnnArbor.com
Baird raised more than $30 million in funding for Accuri and built the medical devices company from scratch into an 80-person firm in five years. Accuri, which topped $10 million in sales in 2010 for its cell analysis device, is now led by Jeff Williams, who became CEO in January two months after his previous firm, HandyLab, was sold to Becton, Dickinson and Co. for $275 million.
Baird said she became convinced over the last several months that Accio's technology had significant commercial promise.
"The opportunities are tremendous," she said. "My No. 1 priority coming in is to increase the funding available to this company so we can accelerate the technical progress."
For Baird, the transition from Accuri to Accio is also a transition in sectors from medical devices to alternative energy.
Tim Petersen, managing director of Ann Arbor-based Arboretum Ventures, a health care technology venture capital firm that has invested in Accuri, said he was confident that Baird would make the transition smoothly.
"Jenn's ability to work with a very early-stage company to help set their strategic direction and help raise capital and help recruit the right people to the company at the right time is her tremendous skill," Petersen said. "And it's a huge reason for Accuri's success."
Accio's wind energy device - which the firm is calling "aerovoltaic" - uses the wind to separate electrically charged water particles, generating an electrical current. White has compared the renewable energy process to the electrical charges that build up in a cloud during a thunderstorm, leading to lightning bolts.
A model of the Accio Energy device, which uses engineered tubes that can be manufactured in Michigan, is seen above for the first time in the media.
White, who also started Pittsfield Township-based defense technology firm Solidica, said Accio is making technological process but declined to offer specifics.
"It's exciting to be here and see the needle moving literally on a weekly basis toward a truly product-level capability," she said.
Baird said that a startup company called Sonetics Ultrasound, which she launched around the same time as Accuri, will continue to develop its technology but does not require her full-time attention right now.
Accio, founded in 2007, has raised about $2 million in funding, including private investment, $250,000 from the U.S. Defense Advanced Research Projects Agency, $97,000 from the National Science Foundation and $80,000 in early-stage venture capital financing from the student-run Frankel Commercialization Fund at the University of Michigan's Ross School of Business.
Ann Arbor-based EDF Ventures, which invested in successful Ann Arbor startups like HandyLab and Arbor Networks, is backing Accio.
EDF Ventures founder Mary Campbell is the chairman of Accio's Board of Directors, which also includes former Detroit Edison President Bob Buckler.

"I'm thrilled to have Jen Baird join us," Campbell said. "I think she's as good as it gets when it comes to startup entrepreneurs, in terms of sensitivity to the capabilities of the founding team and ability to integrate their vision with her leadership and management skills. Certainly she's a proven fundraiser as well, which in this environment gives us something else to celebrate."
Accio believes its device could have significant benefits in utility-scale wind energy farms, where they might be more preferable than wind turbines, which draw scrutiny for their environmental impact, technological shortcomings and affect on the horizon in off-shore applications.
Baird and White said they're particularly excited that Accio's device could be manufactured in Michigan using existing capacity. The tubular parts the device relies on are commonly manufactured in Michigan.
"So much of the manufacturing technology that we want to use in our production systems is going to be the same exact machinery, process, plants and labor that are underutilized today in our automotive industry," Baird said. "We think this can be a phenomenal economic development opportunity for Michigan to use existing, underutilized resources and have a chance to have Michigan exporting to global markets again."
To be sure, Accio has a number of technical hurdles to overcome before its device is ready for the market, executives said without providing specifics.
Campbell said the technology is very exciting, albeit unproven.
"It's one of those rare revolutionary opportunities, and while we all would love to have the potential for amazing upside with very minimal risk, investment opportunities don't come packaged that way," she said.
Contact AnnArbor.com's Nathan Bomey at (734) 623-2587 or nathanbomey@annarbor.com. You can also follow him on Twitter or subscribe to AnnArbor.com's newsletters.