Posted on
Fri, Nov 4, 2011 : 10:15 p.m.
Accuri Cytometers receives technology award after sale to Becton, Dickinson
By Nathan Bomey
See also: AnnArbor.com's Business Review reveals winners of 2011 Deals of the Year awards
The blockbuster sale of Scio Township-based Accuri Cytometers in early 2011 reflected the latest example of the Ann Arbor region's global influence in the medical device sector.
New Jersey-based medical devices giant Becton, Dickinson and Co. shelled out $205 million to acquire Accuri, a University of Michigan startup co-founded by Collin Rich and Jennifer Baird.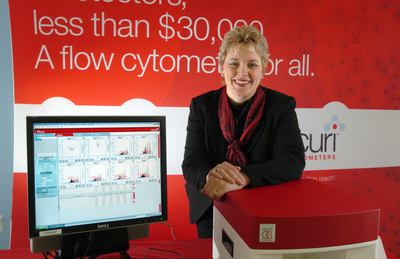 File photo | AnnArbor.com
BD's acquisition of Accuri
, announced in February, came less than two years after its $275 million acquisition of Pittsfield Township-based
HandyLab
, another medical device maker.
Although BD shut down HandyLab, local executives are optimistic that Accuri will not face the same fate.
Jeff Williams, who served as CEO of both companies at the time they were sold, told AnnArbor.com in April that Accuri was "doing great."
"BD has significant plans for the Accuri brand, as well as for the facility here," said Williams, who now serves as CEO of Ann Arbor-based Life Magnetics and Tangent Medical Technologies. "I think it's a very exciting time for Accuri."
Accuri, whose device reshaped how life sciences researchers analyze cell flow, was named Friday as the winner of the Technology award at AnnArbor.com Business Review's 2011 Deals of the Year ceremony.
Accuri's sale marked the second largest publicly disclosed sale price for a local tech company over the last 10 years, after HandyLab's acquisition and Pfizer Inc.'s $1.3 billion acquisition of drug development firm Esperion Therapeutics in 2004.
Through Baird's leadership, Accuri secured millions in venture capital investment from local firms like Ann Arbor-based Arboretum Ventures and Ann Arbor-based Plymouth Ventures.
That funding helped the company grow. Williams, who led the company for about a year, helped the company reach the stage where it was ready to be sold. At that point, the company had about 85 workers.
Accuri's development has also benefited several other local firms, including Ann Arbor-based Menlo Innovations, which has handled the software development for Accuri's high-tech device.
Menlo CEO Rich Sheridan, whose firm recently celebrated its 10th anniversary, has said that Accuri's growth created dozens of jobs at Menlo over the last several years.
Although BD has not publicly discussed its plans for the Accuri unit, local executives say the company will eventually have to expand its production capacity. During a conference call with investors and reporters earlier this year, BD President and Chief Operating Officer Vince Forlenza said Accuri's device was already being used by 1,200 labs and 70,000 researchers.
"It will allow us to eventually bring affordable flow cytometry to hundreds of thousands of life science researchers around the world who are not currently using flow, but whose research might benefit from its power and utility," Forlenza told investors. "This acquisition is an excellent addition to our portfolio and is aligned with our strategy of driving revenue growth through innovation.
Forlenza told investors that Accuri would boost BD's biosciences revenue by 1 to 2 percentage points per year over the next three years. The company's total biosciences revenue in the 2010 fiscal year was $1.26 billion.
Contact AnnArbor.com's Nathan Bomey at (734) 623-2587 or nathanbomey@annarbor.com. You can also follow him on Twitter or subscribe to AnnArbor.com's newsletters.