Posted on
Mon, Feb 7, 2011 : 4:33 p.m.
Promising medical devices firm Accuri Cytometers sold to same company that bought HandyLab
By Nathan Bomey
(This story has been updated several times with additional information and interviews.)
New Jersey-based giant Becton, Dickinson and Co. said this afternoon that it had reached a deal to acquire medical device firm Accuri Cytometers, one of the Ann Arbor region's most promising tech companies.
Terms of the deal were not disclosed, but the transaction is expected to be finished in BD's third fiscal quarter of 2011, which lines up with the spring.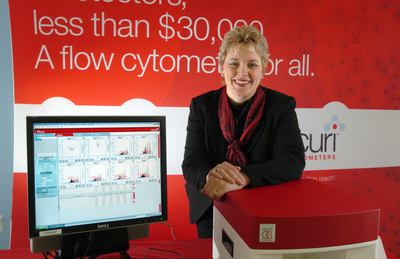 File photo | AnnArbor.com
The deal is sure to inspire fears among the Ann Arbor business community that BD may shutter Accuri's Scio Township operation, which employs about 85 workers, including more than 60 in Scio, and manufactures the device. Accuri had some $20 million in sales in 2010, nearly double what it had in 2009.
BD paid $275 million to acquire Pittsfield Township-based medical device firm HandyLab in late 2009 only to announce in October 2010 that it would close HandyLab's Pittsfield operation by summer 2011.
In a news release this afternoon, BD gave no indication about its plans for Accuri's Scio Township operation. But sources indicated that BD wants to invest in the company's local operation for the long term.
Asked to address the status of the company's local operation, BD spokeswoman Colleen White said, "I don't have a lot of details at this stage, but I can tell you our current plan is to continue to operate the Ann Arbor facility."
BD said it would provide more details about the acquisition in a call with investors at 10 a.m. Tuesday.
"Accuri Cytometers' offering of flow cytometers for a new audience of researchers will complement and broaden BD's current offerings for life scientists," said Vincent A. Forlenza, BD president and chief operating officer, in a statement. "We believe that, once completed, this acquisition will enable BD to further contribute to medical and scientific advances, in line with our corporate purpose of helping all people live healthy lives."
The sale is sure to reap a windfall of profits for a range of venture capital investors, including Ann Arbor-based Arboretum Ventures and the InvestMichigan! Growth Capital Fund, a program managed by Credit Suisse using funds from the state of Michigan's pension portfolio.
Accuri's flow cytometry device is a system that helps doctors and researchers analyze cells more efficiently and cost effectively.
Tim Petersen, managing director of Arboretum Ventures and a member of Accuri's Board of Directors, described the deal as a "great outcome." Petersen, whose firm was also an investor in HandyLab, declined to offer details but said he was optimistic that Accuri would not meet the same fate as HandyLab.
"I think there's a tendency for people to be more skeptical and rightly so," Petersen said. "We just have a much more substantial manufacturing operation here. We're further along in the commercialization. It's my understanding that there should be more optimism."
Petersen said Arboretum reaped five times its investment in Accuri, though he declined to say how much that was.
Accuri's founders, Collin Rich and Jennifer Baird, built the University of Michigan spinoff company into a coveted technology company and a symbol of the Ann Arbor region's startup prowess.
The firm was held up in advertisements and commercials by the Michigan Economic Development Corp. as emblematic of the opportunities in the region.
Baird, who could not be reached for comment, is now CEO of Pittsfield Township-based wind energy device Accio Energy. She led Accuri as CEO until resigning in January 2010 and handing the reins to Jeff Williams, the former CEO of HandyLab, who was credited with leading HandyLab to its blockbuster sale to BD.
Williams told AnnArbor.com this afternoon that "we're very excited" about Accuri's sale.
"BD's a high-quality company," he said. "We really coveted their global distribution and this is a great way to get access to it."
BD was long viewed as a possible suitor for Accuri because the company's flow cytometry device fits well in BD's technology portfolio. BD has $7.37 billion in annual revenue and more than 28,000 full-time employees.
In October, BD said it would consolidate manufacturing of HandyLab's rapid infection-detection device into an existing facility on the East Coast. The company described the move as a logical, cost-saving measure. Of HandyLab's roughly 50 employees, some were given the chance to transfer to the new operation.
Like at HandyLab, Accuri's employees hold stock options in the company -- and they will profit from the sale to BD.
Those stock options "will become quite valuable once the transaction" is complete, Williams said.
Contact AnnArbor.com's Nathan Bomey at (734) 623-2587 or nathanbomey@annarbor.com. You can also follow him on Twitter or subscribe to AnnArbor.com's newsletters.