Posted on
Fri, Jun 10, 2011 : 5:58 a.m.
Ambassador Bridge owner Moroun's son: Taxpayers would be 'annihilated' by Rick Snyder's bridge
By Nathan Bomey
The debate over a legislative proposal that would authorize a public-private partnership to build a new bridge spanning the Detroit River is defined by misinformation.
Both sides agree on that.
Which side is perpetuating the misinformation? That's where the disagreement starts — and it's a bitter one.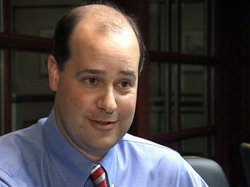 Fox 2 photo via MLive.com
The Canadian government has promised to pay up to $550 million to cover Michigan's upfront costs for building a second Detroit-to-Windsor bridge — and Gov.
Rick Snyder
convinced Washington to allow Canada's money to count as Michigan's matching funds for U.S. roadwork dollars.
Under the deal — which is supported by most major Michigan businesses and several unions — Canada's portion would be repaid using toll money, supporters say.
Supporters, including all the major auto companies, say the bridge is necessary to handle projections of increased truck traffic that, in turn, support thousands of jobs in the Ann Arbor region and the rest of southeast Michigan.
But the family that operates the existing private crossing over the river, the Detroit International Bridge Co.'s Ambassador Bridge, has waged a TV advertising campaign asserting that a new bridge would lose billions for the state.
And Matthew Moroun, vice chairman of the bridge company owned by his father, Manuel "Matty" Moroun, told AnnArbor.com in an interview that a public-private bridge would "annihilate" taxpayers.
Snyder and State Sen. Randy Richardville, who last week introduced a bill that would authorize a public-private partnership to build and operate the bridge, have said the bill won't allow state funds to be spent.
But Matthew Moroun said that's not possible — and, so far, Republicans in the Michigan Legislature have blocked the public-private bridge, saying they're concerned about its financial viability and about introducing competition for an existing privately owned bridge.
"A private investor is only interested in investing money if they have a chance to succeed, and the numbers don't allow a private sector company to invest money in this project and have a chance of succeeding without government subsidy or guarantee," he said.
Matthew Moroun spoke Thursday with AnnArbor.com's Nathan Bomey. Excerpts from that conversation:
AnnArbor.com: Are you concerned that the Canadians' offer to Michigan is going to convince the legislative Republicans to approve the public-private partnership?
Matthew Moroun: No.
AnnArbor.com: Why?
Matthew Moroun: While $550 million is definitely a lot of money, it's not enough to build a $2 billion bridge. The Canadians want to get paid back someday, somehow, and it's pretty clear that the tolls on the bridge aren't enough to pay for the remaining portion of the bridge, let alone pay back the Canadians.
So, what's another $500 million in debt? A lot of people are against adding a government debt right now.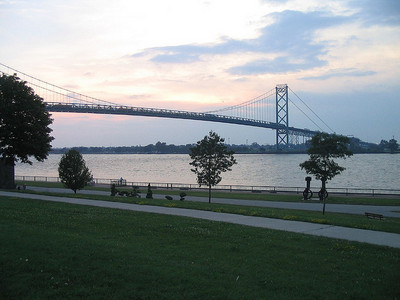 Photo courtesy of VideoVik via Flickr
AnnArbor.com: Snyder and Richardville say that the new legislation would prevent the state from using state dollars. Is that your read of it?
Moroun: The business economics are against them despite what they put in the legislation. And a careful reading of the bill discusses that there will still be availability payments, which are government subsidies.
So technically the bill still allows for Michigan taxpayer money to be involved, and business economics scream that there's no way possible for it not to be involved.
AnnArbor.com: But how can a bridge that's built and operated by a private company end up costing the state dollars? Supporters of the public-private bridge say that if the private company goes over budget, it's their problem.
Moroun: Sure it's their problem. But a private investor is only interested in investing money if they have a chance to succeed, and the numbers don't allow a private sector company to invest money in this project and have a chance of succeeding without government subsidy or guarantee.
AnnArbor.com: Tell me about your plan and why your bridge proposal is the way the state should go.
Moroun: First of all, the Ambassador Bridge was built without any government sponsorship resources or taxpayer money and we did that in the 1920s. If we could do that in the '20s, why has our country regressed — and I don't believe it has — to the point where we can't do that again? We obviously can.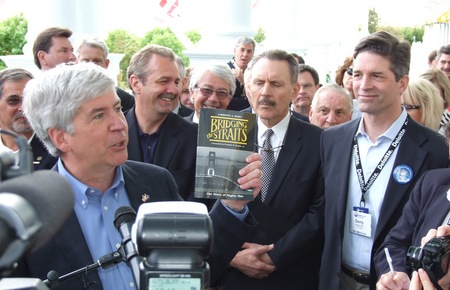 Nathan Bomey | AnnArbor.com
We've done the preparation over the last decade. We've got the plans. We are ready to go. There's more red tape to cut, which is OK, because the truth is traffic is down this year over last year anyway, so it wouldn't be bad, while we're cutting through the red tape, to get that traffic increased a little bit while we're doing it. And I don't know that it would, but that would be the hope.
It wouldn't be a government-sponsored enterprise. It would be a pure private sector enterprise, and since we've already spent so much money on preparation, land acquisition, plazas, etc., the price tag drops from $2 billion to somewhere between $400 and $500 million.
Now, we can take the maintenance expense that we currently plow into our existing bridge to keep it in good shape and put it into a new span that is built at a shorter distance across the river, isn't built at a diagonal and is only the span.
So it makes sense. That would happen in a few years. I see getting through the red tape as being another year or so. And getting through the design plans and so on as a little bit more time.
But hopefully during that time, traffic increases. I don't know if it will. And of course, if traffic was to drop all the more, then that would even give us pause on a much more economical and reasonable plan.
AnnArbor.com: Do you agree with the projections on increased trucking traffic that the government has issued?
Moroun: No. And nobody does. They're not even close. MDOT came out with traffic projections in 2003. They projected what traffic would be at the Ambassador Bridge over the next 30 years. In 2004 they were wrong, in 2005 they were wrong, '06, '07, '08, '09 and '10 they were wrong.
And they weren't wrong by a few thousand vehicles. They were wrong by millions of vehicles.
AnnArbor.com: Canada has essentially refused to agree to allow your bridge to lead to the part in Windsor that it would lead.
Moroun: Not true.
AnnArbor.com: Do you think you can convince them to change their mind or what's the situation?
Moroun: The situation is this: it's not really a deal where we have to convince Canada. Just like any other major project, you must do the proper environmental analysis. To the extent that there's problems with your project that would impact the environment, you have to properly change your project and or mitigate those problems. We have done so and we've filed all that paperwork with the government of Canada and we've most recently updated it just a few months ago with further environmental analyses, including noise vibration, and a few other things.
Canada is still a democracy, a country of 31 million people. I don't think they're a kangaroo court. There's no situation where they could say, 'Even though you've mitigated all the environmental factors we still aren't going to let you do it.'
That's not legal or proper, and they've never said that that would be the case.
AnnArbor.com: I spoke with Roy Norton, Canada's consul general, and he said that if Michigan refuses to approve this public-private partnership, Canada could go to the U.S. Congress and ask Congress to step in. Are you afraid that that could happen?
Moroun: If he wants to see Congress, that's fine with me. I think he'll see some pretty strong support and recent and past actions for the Ambassador Bridge.
AnnArbor.com: Why do you think Snyder is opposing you?
Moroun: I really don't know. I would say that I know of the governor, I've met with him a few times, but I wasn't his friend or something like that.
Everything that I read about him, this is kind of contrary to what he's said. I've heard him pretty loud and clear that he wants to support private sector businesses in the state of Michigan and have government help them and give them a chance to grow and foster and expand in the future.
That's all we're trying to do. We aren't asking from anything from the government but for them to kindly stay out of our way or give us some support.
If he spent half as much time supporting us and helping us cut some of the read tape in Canada and elsewhere, we'd probably be building the second span of the bridge by now, versus working on the government bridge.
AnnArbor.com: There's been a lot of accusations about the tactics that your company has employed and that your supporters have employed. The latest is that there are people scaring Detroiters into thinking their houses are going to be taken by this bridge.
Moroun: Yeah I heard about that.
AnnArbor.com: Is it true?
Moroun: Well, what's true is that yeah it did happen. But we didn't have anything to do with that. We did not ask anyone to do that. We did not indirectly ask anyone to do that. We did not know about it. We wouldn't condone it, we don't condone it and I don't want to be associated with that at all because it's wrong.
AnnArbor.com: You've donated to many different political figures.
Moroun: Absolutely.
AnnArbor.com: Can you describe what your giving strategy is?
Moroun: First of all, our only business is not the Ambassador Bridge. Before we owned the Ambassador Bridge, we've been in the transportation business. We've got operations all over the state and throughout most of the country,
We've contributed quite a bit in political circles before we were in a fight with the government bridge. We've continued to do more while we're in the fight with the government bridge, and we will do so after the fight is over.
If we contribute to a politician that we see as being business orientated and good for our state and our employees and our operations, we're going to contribute.
AnnArbor.com: Why didn't you contribute to Snyder during the election last year?
Moroun: I couldn't really tell you. I don't know if it had something to do with the fact that most of the money he spent was his own. I don't know. I know we contributed to just about every other gubernatorial candidate.
AnnArbor.com: Have you seen this new website that attacks your father and his business interests?
Moroun: I have not logged onto that website, but I know that it's wrong in many respects. As a matter of fact, a person that handles real estate for our company said that it's got pictures of properties that aren't even ours.
If you were to actually look at it — as opposed to, like some of the folks, just slander us for owning the properties — you'd find that no one has demolished more houses in the city or more commercial buildings in the city than us, other than the city itself or the county. So, while we're a large owner, we've also taken a lot of stuff down and busted up a lot of blight.
AnnArbor.com: At the Mackinac Policy Conference, Snyder compared the public-private bridge to the Mackinac Bridge and said that if the Mackinac Bridge worked, why can't this work? How do you feel about that comparison?
Moroun: I didn't think there was anything private at all about the Mackinac Bridge. Is there?
AnnArbor.com: Not that I know of, but I think he's saying the government got involved in that bridge and it was successful.
Moroun: Oh. Let me explain a few things on that. One is the Mackinac Bridge is an awesome looking bridge and it is a very important to our state.
However, if you were looking at the Mackinac Bridge from a purely financial standpoint, the Mackinac Bridge has been built out by the state of Michigan at least twice and could not function on its own without state subsidies in those instances and maybe others in the future.
Here in Detroit, there's really only one question: Are the taxpayers going to get annihilated if the government builds a $2 billion bridge even if we take a $550 million loan from Canada? And the answer is yes, because the math doesn't work.
AnnArbor.com: As the Canadians change their trade routes, isn't that going to drive more traffic to our span?
Moroun: What do you mean, 'as the Canadians change their trade routes?' The trade route is the 401 corridor from Toronto to Windsor.
AnnArbor.com: As I understand it, from the Eastern Coast to the Western Coast of Canada, they're going to be encouraging more trade to come down to this international boundary.
Moroun: Yeah, OK, let's talk about that. That's a big statement that I've heard before. Here's the situation, you've got two main ports in Canada that they're trying to expand. One is Prince Rupert on the West Coast. The other one is the Port of Halifax on the East Coast. Halifax and Prince Rupert are so far away from Detroit.
It would be insane to put any of that traffic on a rubber-wheeled vehicle. Prince Rupert and Halifax are there for the Canadian railroads, Canadian National and CP. And those Canadian railroads have connections for any international traffic coming into the United States in multiple places, not just Detroit.
We will not see that traffic on rubber coming across the Ambassador Bridge with a container on a chassis. You just won't see it because distances over 750 miles are basically not economical to be used for truck.
AnnArbor.com: Anything else you want to add?
Moroun: The only reason to have a bridge is to move traffic across the river. The major factors that impact traffic, its growth or decline on the border are the same ones you talk about all the time, and it's number of manufacturing jobs and population.
And as you know, even though we're coming back some, we still have a million manufacturing jobs just to get back to where we were. As you know we've got to arrest our population decline before we can talk about growing it. Those are the factors that affect traffic.
Without having traffic, they've been forced to come up with a whole bunch of reasons why they need another bridge despite the facts of traffic.
And unfortunately it's been kinds of fill-in-the-blank reasons as to why they need another bridge, whether it's demonization of my family, to someone's going to blow up the Ambassador Bridge, to we need it to balance the budget, to it's going to create 10,000 jobs — which is patently false — and all other kinds of reasons to build the bridge.
That's what we're facing, and I'm sure there's going to be other reasons to build one between now and the end of this fight.
Contact AnnArbor.com's Nathan Bomey at (734) 623-2587 or nathanbomey@annarbor.com. You can also follow him on Twitter or subscribe to AnnArbor.com's newsletters.