Posted on
Thu, Aug 19, 2010 : 11:25 a.m.
American Apparel's Ann Arbor store caught up in chain's crisis
By Nathan Bomey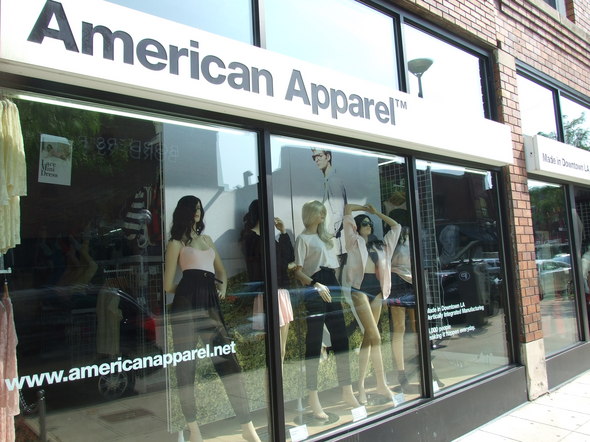 Nathan Bomey | AnnArbor.com
The future of American Apparel's downtown Ann Arbor store -- and, indeed, the future of the retail chain itself -- is shaky at best.
American Apparel said in a regulatory filing this week that there is "substantial doubt that the company will be able to continue as a going concern," which indicates that the firm may be headed for bankruptcy or liquidation.
The retailer, which sells clothes manufactured exclusively in the U.S., occupies a high-profile storefront on Liberty Street near the corner of State Street, a hotspot for Ann Arbor shoppers.

The chain, which is known for its racy advertising campaigns and a flamboyant chief executive who freely acknowledged having affairs with his own employees, opened its 4,000-square-foot Ann Arbor store in summer 2005, marking its first location in Michigan.
A manager for American Apparel's Ann Arbor store declined comment and referred questions to a corporate public relations contact.

Nathan Bomey | AnnArbor.com
Ryan Holiday, a spokesman for the company, denied that the chain's troubles would hit Ann Arbor.
"It is remaining open and the company has no plans to close or consider closing stores," he said in an e-mail.

The tenuous position of American Apparel's Ann Arbor store adds to additional uncertainty for the downtown area's retail sector. Borders Group, whose flagship store is located across the street from American Apparel, is also facing long-term questions about its viability as an independent retailer.
Nonetheless, the State Street shopping corridor, which remains one of the most expensive places to rent retail space, continues to attract new tenants. In recent months, national drug store chain CVS, fast food chain Five Guys Burgers and Fries, upstart restaurant @burger and others have signed deals to launch locations on State or Liberty.
American Apparel's demise is not inevitable. The Los Angeles Times reported that billionaire Ronald Burkle, also an investor in struggling Borders competitor Barnes & Noble, recently acquired a 6 percent stake in American Apparel.
But the L.A. Times reported:

In recent months, the troubled company has been beset by sales declines, losses, a crackdown on undocumented workers, problems with its debt, delayed quarterly filings and, most recently, an investigation by the U.S. attorney's office in New York related to the company's abrupt change in accounting firms.

Industry experts say the company's problems are so severe that nothing short of a major overhaul in its business practices and management, which could include a possible bankruptcy filing, can pull it out of its free fall.
Experts are questioning the ability of CEO Dov Charney to reverse the company's slide.
"His enthusiasm for his product is perhaps at odds with the discipline that a retailer needs," Richard Jaffe, a retail analyst at investment bank Stifel Nicolaus, told the Wall Street Journal.
American Apparel's Ann Arbor store is one of three in Michigan and 285 locations in 20 nations.
The company's stock was trading at $0.80 this morning, down from a 52-week high of $3.95.
The company reportedly expected to lose $5 million to $7 million in its second quarter with revenue from $132 million to $134 million.
Contact AnnArbor.com's Nathan Bomey at (734) 623-2587 or nathanbomey@annarbor.com. You can also follow him on Twitter or subscribe to AnnArbor.com's newsletters.