Posted on
Tue, Aug 17, 2010 : 6 a.m.
How many people now work at Borders' headquarters in Ann Arbor? Borders won't say
By Nathan Bomey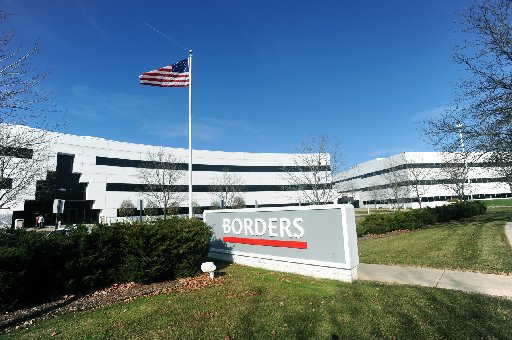 File photo
If Ann Arbor-based
Borders Group Inc.
is "on life support," as New York analyst Howard Davidowitz
put it last week
, Borders is not ready to talk about it.
The book store chain, faced with questions about its long-term viability as an independent company, is slowing external communications to a minimum.
After completing its second round of layoffs at its corporate headquarters last week, Borders is now refusing to discuss how many employees work at the Phoenix Drive complex.
The figure was about 650 after the company laid off 88 Ann Arbor workers in January - but the new number is unclear. One person claiming to have information about the company's internal operations, posting to a widely followed blog that is critical of Borders, estimated the layoffs at 55 people. Other estimates range from 50 to 80.

And don't expect to get more information about Borders' Ann Arbor-based workforce anytime soon.
"I don't think we're going to talk about it anymore going forward," Borders spokeswoman Mary Davis told AnnArbor.com this afternoon.
Now Borders says that its new CEO, tobacco industry veteran and activist investor Bennett LeBow, does not want to talk either. That follows a general strategy of limited - or no - media interviews granted by LeBow's immediate predecessors. Since launching in July 2009, AnnArbor.com has never been granted an interview with a CEO of Borders.
LeBow, who became chairman and CEO of Borders Group this summer after investing $25 million in the company, is positioning himself to take further control of the bookseller.
But LeBow has yet to outline a specific vision for the company since joining the company in May.
"Mr. LeBow just doesn't do media interviews," Davis said. "That's his personal choice."
Michael Norris, an industry analyst with Maryland-based Simba Information, told AnnArbor.com that he's noticed similar bouts of silence among other companies in the books industry.
"They don't just don't communicate well," he said of the industry.
LeBow, the fourth CEO for Borders Group in less than two years, has significant incentive to reverse Borders' decline or steer the company to a lucrative dismantling.
Since buying 11.1 million shares of Borders' stock (NYSE: BGP) at a price of $2.25 in May, he's seen those shares plummet to $1.20.
That indicates that investors seem to be losing faith in Borders. Shares must generally stay above $1 a share to avoid the threat of being de-listed from the NYSE.
The company's extensive, costly real estate footprint is a heavy burden, and its business model is being fundamentally challenged by online sales and the emerging electronic books industry.
"I don't know what's going to happen to Borders, but they look like they're sort of on life support," Davidowitz told TheStreet on Thursday. "So they may go away."
Borders' silence comes as its chief physical store competitor, Barnes & Noble, is putting itself up for sale. Industry observers say Barnes & Noble may need to be taken private and reorganized by a private equity firm to stay competitive.
Norris, for one, believes that the fate of Borders and Barnes & Noble may be intertwined as Amazon and Apple make an aggressive play for e-book sales.
"Borders, Barnes & Noble and the independent bookseller down the street have something in common -- they have to sell books in order to stay alive," Norris said. "It's just going to be bad for publishers and bad for consumers if companies that don't have a stake in the future of books are the ones left selling them."
Borders will report its second-quarter financial results in a call with investors on Sept. 1. It's unclear whether the company will use the call to offer additional details about its survival strategy.
Borders reported a net loss of $64.1 million in the fiscal quarter ended May 1. The company's first-quarter loss was down from $86.0 million in the first quarter in 2009, but same-store sales at Borders' super stores in the U.S. dropped 11.4 percent. The company's total revenue dropped from $650.2 million to $547.2 million.
Contact AnnArbor.com's Nathan Bomey at (734) 623-2587 or nathanbomey@annarbor.com. You can also follow him on Twitter or subscribe to AnnArbor.com's newsletters.