Posted on
Sun, May 26, 2013 : 5:59 a.m.
Ann Arbor area country clubs try to rebuild, grow membership after recession
By Lizzy Alfs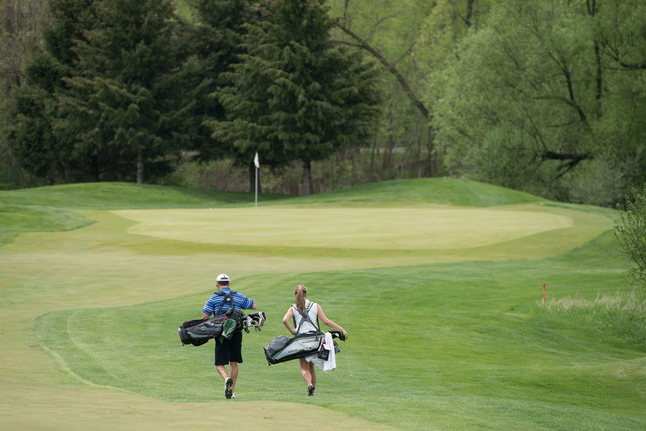 Courtney Sacco | AnnArbor.com
In its heyday, the Ann Arbor Country Club had about 350 members utilizing its pool and golf facilities in the Loch Alpine neighborhood of Webster Township.
Faced with a declining membership and worsening economic conditions, the club struggled to make mortgage payments and faced a bank-ordered sale of its facility in 2010 as membership dipped below the 120 required by the bank.
Since ownership of the semi-private club shifted to a West Virginia investment group in 2011, the new owners have made a number of capital improvements and lowered membership fees. The club now has about 230 members, with more than 50 percent of those swim-only memberships. The restaurant and golf course are now open to the public.
"Maintenance had been deferred 10 years," explained Michael Weikle, a representative of the club's new owners, A2C2 LLC. "We spent a lot of money fixing things and then putting money to keep it open. We felt it could be turned around."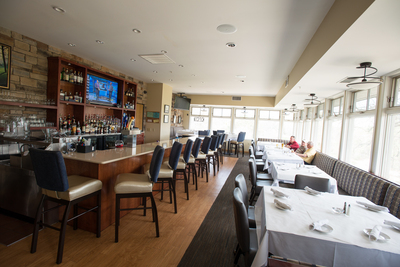 Courtney Sacco | AnnArbor.com
Courtney Sacco | AnnArbor.com
Ann Arbor Country Club isn't alone in its struggle to boost membership. Nationwide, hundreds of golf courses and country clubs closed during the recession while others changed membership structures and fees.
A National Golf Foundation report says 160 private and public golf courses closed in 2011. At the same time, about 40 percent of the nation's 4,415 private clubs experienced a membership decline.
In the Ann Arbor area, a number of country clubs had to respond to the recession in order to remain viable.
In 2010, Ypsilanti Township's Washtenaw Country Club, one of the oldest country clubs in Michigan, moved from being member-owned into private corporate ownership as a part of the Polo Fields Golf and Country Clubs. Washtenaw Country Club faced $1.9 million in debt when the Berger family, which developed the Polo Fields Golf and Country Club and the subdivision in Scio Township, took ownership.
"It has been a phenomenal learning experience," said Diana Kuenzli, director of membership and marketing for Polo Fields. "Where most clubs are closing or scaling back, our ownership had a unique vision and said, 'Let's expand.' "
The Berger family renovated the clubhouse and reopened the pool at the newly named The Polo Fields - Washtenaw, which is at 2955 Packard Road. Then they told members they could utilize both clubs while membership fees remained steady. Polo Fields also lowered its guest fees so members can bring more people to the club.
The member-owned and operated Georgetown Country Club on King George Boulevard in Ann Arbor changed its membership structure for a few years in an attempt to bring more people into the club. It offered pool-only and golf-only memberships, but has since reverted back to full memberships.
"We did try diversified marketing," said Georgetown board member Don Kline.
"(There were) a good five, six years where it was a little dicey and the club wasn't sure how to best proceed and best serve its members at the same time…(they) looked into possibly selling the golf course to a private party. Luckily, we didn't have to do that," he continued.
A 2013 family membership at Georgetown costs $1,425, according to marketing materials. Kline said that was the standard rate for years, until it dropped to $1,395 in 2011 and 2012.
Kline said the club starting experiencing a drop in membership in 2006, but started seeing gains in 2010. It's poised to surpass its 2006 membership levels this summer.
Meanwhile, membership fees at the Ann Arbor Country Club have dropped 47 percent since 2008, when a full family membership cost $3,800 annually.
Aside from changing membership structures and dropping fees, country clubs made capital improvements and looked to other sources of revenue to try to remain sustainable.
Ann Arbor's private Barton Hills Country Club at 730 Country Club Road completed eco-friendly renovations in 2010, which involved installing a geothermal heating system and LED lighting. It also completed a $1 million renovation of its golf course in late 2012.
The Ann Arbor Country Club debuted a new public restaurant in January and it's growing its events business. The club plans to host luaus, movie nights by the pool and a lobster boil this summer, which will be open to the public by reservation. (Read more)
Weikle said the new owners made efficiency upgrades at the club, such as updating its heating and cooling systems. The group also made golf course improvements and replaced the equipment.
The Polo Fields is boosting its banquet and events business, and it offers Sunday brunch to the public. It also has golf outings for non-members.
"Rather than passing on the costs of doing business to our membership, we look to alternative revenue streams," Kuenzli said. "We believe that reinvesting into the club by constantly improving it and doing updates pays off in the end because you still can attract new members."
Many country clubs across the country are also looking at a new target demographic: families with young children.
Corey Gerhart, general manager and chief operating officer at Barton Hills, said the club is trying to ensure it offers something for every member of the family. The club now has 150 kids in its junior programs and is encouraging kids and young adults to play golf and tennis.
"We are definitely attracting young families," he said.
"We're still in the same business, we've just had to bring a couple aspects in it to stay viable and interesting for our members," he added.
The member-owned private Travis Pointe Country Club, at 2829 Travis Pointe Road between Ann Arbor and Saline, markets a number of social activities targeted at children, including its summer day camp for kids. It hosts social events like movie nights, arts and crafts, teen dances, and a family carnival, according to its website.
Kline said the majority of members at Georgetown Country Club are families and it's a big selling point for the club. There are barbecues during the summer, a playset near the pool, beach volleyball and tether-ball. The club is preparing to launch a new website and is getting involved on social media sites like Facebook and Instagram.
Weikle said there were 39 pool memberships at the Ann Arbor Country Club when the new owners took over, and that's now up to 130. Ann Arbor Country Club is targeting young families with its renovated pool area.
"Golf has at least stopped declining, but we've got a lot of work to do," he said. "A lot of courses have gone out and this club survived. I really feel it's all in place, we just have to get people in to show them."
Lizzy Alfs is a business reporter for AnnArbor.com. Reach her at 734-623-2584 or email her at lizzyalfs@annarbor.com. Follow her on Twitter at http://twitter.com/lizzyalfs.