Posted on
Tue, Dec 7, 2010 : 12:26 p.m.
Ann Arbor still awaits word on Google high-speed fiber optic decision
By Nathan Bomey
As frustration mounts over a Comcast Internet outage that disrupted service for users in four Midwestern states Sunday night, Ann Arbor is still waiting to hear whether it could win a high-tech workaround to existing broadband options: Google fiber.
Google announced in March that it would install a high-speed fiber-optic network in one or two communities lucky enough to grab its attention.
The announcement set off a rush among municipalities eager to land the free investment, which Google has described as more than 100 times faster than normal service. In Ann Arbor, community organizers threw together a website, A2Fiber.com, and a social media effort to support the campaign and submit application.

Separately, officials in Pittsfield Township and the city of Saline coordinated their own application and social media campaign on Facebook and Twitter.
Google originally said that it would select the winning communities by the end of the year but has yet to announce any winners. Some 1,100 communities applied.
Google spokesman Jake Parrillo said Google still plans to announce a decision by the end of the year. (Editor's note: This story has been updated to reflect new information from Google, which had previously indicated a decision might not be made until early January.)

"The goal is still to get it out before the end of the year," Parrillo said. "We don't want it to slip too far, but the number of applicants and the number of quality applicants overwhelmed us. It's great."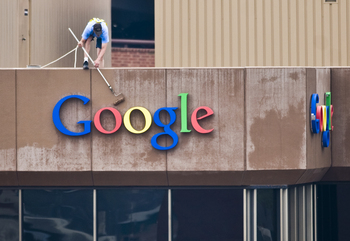 Angela Cesere | AnnArbor.com
Ann Arbor's not giving up. Derek Mehraban, CEO of Ann Arbor-based Ingenex Digital Marketing and one of the key organizers of the A2Fiber campaign, said he's distributing 150 bumper stickers at his weekly Lunch Ann Arbor Marketing (LA2M) events this month.
"I'd rather be traveling at 1 gigabit per second," the bumper stickers, which are also available at other locations throughout the community, assert.
Mehraban added: "We're just keeping up the faith. We're keeping the fires burning."
A website called FiberForAll.org -- which created a measurement to assess which communities had the most momentum in the Google fiber competition -- ranks Ann Arbor as the community with the fourth most support. The ranking measures social media support as a percentage of the communities' populations.
A2Fiber's Facebook page has more than 19,000 "likes," and the campaign's Twitter account has more than 1,300 followers.
The group also solicited videos from residents and local leaders pitching Ann Arbor as a Google fiber community -- an effort that solicited videos from University of Michigan Medical School Dean James Woolliscroft, Ann Arbor Mayor John Hieftje, Lipitor co-discoverer and Esperion Therapeutics CEO Roger Newton and now Michigan Gov.-elect Rick Snyder.
Ann Arbor, of course, has an actual Google office -- a division of AdWords that employs about 250 workers downtown -- though it's not clear whether that will make a difference.
Google has not said much about how it will make its decision. However, the firm said its intention was to study the fiber optic network's effect on innovation by watching to see whether faster speeds led to creative mobile software applications, for example.
On a website dedicated to the fiber project, Google suggests that communities willing to help get its network installed rapidly would have an edge.
The application process, Google said, will help identify "local factors that will impact the efficiency and speed of our deployment, such as the level of community support, local resources, weather conditions, approved construction methods and local regulatory issues. We will also take into account broadband availability and speeds that are already offered to users within a community."
Google also indicated that, before making its decision, it would "consult with local government organizations, as well as conduct site visits and meet with local officials."
Tom Crawford, Ann Arbor's chief financial officer, said the city had not heard anything from Google. Mandy Grewal, Pittsfield Township supervisor, said the township had not heard anything either.
Google's fiber optic announcement was also seen as an effort to strike a blow in favor of competitiveness among Internet service providers. Google indicated that it would build the network and sell access to all interested ISPs at rates, allowing them to price the services competitively.
Contact AnnArbor.com's Nathan Bomey at (734) 623-2587 or nathanbomey@annarbor.com. You can also follow him on Twitter or subscribe to AnnArbor.com's newsletters.