Posted on
Wed, Mar 17, 2010 : 2:36 p.m.
Pittsfield Township, city of Saline join forces for Google fiber application opposite Ann Arbor
By Nathan Bomey
The city of Saline and Pittsfield Township plan to file a joint application to win Google's fiber optic network project -- a move that places the regional municipalities in competition with the city of Ann Arbor.
Pittsfield Supervisor Mandy Grewal, Saline Mayor Gretchen Driskell and Saline Area Schools Superintendent Scot Graden issued a joint announcement this afternoon stating that they would file a joint application to win the fiber optic investment.
"Pittsfield + Saline = Googleville!" the press release says.
Google said last month that it would select a "small number of trial locations" throughout the country to create an ultra-high-speed Internet network with speeds 100 times faster than commercially available service.

The city of Ann Arbor, with support from the city of Ypsilanti and an endorsement from the University of Michigan, is applying for the project on its own. Local officials have collaborated to set up a Web site, Twitter account, Facebook fan page and YouTube account where residents can support the project.
But Pittsfield has set up its own Web site, Twitter account, Facebook page and YouTube account.

Grewal said Pittsfield discussed filing a joint application with the city of Ann Arbor, but city officials opted against involving multiple municipalities in their application. She declined to criticize the city's decision to go it alone.
"I don't think we're in competition with one another," she said.
Instead of filing an application with the city of Ann Arbor, Grewal said Pittsfield and Saline decided they had nothing to lose.
"We were left at the table and decided why not do it together," she said.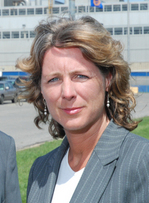 Google is seeking applications from communities with 50,000 to 500,000 users. The city of Ann Arbor has 43,629 households and 108,812 residents, according to data from the Southeast Michigan Council of Governments. The city of Ypsilanti has 7,255 households and 19,201 residents.
Pittsfield has 13,596 households and 36,925 residents, and the city of Saline has 3,462 households and 8,310 residents.

Crawford said he wasn't disappointed that Pittsfield and Saline chose to file their own application instead of endorsing Ann Arbor's efforts.

"I don't see it as negative or positive," said Tom Crawford, chief financial officer for the city of Ann Arbor. "Ypsilanti voted to support Ann Arbor. My understanding is they believe that something good in this region is good for all of us. I think Pittsfield and Saline believe the same thing. It's just a different way of saying the same thing."
Driskell could not be reached for comment.
Graden said Saline students would benefit from the Google fiber project because high-speed Internet access is increasingly required to complete assignments.
"We're adopting and utilizing technology in all ways in school," Graden said. "The one issue of access is somewhat of a barrier or a hurdle for us. We have students who may not have access at home. It's critical to have for our students.

Google plans to design the network itself in cooperation with local officials in the regions it selects for the project.
Crawford said the city of Ann Arbor decided to file its own application without seeking official involvement from other municipalities because of time constraints. The Google application is due March 26.
"Given the short time frame that we have to fill this out, it would have been a whole lot harder with multiple jurisdictions," he said.
Grewal said the region is a good fit for the fiber optic investment because America needs to invest heavily in providing improved high-speed Internet options for users outside major cities.
"What we're trying to do is really put this within the framework of middle America," Grewal said. "We need to take a look at it from beyond the urban context."

Contact AnnArbor.com's Nathan Bomey at (734) 623-2587 or nathanbomey@annarbor.com or follow him on Twitter. You can also subscribe to AnnArbor.com Business Review's weekly e-newsletter or the upcoming breaking business news e-newsletter.