Posted on
Fri, Apr 13, 2012 : 5:58 a.m.
Ann Arbor bakery Sweet Heather Anne expands into 'charming' space on North Main Street
By Lizzy Alfs
Sweet Heather Anne, a bakery owned by a University of Michigan School of Art and Design alumna, recently signed a lease for a permanent location: 920 N. Main St. in Ann Arbor, just north of downtown.
Owner Heather Anne Leavitt, cake artist Claudia Kimble and business manager Rachel Brandell are just wrapping up the finishing touches on their new space and plan to host an open house on April 21.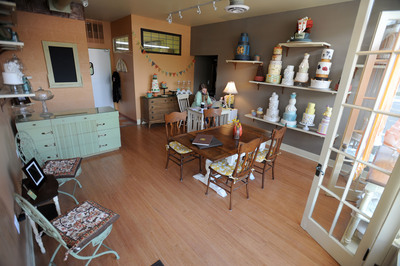 Angela Cesere | AnnArbor.com
Since 2010, the bakery has been operating out of a rented kitchen at 359 Metty Drive in Ann Arbor in a shared building with Katherine's Catering.
That space, Leavitt said, was only temporary so the company could find its footing and gain experience in the industry.
As Leavitt began looking for a more permanent location, she stumbled across a 1,400-square-foot space at 920 N. Main, owned by Peter Allen & Associates — a building that previously housed an architecture firm.
"We just fell in love with the space." she said. "It's really close to the highway — which is good for our delivery business — it has parking, it's close to the (Huron River) and it's just really charming with the ivy."
She added: "It's much more creative here, rather than being in an industrial space with no windows."
With the move, Sweet Heather Anne will delve into the pickup order business, with a dessert counter open on Fridays and Saturdays. The counter will have small items for sale, such as layered cakes in a jar, cookies and brownies.
The other half of the business is focused on custom orders made with locally sourced ingredients, with a focus on weddings and other events. Sweet Heather Anne also takes corporate orders and teaches decorating classes during the winter.
Brandell emphasized: "The focus is really on quality, rather than volume. Our goal would be to take on more complicated and intricate orders and be a leader in the industry, versus doing a large volume of cake orders."
To help with renovations at the Main Street space, Sweet Heather Anne launched a campaign on Kickstarter, a crowdfunding website, and raised more than $8,000 to install a commercial kitchen in the space.
They also installed new floors, separated the kitchen from the front space, painted and made other minor renovations.
Sweet Heather Anne is open mostly by appointment, but visitors are always welcome to stop in, Leavitt said. It also will be open to the public on Fridays and Saturdays for the dessert counter business.
The open house is from 12 to 5 p.m. April 21, and there will be free treats and items for sale.
Lizzy Alfs is a business reporter for AnnArbor.com. Reach her at 734-623-2584 or email her at lizzyalfs@annarbor.com. Follow her on Twitter at http://twitter.com/lizzyalfs.