Posted on
Wed, Jan 4, 2012 : 2:52 p.m.
Ann Arbor bar owners acquire downtown club Live at PJ's, Goodnite Gracie
By Lizzy Alfs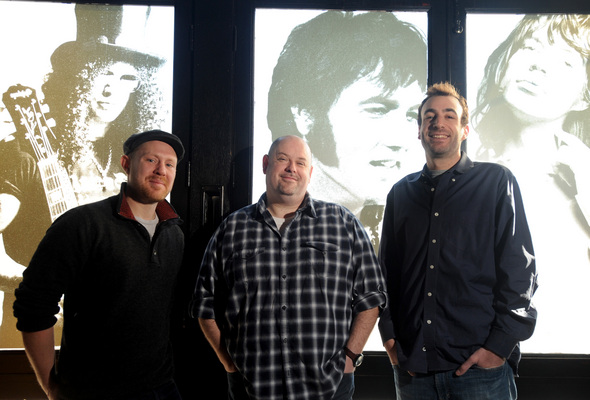 Angela Cesere | AnnArbor.com
Related story: Sale leaves concern about future of live music in Ann Arbor
The partners of downtown Ann Arbor restaurants and bars BTB Burrito, Alley Bar and Good Time Charley's confirmed in an interview that they have acquired downtown club Live at PJ's and the connected bar called Goodnite Gracie.
Adam Lowenstein, Justin Herrick, Robbie Schulz and Paul Drennan closed last week on a deal to buy the businesses, located at 102 S. First St. in Ann Arbor. They plan to renovate, revive and rebrand the roughly 8,000-square-foot space.
"We're taking over a failing business, not something that was cranking," Drennan said. "So we're very cautious, and we certainly want to move forward with all the different communities within the area in mind."
Former owner Derek Aldridge told AnnArbor.com that the deal materialized last week after the business had struggled to turn a profit for a long time. The problem, he said, is the high cost of live music and the minimal payback.
Live music "just didn't pay the rent," he said.
"It comes down to simple economics, where unfortunately a band costs at least three times as much as a DJ, and if you don't do three times the business, you can't support it," he said.
Both clubs hosted live acts on a regular and semi-regular basis, although they also shifted toward more DJ music in recent years.
The new owners plan to keep the venues closed during January for renovations.
The upstairs space, which they'll call LIVE, will have a DJ Thursday through Saturday. There will be no food, but a big emphasis on crafted cocktails and dancing. Drinks will likely range from $4 to $10.
"There's a lack of a dance club downtown, especially near Main Street," Lowenstein said. "Upstairs will be the kind of nightclub atmosphere."
Lowenstein added: "On other nights of the week, we want to pursue live music. We want live entertainment for sure."
Drennan said LIVE would be "a phenomenal meeting space with an emphasize on great music that will cut across the board. There will be classic rock right through to the 'Top 40' so we can cater to a broader crowd."
The downstairs bar's name will change from Goodnite Gracie to The Last Word, named after a 1920s cocktail from the Detroit Athletic Club. The bar will focus on crafted drinks with some live entertainment on a small stage, such as a pianist or a guitar artist. Most cocktails will be priced around $9, but will probably range from $5 to $14.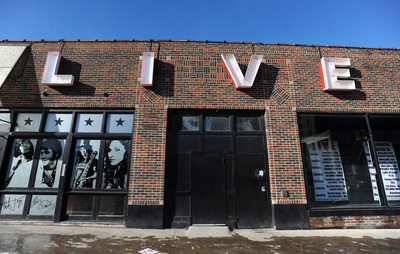 Angela Cesere | AnnArbor.com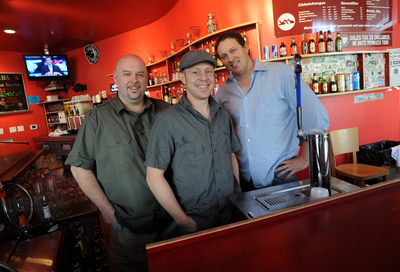 Melanie Maxwell | AnnArbor.com
"We're picking up on cocktail trends that are happening worldwide," Lowenstein said. "We'll have aging cocktails, and will be doing our own foam and bitters."
With a seating capacity of 96 people, the owners plan to only allow 96 customers inside at a time, in an effort to maintain an "intimate" feeling.
"Downstairs, we want to give you that space to breathe and the elbow room," Drennan explained. "We want to give you access to the waiters. It's going to be a very social, sit-down environment."
Although the two venues used to be very intertwined and people could go back and forth, the new owners are clear: these will be two very different and separate businesses, although they hope to target the mid 20s to 50s population at each.
"We hope to have two separate entrances and two separate identities," Lowenstein said.
They plan to hire about 25 employees, and have invited former Live at PJ's and Goodnite Gracie employees to apply.
Developing a successful business
Lowenstein first got his hand in business when he and Herrick opened BTB Burrito in 2004 when he was a senior at the University of Michigan.
The duo then bought Good Time Charley's on South University in 2007 and have since turned it into a leading bar catering to students.
In 2010, they partnered with Drennan - who helped open two restaurants at the MGM Grand in Detroit - and he became general manager of Charley's.
Schulz, who also worked at MGM and developed a beverage program, came in the picture as general manager at Alley Bar when the group purchased it in 2010.
The most important aspect of running a business, they all agree, is simply listening to your customers.
"We listen to the market and our ears are always open," Schulz said.
"You have to listen and you must adapt and change," Drennan added.
And at the new LIVE and The Last Word, they plan to do just that.
"The hard part for any owner of a failing business is people don't necessarily give you a second chance," Lowenstein said. "But we're getting a chance to make a first impression and that's key for us."
"The physical space is awesome, so we're going to bring good music, good employees, good drinks and a good atmosphere," he continued. "We really feel like we can bring people back."
At least one local musician who played regularly at Live at PJ's hopes the new owners make live music a priority.
Laith Al-Saadi, an acclaimed multi-genre guitarist who played at Live each Thursday, lamented the deal, saying it was a loss for the local music scene.
"It's a significant loss," he said. "For me as a lover of blues, jazz, rock and roll…there really aren't very many venues that support live music in town."
While it's unclear when the new operation will host live musicians and which ones, Al-Saadi said he'll continue with his regular Monday gigs at Woodruff's in Ypsilanti, Tuesdays at the Black Pearl, and Wednesdays at Bar Louie, in addition to playing most weekend nights at Guy Hollerin's or elsewhere.
For the time being, he said, "I can use the night off."
AnnArbor.com Entertainment Director Bob Needham contributed to this story.
Lizzy Alfs is a business reporter for AnnArbor.com. Reach her at 734-623-2584 or email her at lizzyalfs@annarbor.com. Follow her on Twitter at http://twitter.com/lizzyalfs.