Posted on
Tue, Nov 24, 2009 : 9:13 a.m.
Ann Arbor-based Borders books loses $37.7 million as sales decline
By Nathan Bomey
The grim sales outlook for Borders Group Inc. continued this morning as the Ann Arbor-based bookstore chain reported deeper sales declines.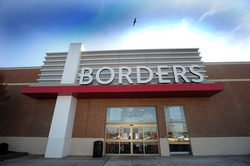 Borders' overall sales slipped 12.7 percent to $595.5 million in the third quarter, compared to the same period in 2008. Sales at Borders super stores open at least a year declined 12.1 percent.

The company reported a loss of $37.7 million, down from a loss of $175.4 million in the third quarter of 2008. Borders has lost $169.3 million so far this year, compared to $216.3 million at the same time last year.
Borders CEO Ron Marshall called the financial results "both difficult and disappointing" in a call with investors this morning.

The earnings report comes as Borders is entering a crucial holiday season that some experts believe could be critical to its long-term survival.

"This is an unpredictable holiday selling season as consumers remain unsettled and reactive to economic news, but we have made the right steps" to succeed, Marshall said.
The retailer is aggressively shifting its focus away from multimedia products such as movies and music. Borders added $16.8 million in its inventory of books but it slashed its multimedia inventory by $70.4 million at its super stores.
"I am for the first time since I joined the company generally pleased with the overall condition of our stores as we approach the holiday season," Marshall said.

In a continuation of its active cash conservation strategy, Borders spent just $6.8 million on store improvements in the third quarter, down from $17.9 million in 2008. Borders has spent $11.2 million on store upgrades this year, down 84.4 percent from 2008 -- which reflects the company's belief that it can't afford to invest heavily in stores during the economic crisis.
Sales in Borders' mall-based chain, Waldenbooks, dipped 20.3 percent in the third quarter, compared to the same period in 2008. The company now has 361 Waldenbooks stores, compared with 467 at the same time last year. But Borders announced three weeks ago that it would shutter 200 Waldenbooks stores.
Sales at Borders' chief rival, Barnes & Noble, reportedly increased by 4.3 percent to $1.2 billion, although sales at stores open at least a year slipped 3.2 percent. Barnes & Noble reported a loss of $24 million.
Borders employs more than 800 workers at its headquarters on Phoenix Drive in Ann Arbor's Research Park.

Borders stock (NYSE: BGP) was trading at $1.86 at 10:33 a.m., down 7.86 percent from its open of $2.01. Borders has 513 super stores and a total of about 25,000 employees.
Contact AnnArbor.com's Nathan Bomey at (734) 623-2587 or nathanbomey@annarbor.com. You can also follow him on Twitter.