Posted on
Thu, Jan 21, 2010 : 12:16 p.m.
Ann Arbor-based ForeSee Results expects 'aggressive revenue growth' in 2010 after 32% gain in 2009
By Nathan Bomey
Ann Arbor-based ForeSee Results, one of the region's hottest technology companies, is expecting "aggressive revenue growth" in 2010 after enjoying 32 percent growth in 2009, the company announced today.
The online customer satisfaction firm, which has about 150 employees at its headquarters on Green Road, will also continue hiring after expanding its personnel count by about 24 percent.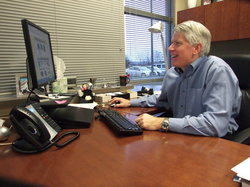 ForeSee's online survey technology helps companies assess customers' experiences at their Web sites. ForeSee conducts about 1 million surveys a month on behalf of its customers, a wide ranging list that includes major firms like Best Buy and Target.

The company last year introduced a Web metrics application that could also boost its bottom line.

ForeSee has enjoyed 92 percent revenue growth in the last two years.
"We had a great year in 2009. Our highly predictable revenue gives us great confidence that we will see even stronger growth in 2010," ForeSee Chief Financial Officer Jeff Blackman said in a statement.
In November, ForeSee won its third consecutive Fast Track award, an honor distributed to Ann Arbor area companies that have enjoyed an average of 20 percent revenue growth for at least three straight years.

Among the clients ForeSee added in 2009 were Adidas, British Airways, Kraft and Merck.
ForeSee CEO Larry Freed told AnnArbor.com in November that he was expecting revenue growth of about 35 percent for 2009.
Contact AnnArbor.com's Nathan Bomey at (734) 623-2587 or nathanbomey@annarbor.com. You can also follow him on Twitter.