Posted on
Wed, Jun 12, 2013 : 2:46 p.m.
Prominent mobile developer joins Ann Arbor startup to help create digital credit cards
By Ben Freed
Protean Payment, a local startup company working on creating a single-card "digital wallet," has added a major player in the local startup scene as its new chief technical officer according to a report in Concentrate Magazine.
Detroit Labs co-founder Henry Balanon will join the company — which won $25,000 in last year's Accelerate Michigan competition — as it prepares to raise a formal seed round of funding later this year according to Concentrate.
Ann Arbor-based Protean adds mobile developer to help create digital credit cards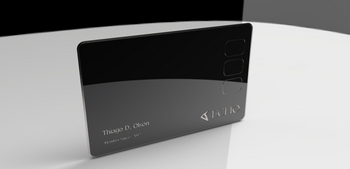 Courtesy Protean
Balanon has helped grow
Detroit Labs
, a mobile app developer based in the
M@dison Building
in downtown Detroit, as it acquired clients that include Quicken Loans, Stryker, and Domino's.
He will join Protean Payment co-founders Chris Bartenstein and Thiago Olson, who began Protean about one year ago after initially developing their technology as students at Vanderbilt University. After graduation, the pair moved to Southeast Michigan and have been working out of the Tech Brewery in Ann Arbor. The company may soon move to join advisor Dug Song, CEO of Duo Security, at his new office space in the former Bay Design building in Kerrytown.
Protean Payment's technology, called the "Echo" card, looks like a normal credit or debit card but can be programmed by using your phone to function as any of the cards in your wallet.
"You simply take out your phone, and tell your Echo which card you want it to be," CEO Olson, who is originally from the metro-Detroit area, told AnnArbor.com in an earlier interview.
"And you don't have to worry about someone stealing your card or it being used if you leave it somewhere. It can sense when it's out of range of your phone and will lock down automatically if you lose it."
Ben Freed covers business for AnnArbor.com. You can sign up here to receive Business Review updates every week. Get in touch with Ben at 734-623-2528 or email him at benfreed@annarbor.com. Follow him on twitter @BFreedinA2