Posted on
Tue, Nov 20, 2012 : 5:57 a.m.
Two Ann Arbor companies take home prizes at Accelerate Michigan competition
By Ben Freed
Editor's Note: Ornicept, also based in Ann Arbor, won the alternative energy sector in the competition. Look for a story on the bird monitoring company in the coming weeks.
Top startup companies from around the state and top venture capitalists from around the globe gathered Wednesday and Thursday in Detroit for the Accelerate Michigan innovation competition. Two Ann Arbor companies came away from the event with $25,000 checks.
Protean, a company housed in the Tech Brewery making an all-in-one credit card, won the top prize in the Products and Services sector. Kymeira Advanced Materials won the student business category with their discovery of a new polymer that can stand up to extreme temperatures.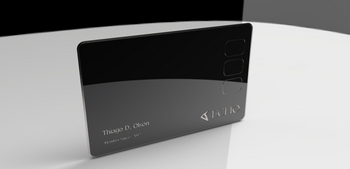 Courtesy Protean
The competition features companies making business pitches to panels of judges, most of whom work for venture capital funds, who award cash prizes to the top companies in eight sectors as well as a top student company.
Executive director Lauren Bigelow said there was an extremely wide range of firms at this year's event. Whether companies win category or major prizes, they are still being exposed to companies that could be interested in making major investments into their startups.
"We had two of the largest VC firms in Michigan participating - Arboretum Ventures and North Coast," she said.
"In the corporate venture field we had [among others] DTE Ventures, Honda R & D, Belgium-based Solvay and Abu Dhabi-based Taqa."
Bigelow said 312 companies submitted applications to be a part of this year's competition, and 51 of them were selected to give pitches at the event.
The two Ann Arbor-based winners are both working on new disruptive technologies that have the potential to significantly impact our daily lives.
Protean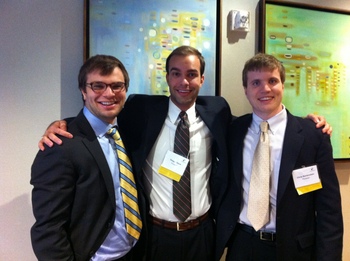 Courtesy Protean
The brainchild of three
Vanderbilt University
graduates, Protean is making a new type of credit card that they've branded the "Echo." The card will have a re-programmable magnetic strip that will allow it to be any of the credit, debit, or loyalty cards you currently carry.
"You simply take out your phone, and tell your Echo which card you want it to be," co-founder and CEO Thiago Olson, who is originally from the metro-Detroit area, said.
"And you don't have to worry about someone stealing your card or it being used if you leave it somewhere. It can sense when it's out of range of your phone and will lock down automatically if you lose it."
Besides slimming down your wallet, Olson said the card will also have a number of features that help make it more secure than a regular credit or debit card. Perhaps most notably, there will be no number on the front of the card.
"If you think about it, our credit cards broadcast a lot of sensitive information," Olson said.
"Anyone that can read or take a picture can steal account numbers when we use our credit cards. The Echo still has your name on it and a variety of features like the hologram you see on regular cards, but there's no number."
One of the major problems with mobile pay devices is what to do if your phone dies. Olson said in that case you can type a pin number directly onto the Echo which will unlock it so you're not stranded without a phone or money.
Protean has raised some money from angel investors, and the competition comes as they are preparing for a large seed round that Olsen said he hopes will be in the range of $1.5 to $2 million.
"We met a lot of VC's that were interested and we'll be talking with some of them very soon," Olson said.
"We're really just starting our round so it was kind of perfect timing for us."
With new funding, Olson said the company has started considering moving out of the Tech Brewery into more permanent offices. He and co-founders Chris Bartenstein and Miron Klimkowski have not chosen a new spot yet, but are looking to keep the company in Michigan.
Kymeira Advanced Materials
Kymeira is the result of two years of toil by Vince Alessi in his parents' garage developing what he says is a "new composition of matter." The advanced ceramic material that he created is a "thermoset" ceramic that can be cured at a slightly elevated temperature.
Alessi said the material's uses could be far reaching, as it is thermally stable at well over 3,000 degrees, a temperature that would transform aluminum into a gas.
"Metal tooling is the most readily accessible application in that a lot of it still goes on in the Midwest," Alessi said.
"We believe we can cause disruptive and additive innovation that will save everybody money and make everybody money."
In the metal tooling process, the polymer would be formed into die cast mold which liquid metal is injected into to form a part. The ability of this particular material to maintain form at high temperatures might allow for die casting of steel which is currently extremely difficult and expensive.
"There's currently no material that can handle the heat of liquid steel, except maybe tungsten," Alessi said.
"Steel is usually used to make the molds, but you can't cast steel into steel. You just get a big block of steel. Now we'll be able to make better parts that are cheaper, lighter, and stronger."
Alessi grew up in Ann Arbor and went to Community High School. He graduated from Oberlin College in Ohio and is currently taking post-graduate classes at the University of Michigan.
Alessi's executive team for the company is led by Cameron Smith and includes Dave Hatfield, Reed Shick and Micaela McCade.
Until the influx of cash from winning the competition, he had bankrolled the company himself, putting somewhere between $20,000 to $30,000 of his own money as well as many 12-hour days into development of the substance. He said that he is currently looking to raise capital to expand production but that there are also companies who are interested in buying the technology, which would avoid any equity diluting investments.
Check out Kymeira's video, part of their application for Accelerate Michigan:
Ben Freed covers business for AnnArbor.com. You can sign up here to receive Business Review updates every week. Reach out to Ben at 734-623-2528 or email him at benfreed@annarbor.com. Follow him on twitter @BFreedinA2