Posted on
Thu, Sep 9, 2010 : 4:22 p.m.
Ann Arbor battery firm Sakti3 lands $3.2 million investment from General Motors
By Nathan Bomey
Ann Arbor-based Sakti3, a University of Michigan spinoff developing next-generation batteries for electric vehicles, has secured a $3.2 million investment from the venture investment arm of General Motors.
Sakti3, whose CEO, Ann Marie Sastry, is considered a global expert on alternative propulsion, won the second investment approved by GM Ventures, a $100 million investment operation the automaker launched in June.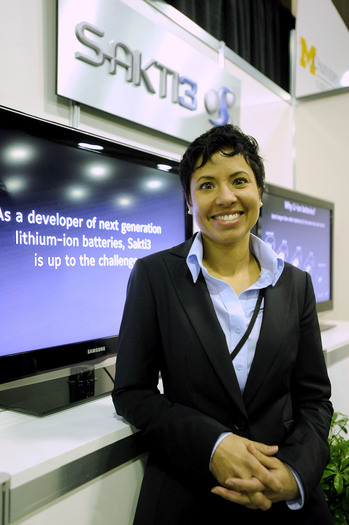 File photo | AnnArbor.com
A GM spokeswoman confirmed news of the investment, which was first reported this afternoon by the New York Times, but declined to offer further details until a news release is issued Friday morning. Sastry declined to comment until the news release is issued.
GM's decision to invest in Sakti3 is the latest show of confidence in the startup company, which has about 20 employees at its office on Victors Way.
Sakti3 earlier this year landed $7 million in venture capital from renowned clean tech investor Khosla Ventures and investment firm Beringea, which manages part of the $150 million Invest Michigan Growth Capital Fund.
"This is a critical phase in the growth of any high-tech company -- the recruitment of new partners and the development of the capability to build prototypes at a larger scale," Sastry told AnnArbor.com in April. "Our plan now is to keep our heads down and to keep developing our technology and to spend these funds wisely so we can get the prototypes to customers."
The New York Times reported that Sakti3's batteries would "replace the standard liquid electrolyte and electrodes with solids," boasting "the potential of doubling energy density, enabling smaller and more powerful packs that offer electric cars greater range."
"The technology that Sakti3 is working on is very innovative," GM Ventures President Jon Lauckner told the New York Times. "It's quite different from standard electrochemical cells and it's a technology not in the marketplace today. It has the potential of being a real game changer going forward."
GM already had a research partnership with Sakti3 and has enrolled dozens of its own engineers in Sastry's energy systems engineering master's program at U-M.
For GM, the partnership is practical: The automaker needs to lower the cost of advanced batteries to make electric vehicles affordable to the middle class. GM announced this summer that this November it would start selling the Chevrolet Volt, an extended-range electric vehicle, at a suggested retail price of $41,000.
The Volt uses a 400-pound lithium-ion battery pack to store electricity, allowing the vehicle to travel up to 40 miles without using petroleum until a gasoline-powered generator kicks in and recharges the battery, allowing the car to continue traveling.
GM and other automakers like Nissan, which is introducing the all-electric Leaf later this year, must lower the cost and size of electric vehicles.
"I think it becomes a volume issue," U-M Transportation Research Institute analyst Bruce Belzowski said in July. "As the economies of scale kick in, the price of the components will go down, but there is a certain amount of engineering, continuous improvement that will be a part of that as well."
Sakti3 in 2008 received a $2.3 million tax credit from the Michigan Economic Development Corp.'s Michigan Economic Growth Authority Board to support its growth plan. The company, which later received a separate $3 million award from the MEDC's Centers of Energy Excellence program, said in 2008 that it would hire 112 workers over the next several years.
Contact AnnArbor.com's Nathan Bomey at (734) 623-2587 or nathanbomey@annarbor.com. You can also follow him on Twitter or subscribe to AnnArbor.com's newsletters.