Posted on
Tue, Feb 2, 2010 : 12:45 p.m.
Ann Arbor biotech firm NanoBio awarded critical patent
By Nathan Bomey
Ann Arbor-based biotechnology firm NanoBio Corp. has received a U.S. patent that solidifies intellectual property rights considered key to its top products, the company announced today.

NanoBio, a University of Michigan spinoff firm, was awarded a patent pertaining to its platform vaccine technology and anti-infective product candidate.
The patent, NanoBio's sixth, comes after the firm struck a multimillion-dollar licensing deal with United Kingdom-based pharmaceutical giant GlaxoSmithKline to license NanoBio's cold sore treatment still in clinical development.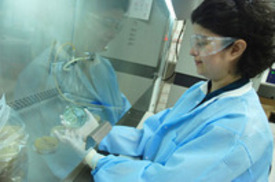 "The new claims circumscribe all of NanoBio's anti-infective and dermatological products, as well as our intranasal and intramuscular vaccine adjuvants," NanoBio CEO and founder James Baker said in a statement.
NanoBio has about 20 employees at its Ann Arbor headquarters and expects to add a few staff members this year. The firm's nanotechnology leverages extremely small particles to deliver therapies to patients.
Intellectual property rights are critical to preserving the vitality of life sciences companies. Patents position biotech firms like NanoBio to seek out further licensing deals and product opportunities.
NanoBio's deal with GlaxoSmithKline in December provided $14.5 million upfront to NanoBio in addition to royalties and payments of up to $40 million if the cold sore treatment hits specific milestones.
NanoBio indicated in its news release today it's also "currently in partnership discussions with several parties regarding" its new seasonal flu vaccine technology.
Contact AnnArbor.com's Nathan Bomey at (734) 623-2587 or nathanbomey@annarbor.com. You can also follow him on Twitter.