Posted on
Fri, Oct 5, 2012 : 5:57 a.m.
Ann Arbor board game creator raises nearly $45K with crowd funding from Kickstarter
By Ben Freed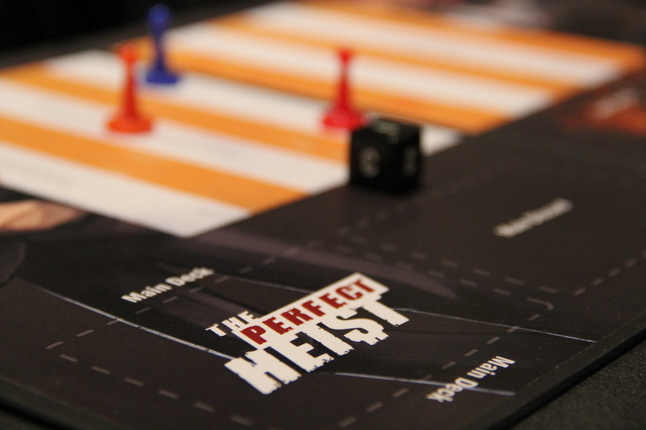 Ben Freed | AnnArbor.com
Social media's power to make things go viral can provide hours of useless entertainment through hits such as the
Gagnam Style
video or
I'm Shmacked
.
Thanks to kickstarter.com, a major "crowd funding" platform, the power of supporters also can be harnessed to fund the dreams of creators like Ann Arbor's Karl Tiedemann who do not have access to traditional sources of startup capital.
Kickstarter and the social networking site Reddit.com have helped Tiedemann's board game, The Perfect Heist, raise nearly $45,000 in pledged funding with days left on the campaign that ends Oct. 19.
"I'm incredibly excited about it but also anxious," said Tiedemann, a user experience designer at Barracuda Networks.
"There's a lot of excitement right now, but everything hinges on how people receive it once they get it. It's all about how much fun they have."
Tiedemann posted his game on Kickstarter on Sept. 19 with a fundraising goal of $13,000. He had been working on the game, in which players work together to pull off "heists" while simultaneously competing against each other, for nearly seven years and the money raised would be enough to print a run of 500 games from a company in Arizona.
"It was the lowest bid I was able to find anywhere," he said. "And that was for the very low end, the cheapest materials and everything."
While he had put about $1,500 of his own money into creating prototypes and finding the right illustrator for the game, Tiedemann know that to take production to the next level he would have to seek outside funding. Projects on Kickstarter are only funded if enough pledges are made to meet the "goal" posted by the fundraiser, and Tiedemann's project looked like it would end up very close to the $13,000 mark.
"My wife Monet had been joking for a while that she would post the Kickstarter campaign on Reddit, and that would be our 'ace in the hole,' " Tiedemann said.
"So when she called me right before I was going out to lunch to tell me that she posted I thought it was really sweet."
Reddit, perhaps more than any other site, can take campaigns viral extremely quickly. Posts are voted up or down by other "Redditors" on the "sub-sites" and sometimes quickly gain momentum that can propel them to the coveted Reddit front page. The comments on the original post reveal that the game had appeal to a wide variety of site users, including many international Redditors many of whom offered to translate the game into their native languages.
"I was out to lunch for maybe 45 minutes, and when I got back, I already had 15 new pledges in my inbox," Tiedemann said. "My wife was calling every few minutes and I could tell that it was going to snowball. When it made the front page, my office turned into a mini war room."
The response was not limited to small pledges. On Kickstarter, creators can offer "rewards" to those pledging at various levels. Tiedemann offered backers the opportunity to be a part of the game, by fashioning characters and archetypes after those who pledge enough money. Those rewards have been snapped up quickly, with 25 people pledging $100 or more to the project including 10 backers at the $400 or more level.
"Let's just say that [Monet] has earned her back-rubs and foot massages for a long time to come," Tiedemann said.
Ann Arbor is no stranger to Kickstarter campaigns. Local musicians have been utilizing the platform to raise money and food trucks in the Mark's Carts area have used crowd funding to get their businesses started.
Depending on the feedback he receives once games are distributed late this year, Tiedemann said he would either continue producing them himself or possibly sell the game to a larger manufacturer.
"If it gets really great response, I'll probably keep it," he said.
"This isn't the only game in my head, and I have a lot of expansions to the game that I think would make it more fun for everyone. I'm a creator, though, I like creating the product, I'm testing myself whether I can do the logistics side as well."
Check out a sneak peak from Heist creator Karl Tiedemann:
Ben Freed covers business for AnnArbor.com. Reach him at 734-623-2528 or email him at benfreed@annarbor.com. Follow him on twitter @BFreedinA2