Posted on
Wed, Mar 31, 2010 : 5 p.m.
Ann Arbor companies plan hiring, but financing problems threaten to slow pace
By Nathan Bomey
The Ann Arbor region's economy is poised to steadily add jobs over the next two years, economists say, but a lack of access to capital threatens to slow the pace of recovery.
Twenty executives from the region's top alternative energy companies gathered this morning to discuss the obstacles to accelerating their growth in a forum with John Fernandez, assistant secretary for the U.S. Department of Commerce.
The common theme: We need capital in all forms. The executives said improved access to financing is critical to helping them expand their businesses, target new markets and add jobs.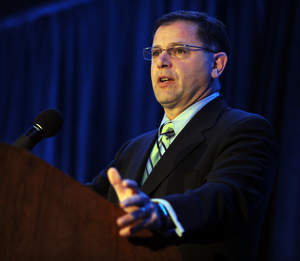 Lon Horwedel | AnnArbor.com
"It's a consistent message we hear everywhere we go," Fernandez said. "It used to be a valley of death. Now it's more like an ocean of death."
Fernandez, speaking later at the "Outlook: 2010" luncheon at Washtenaw Community College, said the federal government needs to do a better job of hastening the flow of capital.
"The federal government has not been a reliable partner," he said at the event, which was organized by AnnArbor.com and the Washtenaw Economic Club.
Michelle Crumm, co-founder and chief business officer for Pittsfield Township-based fuel cell maker Adaptive Materials, said young companies that have advanced past startup phase are in desperate need of capital.
"There's a gap for second-stage companies," she said.
That gap might be slowing job growth. The good news: Washtenaw County is expected to add 612 jobs in 2011 and 2,079 in 2012, according to an economic forecast prepared for AnnArbor.com by University of Michigan economists George Fulton and Don Grimes. It would mark the first time the region has added jobs in a calendar year since 2005.
That pace could accelerate if companies get efficient access to capital in the form of microloans, venture financing, angel dollars and public offerings.
But Rick Kurtz, CEO of Ann Arbor-based semiconductor firm Advanced Photonix, a publicly traded company, said raising capital by going public is no longer an option for most companies.
"That IPO market is gone," he said. "The entire landscape has changed entirely. How do we get back to that is the question."
For local energy startup companies, funding challenges are common - although the need varies significantly based on the type of company.
Battery maker A123Systems, for example, is swimming in capital after winning a $249.1 million grant from the U.S. Department of Energy last fall and raising nearly $400 million through a public offering.
But A123 benefited significantly from government funding in its early days. The firm came to Ann Arbor in 2006 when it acquired local startup T/J Technologies, which had obtained a variety of grants from the government when it launched in the early 1990s.
Today, the firm is building a battery plant in Livonia and completing other expansions with plans to hire more than 5,000 workers over the next several years.
"We were born and bred out of mainly government programs," said Les Alexander, general manager of A123's government solutions group in Ann Arbor.
Alexander, who assumed leadership of A123's Ann Arbor office this month after the retirement of entrepreneur Maria Thompson, encouraged the federal government to consider providing funds to economic development programs at the state level.
Alexander said organizations like economic development group Ann Arbor SPARK are better positioned to execute programs.
"Look at funding some of the programs the state already has," he said.
John Harding, co-founder of Scio Township-based electric motorcycle startup Current Motor Co., said startups are starving for private investment, but many typical investors are conserving cash. His firm recently acquired a loan of less than $50,000 from the $1.5 million Michigan Microloan Fund, which SPARK manages on behalf of several entities.
"We find ourselves in one of the toughest economic climates, and all of the angels are sitting on their money," he said. "So we can go to SPARK and we can get the very small loan, which has been wonderful. But we need that shot that's between $50,000 and a million."
SPARK CEO Michael Finney said the Michigan Pre-Seed Capital Fund, which SPARK manages on behalf of the Michigan Economic Development Corp., is a funding avenue for some companies. The fund makes equity investments of up to $250,000, but companies must secure a match to qualify for funding.
Fernandez, administrator of the Economic Development Administration for the Department of Commerce, said "regional innovation clusters" thrive because of collaborative efforts between innovators, economic development groups, educational institutions and municipalities.
"Entrepreneurs, researchers and innovators want to be around each other. They want to feed off that shared talent pool," he said. "Private investment will follow, innovation will follow, jobs will follow."

Contact AnnArbor.com's Nathan Bomey at (734) 623-2587 or nathanbomey@annarbor.com or follow him on Twitter. You can also subscribe to AnnArbor.com Business Review's weekly e-newsletter or the upcoming breaking business news e-newsletter.