Posted on
Wed, Jan 16, 2013 : 2:59 p.m.
Ann Arbor-developed Flocktag customer loyalty program quickly growing one year after launch
By Kellie Woodhouse
Melanie Maxwell | AnnArbor.com file photo
This article has been corrected to reflect that Flocktag has generated nearly $100,000 in revenue for participating businesses.
Nearly 100,000 users throughout 100 locations generating an estimated $100,000 in additional revenue: That's the success of FlockTag, a customer loyalty program launched in Ann Arbor in a year ago.
Since its initial launch, Flocktag has spread to six locations —all college towns— and further honed its approach to an intelligent loyalty program, says co-founder David Lin.
"It's been pretty well received," Lin said. Lin spoke at a Chamber of Commerce breakfast in Ann Arbor Wednesday morning.
Flocktag has doubled the 45,000 card holders participating in the program in September. The loyalty program also has added another 30 businesses —including the new R.U.B. BBQ Pub off Packard— to its repertoire since September.
When the program initially launched last year it included a modest three restaurants in Ann Arbor: Bubble Island, Espresso Royale and BTB Burrito.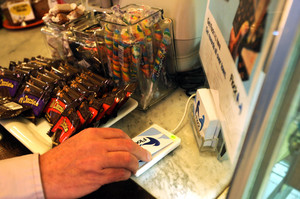 Melanie Maxwell | AnnArbor.com file photo
The program ties loyalty programs of participating restaurants and coffee shops to one system, so customers toss their multiple paper punch cards for one durable plastic card. That card not only tracks your loyalty points, but it also tracks your spending habits so businesses can send you deals specific to your preferences or location.
Say, for example, you frequent restaurants near U-M's central campus. In that case, you're more likely to get a coupon for the R.U.B. BBQ Pub texted to your phone than if you frequented an Espresso Royale on north campus.
"We're mapping out where people are going. What do people like," said Lin, who is a graduate of the Stephen M. Ross School of Business at U-M. "Vendors give out specific deals to specific kinds of customers and customers get deals that they actually like.
"It's not like your email folder where you're getting spam," he continued.
Lin estimates that of Flocktag's 100,000 users, over one-fifth are from Ann Arbor.
Kellie Woodhouse covers higher education for AnnArbor.com. Reach her at kelliewoodhouse@annarbor.com or 734-623-4602 and follow her on twitter.