Posted on
Thu, Sep 8, 2011 : 5:58 a.m.
Michigan football team's game against Notre Dame delivers big kick for Ann Arbor economy
By Lizzy Alfs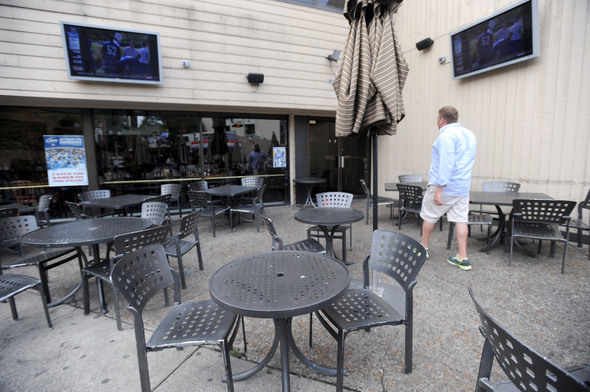 Angela J. Cesere | AnnArbor.com
Hotels are booked, restaurants are increasing staff and the Ann Arbor community is preparing for thousands of visitors who will arrive this weekend for the
first night football game
in the history of
Michigan Stadium
.
For the Michigan football team, which plays Notre Dame in a game set to kick off just after 8 p.m., the night marks a chance to get a second straight win — this time with stadium lights shining and flash bulbs popping.
But for Ann Arbor, the game equlas the largest economic boost of the Wolverines' eight home games this year.
The matchup is expected to generate an economic impact of about $10 million, said Mary Kerr of the Ann Arbor Convention & Visitors Bureau.
"I would say that the Notre Dame game will probably lead out-of-town spending compared to the rest of the games," she said. "In addition to traveling and spending on hotels and restaurants, fans generate significant economic activity in and around the stadium."
This football game could bring nearly 115,000 people into the Big House, drawing the "largest crowd [its] ever had," Michigan athletic director Dave Brandon said in a press conference on Tuesday.
Kerr views the first-ever night game as more of a "weekend event" than a typical football game, with more visitors booking hotels and planning to stay the entire weekend.
"This starts Friday and carries over into Sunday," she said.
Joe Sefcovic, general manager at the Holiday Inn Ann Arbor, said the Holiday Inn hotel rooms are completely sold out, and most area hotels are also booked.
"This year, both football teams are on the rise and it is the first night game, so I think there's a lot more excitement," Sefcovic said. "I definitely think the night game helps."
To prepare for the influx of people looking to watch the football game, Good Time Charley's on South University has installed outdoor televisions on its patio.
General manager Paul Drennan estimated that Charley's sees about 40 to 50 percent more business on a football Saturday, and he thinks the night game will generate even more activity.
"We're giving people more space to watch the game and we expect it to be crazy busy," he said. "We just think because it's historical, there's going to be a lot of interest and we'll be busy both Friday and Saturday."
Vince Badalamenti, manager at The Arena on East Washington Street, said he hopes there will be a crowd watching the game at the downtown bar.
"We're busy for any football game," he said. "We aren't sure what to expect for the night game, but we're planning for crowds who come into town early and hit up some of the restaurants."
Although bars and restaurants are hoping to see big crowds, U-M and the city are increasing safety efforts to ensure the historic event is a success.
Brandon said on Tuesday that Michigan will have "more feet on the street" around the stadium to keep an eye out for folks that they deem unfit for entry into the stadium.
U-M also has an "Ambassador Program" for the night game, where volunteers will provide hospitality services, incident reporting and have visibility throughout campus and downtown.
Kerr said the program was accepting applications for up to 350 volunteers, who will wear visible orange shirts in the area on Saturday.
Lizzy Alfs is a business reporter for AnnArbor.com. Reach her at 734-623-2584 or email her at lizzyalfs@annarbor.com. Follow her on Twitter at http://twitter.com/lizzyalfs.