Posted on
Tue, Sep 6, 2011 : 4:12 p.m.
Michigan AD Dave Brandon isn't opposed to more night games, but wants to see how this weekend goes first
By Nick Baumgardner
Michigan athletic director Dave Brandon is not opposed to making night football a staple at Michigan Stadium. He just wants to get through this weekend's massive trial run first.
"We know this is doable, this isn't mission impossible," Brandon said Tuesday. "But we need to do it well and we need to do it the Michigan way."
The Wolverines host Notre Dame at 8 p.m. Saturday in the first night game in Michigan Stadium history, a contest Brandon said should draw the "largest crowd we've ever had."
MORE 'UNDER THE LIGHTS' ACTIVITIES ON SATURDAY
9 a.m. to noon: ESPN's College GameDay broadcasts live from Ingalls Mall.
Noon: Parking lots open.
Noon to 8 p.m.: Fanfest at Pioneer High School.
Pre-game in Michigan Stadium: 100,000 maize pom pons distributed, Desmond Howard College Football Hall of Fame presentation, Sept. 11 terrorist attacks 10-year anniversary tribute, flyover following the national anthem.
In-game in Michigan Stadium: 1971 Big Ten championship team highlighted.
Halftime in Michigan Stadium: Special marching band performance, parachutists.
The event will be a five-star spectacle with a dose of football on the side, and it will all be done after dark. The possibility of 115,000 people converging on Ann Arbor, at night, comes with a higher degree of off-field danger.
"I don't think we need to be too subtle about it. It's a Saturday night, it starts at (8 p.m.) and people have all day to celebrate and prepare for this momentous occasion," said Brandon, who admitted that former Michigan coach Bo Schembechler "would be mad" at him for starting a game this late. "And the people we worry about are the people who over-celebrate.
"Those who start their partying too early and over-indulge and come to the game and are not in a condition to make it a great experience, not only for themselves but also for everyone else in the stadium."
Brandon said he's reached out to fellow Big Ten athletic directors for advice on how to put on such an event.
The same can be said for Greg O'Dell, the Michigan Executive Director for the Department of Public Safety.
O'Dell said he and his staff have worked closely not only with the Michigan athletic department and the Ann Arbor police force, but also with fellow college departments around the conference to get a feel for what they might expect Saturday.
"We could go on and on with concerns," O'Dell said. "In the last two years, a number of our officers and supervisors have gone to (other college football night games) to see their operations for night games.
"It's something we're really preparing for and we're really trying to get as much information as we can about this event."
Some of the incidents felt at other campuses during football night games are obvious.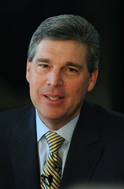 AnnArbor.com file photo
Too much alcohol consumption following an extended day of tailgating. Too much traffic due to increased crowd size. Not enough lights in heavy foot-traffic areas following the completion of the game.
But there are other issues as well.
"There are more concerns (during a night game)," said University of Iowa associate director of public safety David Visin. "Looking at construction sites, looking around at anything that can be weaponized. Looking for things that people can take and throw through a window or something like that.
"We want to make sure that anything like that from the stadium all the way to downtown is clear of things like that."
Visin also said that overall officer fatigue during such a long day is something he and his staff pay attention to. They also pay attention to the outcome of the game itself because the overall mood for a larger-than-usual crowd can change considerably depending on a home victory or loss.
"If we lose, that's a whole different environment than if we win," Visin said. "It's not that we don't want our team to win, but from a police standpoint, if we beat someone like Ohio State (at night), it becomes much more stressful on us than we would ever expect."
University of Wisconsin-Madison Police sergeant Aaron Chapin added that in his experience, a portion of those issues can be avoided by educating students and fans on what to expect during a night game.
Chapin says that if the community and student body get on the same page, then often times things go quite a bit smoother.
"The biggest thing is education for the fans," he said. "That's paramount. You need to make sure that fans know what's expected, to make sure they know about safety and try to partner as much as you can with the community to make it as safe and as fun as possible."
Brandon agreed with those statements Tuesday, saying that he and his athletic department have reached out not only to the students who will be attending Saturday's game, but also the casual fans as well.
Brandon said that Michigan will have "more feet on the street" around the stadium gates in order to keep an eye out for folks that they deem unfit for entry into the stadium.
He added that if anyone attempts to bring in alcohol, or appears to be heavily intoxicated, his staff is prepared to handle those situations as they see fit.
"We want to get to the point where people understand that whether you have the ability to party all day long -- whether it's a noon start, a 3:30 start or an 8 p.m. start -- we're going to make sure that we can do what we can to make it a good experience," he said. "People pay a lot of money to get into that stadium, and to be around someone sitting around you that's not in the condition to enjoy the game or behaving themselves, then that's a detriment to the people that are there to watch football."
A major football rivalry, a historic Michigan Stadium event and college football's largest television audience will all be welcomed into Michigan's first shot at football after dark.
Brandon wants the event to be unique, he wants it to be special and he wants it to be as safe as possible.
But this is Michigan. Meaning that even though it's the school's first try, Brandon also wants it to be as big as possible.
"I don't know if you can test anything when you have 100,000 people," he said. "If we're going to go through all this time and effort and we're going to do it right. Let's do it big."
Nick Baumgardner covers Michigan basketball for AnnArbor.com. He can be reached at 734-623-2514, by email at nickbaumgardner@annarbor.com and followed on Twitter @nickbaumgardner.