Posted on
Mon, Jul 18, 2011 : 6:03 p.m.
Residents express disappointment and sense of inevitability at closing of flagship Borders store
By Lizzy Alfs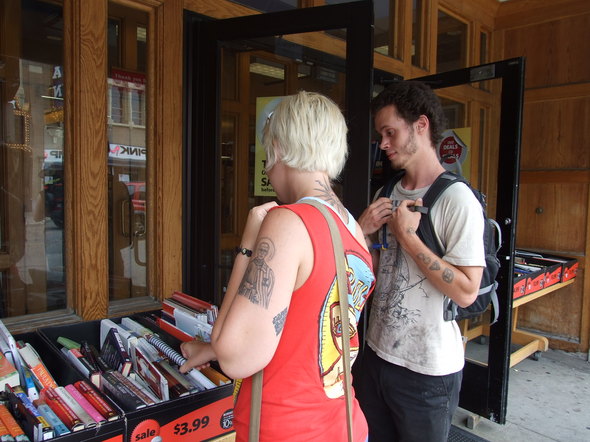 Lizzy Alfs | AnnArbor.com
Many
Ann Arbor
residents expressed disappointment today upon the news that the Ann Arbor-based
Borders Group Inc.
plans to liquidate
, which will close the flagship store on the corner of Liberty and Maynard streets.
The liquidation was announced today shortly after 4:10 p.m., and the chain's 399 remaining stores will be closed quickly, with liquidation sales starting as soon as Friday. The company did receive a bid to acquire leases for 30 stores.
Along with leaving a 42,000-square-foot storefront vacant in downtown Ann Arbor, the 10,700 people who still work for Borders will lose their jobs.
Many people in downtown Ann Arbor today reacted with disappointment, although several people said they thought the store closing was inevitable.
"I think that Borders was a part of this community, but with the fiscal state of both the country and this particular enterprise, it seems like this has been inevitable for quite some time," said Larry Molar, a 30-year Ann Arbor resident.
Molar attributed the company's financial trouble to "bad management" and electronic media, like the Amazon Kindle e-book reader.
"It's a very competitive climate for books right now," he said. "This city is going to be kind of a literary wasteland for a while."
Joan Chesler, who has been an Ann Arbor resident for over 50 years, said that the liquidation likely resulted from the company over-expanding and not remaining focused on book sales.
"It's sad, you know, because it started from nothing and over-expanded," she said. "I think they didn't focus on their book business enough…they have all this stuff like stationery and not enough books."
For Ann Arbor resident Holly Ramsey, the news over the loss of Borders came as a "shame and a disappointment."
"This is my favorite bookstore," Ramsey said. "We need a bookstore downtown. It's very disappointing."
Stephen Rooke, a recent University of Michigan Law School graduate, said that losing the flagship Borders store downtown reflects a trend of locally based retailers closing.
"Ann Arbor's downtown is definitely changing," Rooke said. "Shaman Drum closed, CVS, 7-Eleven and Chipotle all opened. The chains are coming in, and with Borders shutting down, the city is losing more of its local flair."
Although Rooke said it's a "shame" that the downtown Borders store is closing, he said that available retail space could end up benefiting the city.
"It's a big space and it might be a great opportunity for a new company to come in and really reuse the space and create even more jobs," he said. "You just never know."
In a change of tune, Ann Arbor resident Jason Andrews said that the Borders closing does not affect him and he views it as a benefit to the community.
"When this Borders opened, they took out several other smaller, locally owned bookstores," he said. "And the prices at Borders were higher."
Lizzy Alfs is a business reporter for AnnArbor.com. Reach her at 734-623-2584 or email her at lizzyalfs@annarbor.com. Follow her on Twitter at http://twitter.com/lizzyalfs.