Posted on
Sat, Dec 22, 2012 : 5:59 a.m.
Last-minute shopping: Ann Arbor registers are jingling as store owners see record sales
By Janet Miller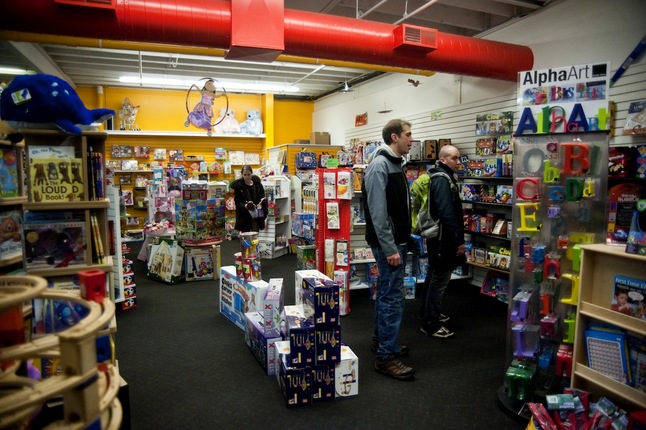 Joseph Tobianski | AnnArbor.com
Ann Arbor residents are opening their wallets a little wider this holiday season as storekeepers get ready for what they expect to be a frenzied final weekend before Christmas.
After the lean years that followed 2008, the 2011 Christmas shopping season looked rosier. This season is proving that wasn't an aberration.
Cash registers have been ringing, especially in the past week, Ann Arbor retailers said. While the holiday buying season started slowly for some — October was dismal — it picked up in December, putting some Ann Arbor retailers on track for record sales.
The economy looks to be in recovery, they said, as shoppers return to buying bigger ticket items along with picking up a gift or two for themselves. It also helps that there is a full weekend before Christmas, they said. With Christmas falling on Sunday last year, the final weekend shopping blitz was cut short.
Main Street storeowners are hearing the jingling of robust sales, said Maura Thomson, executive direction of the Main Street Area Association. "I haven't had contact with anyone who has given me negative feedback," she said.
Buying shifted into high gear mid-week, said Jan Benzinger, co-owner of Mudpuddles Toy Store in Kerrytown Market and Shops.
While sales for Midnight Madness, which was in November this year, were up 9 percent from last year, things slowed down during the following weeks. "December started out lackluster," Benzinger said. Last year's holiday sales were so strong, it left her wondering if it would be impossible to top.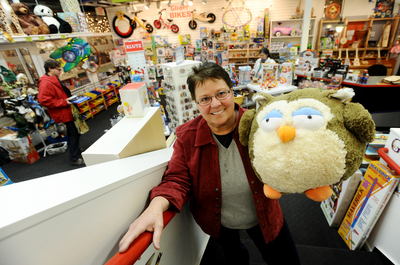 Melanie Maxwell | AnnArbor.com
But recent days have given her the answer. "(Wednesday) was like someone opened the flood gates," Benzinger said. Holiday sales are up 10 percent over a year ago, she said. People are spending more. "Per customer sales are up," she said.
And she expects the pace to continue until Christmas Eve. She's predicting a non-stop weekend as visiting grandparents arrive in town. Having a full weekend will help. "Last year at this time, we were winding down. This year, we're gearing up," Benzinger said.
Art is back on shoppers' gift list. The Ann Arbor Area Art Center's gallery shop had its biggest day ever last Saturday, said Amy Farnum, gallery shop director. She expects a repeat this weekend. "It was huge," she said. "I feel like the economy is finally coming back. People are buying paintings again (which can cost thousands of dollars), which is a big indicator." The center sold a $4,300 piece by an Ann Arbor artist recently.
Even shoppers on more modest budgets are buying more. "Instead of spending $20 on a gift, people are buying gifts for $50," Farnum said. "And a lot of people are buying for themselves." December is on track to beat last year by 3 to 5 percent, she said.
And while 2008 saw holiday sales drop, Lewis Jewelers has seen steady improvement each holiday season since, said Jonathan Farnsworth, manager. This year is no exception, with the jewelers on target to see a 20 percent increase over last year's holiday season. Last Saturday was the biggest day in store history. And the best is yet to come. "The Saturday before Christmas is always our biggest day," Farnsworth said.
The national holiday shopping scene appears a little more tepid, with sales growing at a slower rate than the 4.9 percent rise seen during the 2011 season. The 3.3 percent increase predicted for 2012 by ShopperTrak has been downgraded to 2.2 percent. ShopperTrak cited concerns about the fiscal cliff and the threat of higher taxes as possibly putting a damper on sales.
At Aunt Agatha's Books in Ann Arbor, sales are also down from a year ago, which was a blockbuster year, said Robin Agnew, co-owner. She's not sure why. "It's weird. I have no idea. It's impossible to gauge. But after 20 years of doing this, you can tell what it's going to be like by Black Friday. This Black Friday was medium. Last year's Black Friday was crazy."
Last Saturday was the busiest day of the season, and today is likely to beat that, Agnew said. "Books are last-minute gifts. We get a lot of desperate husbands." While holiday sales are a little soft, Aunt Agatha's is having its best year-to-date ever, Agnew said. "That's why I'm not that upset about Christmas."
Janet Miller is is a freelance reporter for AnnArbor.com. Contact the news desk at news@annarbor.com or 734-623-2530.