Posted on
Mon, Jun 25, 2012 : 5:55 a.m.
Ann Arbor SPARK aims to keep young people in Michigan via new internship program
By Lizzy Alfs
Ann Arbor SPARK CEO Paul Krutko believes college students and young professionals can help lead the state's economic recovery.
That's why SPARK — a private-public partnership co-founded in 2005 by Gov. Rick Snyder — recently launched a new program to help local start-up companies fund the cost of an internship.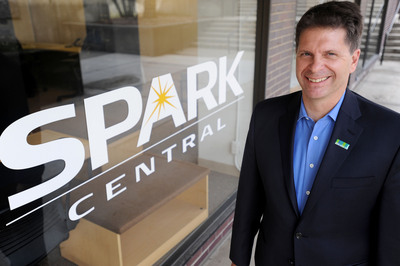 Angela Cesere | AnnArbor.com
SPARK is financing half the cost of an internship program at 10 start-up companies in the Ann Arbor area.
Among the companies: Akervall Technologies, Duo Security, Dangos, Inner Circle Media, Real Good Food, SentryMed, Think Tech Labs, TruApp, YourCall.FM and Regenerate Solutions.
"We are providing a funding match to early-stage, small companies and start-ups that would not otherwise be able to afford to hire an intern," said Donna Doleman, SPARK's vice president of marketing, communications and talent.
She added: "It's a win-win because it provides the college students, obviously, with a paid work experience in an innovative entrepreneurial environment, but also the company gets the help that they need."
At the same time, the 12 interns also participate in a "social program" managed by SPARK that coordinates informal activities in the Ann Arbor area.
Social activities include group canoe trips, a Top of the Park tent mixer and a two-month long scavenger hunt around Ann Arbor, according to a news release. The winner of the scavenger hunt receives an iPad donated by the Ann Arbor Convention and Visitor's Bureau.
Aside from the 12 interns in the program, the social activities include interns from Google, U-M and Toyota.
Krutko told AnnArbor.com in May that it's critical to make Ann Arbor an "appealing place" — something that will convince college graduates to stay and work in the area.
He said SPARK is supportive of initiatives that work to enhance the area's quality of life, such as efforts to promote Ann Arbor's live music scene and opportunities to make more affordable rental housing available near downtown Ann Arbor for young professionals.
"We need to do everything we can to make this an appealing place, so we can capture a great share of people that are graduating from here," he said.
Doleman added: "The opportunity we have in Ann Arbor is really to expose young talent to what all of Ann Arbor has to offer, in hopes that they will consider choosing Ann Arbor as a destination for job opportunities in the future."
Lizzy Alfs is a business reporter for AnnArbor.com. Reach her at 734-623-2584 or email her at lizzyalfs@annarbor.com. Follow her on Twitter at http://twitter.com/lizzyalfs.