Posted on
Mon, May 21, 2012 : 3:05 p.m.
SPARK's annual report: Ann Arbor is a 'tremendous driver' for state's economic health
By Lizzy Alfs
The Ann Arbor region is helping to drive business development and economic growth for the entire state of Michigan.
That's the message from Ann Arbor SPARK CEO Paul Krutko one year after he joined the economic development group, which was co-founded in 2005 by Gov. Rick Snyder.
The private-public partnership employs 24 people, manages three business incubators, provides grassroots services and retraining to entrepreneurs, communicates regularly with existing companies to convince them to stay and expand in the Ann Arbor area, and works to attract and retain talent in the area.
The group — which released its 2011 annual report on Monday — said that 48 of the companies it assisted in 2011 created or announced plans to create 431 new full-time jobs, with new investment project costs totaling more than $52.2 million.
These numbers are more conservative than past reports, since past job creation numbers reflected companies' growth targets and not necessarily actual jobs created.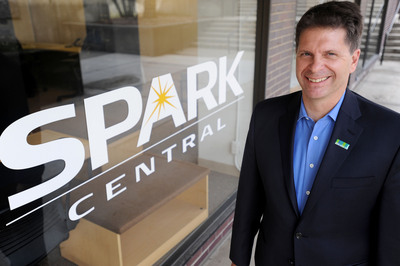 Angela Cesere | AnnArbor.com
The group's 2011 annual operating budget was about $4.4 million, which comes from tax dollars via the Local Development Finance Authority, Washtenaw County, the city of Ann Arbor and other local municipalities, the University of Michigan, and financing from private businesses and nonprofits.
Krutko, who outlined some of the group's 2011 initiatives in an interview with AnnArbor.com on Monday, said the organization had a "really solid year" of stabilizing SPARK's leadership, fundraising, assisting companies, launching new initiatives and recruiting talent.
Krutko said one of the most important initiatives for SPARK is "The Three R's": Retain, recruit and retrain talent to help fill Michigan's job openings.
"In talking with the CEOs across the community, it's really a major issue," Krutko said. "They have significant employment opportunities with very important positions they need to fill, and they're looking at us to partner with them to really come up with new ways to meet that gap."
The issue is something that has been stressed recently by Rick Snyder, Michael Finney of the Michigan Economic Development Corporation and U-M economists. Michigan has some 70,000 job openings, yet companies are unable to find the right workers to fill those positions.
Krutko said that in 2011, SPARK expanded its MichAGAIN campaign — which recruits Michigan alumni working outside the state to return to Michigan for employment. It also launched Shifting Code, an IT skills-building program that gives people with an existing IT background advanced training.
Krutko said SPARK expanded its reach to Livingston County last year and is working to raise an angel investment fund.
It's also currently testing an internship program aimed at University of Michigan students. SPARK would fund half the cost of an internship position at a local company. It's also encouraging students to start internships in the first two years at a university.
He said the Ann Arbor area is unique in that it's already fairly well positioned to attract companies and to retain some talented workers, thanks to the city's advantages: the University of Michigan, the thriving downtown area and the high quality of life. For that reason, he said, Ann Arbor is a "key asset" in driving the state's economy.
"(Ann Arbor) is a tremendous driver for the entire state," he said. "Investments that are made here to support what we're doing do have ramifications across the entire state."
He said SPARK is supportive of initiatives that work to enhance this quality of life, such as efforts to promote Ann Arbor's live music scene and opportunities to make more affordable rental housing available near downtown Ann Arbor for young professionals.
"We need to do everything we can to make this an appealing place, so we can capture a great share of people that are graduating from here," he said.
To be sure, Michigan and the U.S. economy still face challenges, including still-high unemployment figures.
Jeff Finkle, CEO of the International Economic Development Council, said at SPARK's annual meeting that the country is slowly emerging from the recession, but still faces issues, including global job competition — particularly from China — business closures and downsizing, and lack of access to capital and financing.
In an interview with AnnArbor.com, Finkle said economic development groups can play an "absolutely critical" role in helping a community rebound.
"SPARK is trying to make sure that you still win those placements by firms that are trying to make decisions about locations. It's easy for a community to be passed over if it doesn't appear business-friendly," Finkle said.
As Krutko looks ahead to 2012, he said SPARK plans to develop a more aggressive program to assist second-stage companies — or already-established companies with 10 to 100 employees.
"How can we unlock their growth and accelerate their growth?" he said. "We think we're good at early-stage startup and at mature companies…but there's this place in between of what we call driving industries."
He said members of SPARK are meeting with leading technology companies in other states, many of which are based in California, and he believes there's opportunity in the Ann Arbor area to attract some of that talent.
"My sense is we have a real competitive advantage, from a cost perspective, quality of life; I think we have a lot to offer."
Among the "success" stories SPARK cited in its 2011 report: University of Michigan spin-off Arbor Networks, which has invested millions to upgrade its Ann Arbor-based research-and-development operation; ex-Borders employee David Altheon who landed an executive position with Ann Arbor-based Forest Health Services thanks to SPARK's Joint Adjustment Committee; and DeNovo Sciences, whose CEO and founders went through SPARK's Entrepreneuer Boot Camp and then won the Great Lakes Entrepreneur's Quest Business Plan Competition.
(Editor's note: AnnArbor.com Executive Vice President Laurel Champion serves on Ann Arbor SPARK's Executive Committee.)
Lizzy Alfs is a business reporter for AnnArbor.com. Reach her at 734-623-2584 or email her at lizzyalfs@annarbor.com. Follow her on Twitter at http://twitter.com/lizzyalfs.