Posted on
Wed, Dec 21, 2011 : 4:57 p.m.
Ann Arbor SPARK wins $500,000 to support startup business incubators
By Nathan Bomey
(Editor's note: AnnArbor.com Executive Vice President Laurel Champion serves on Ann Arbor SPARK's executive committee.)
Economic development group Ann Arbor SPARK won a $500,000 grant from the Michigan Economic Development Corp. to support its business incubation activity, officials announced today.
SPARK's three incubators provide physical space to high-tech startup companies in fields such as software, biotechnology and alternative energy.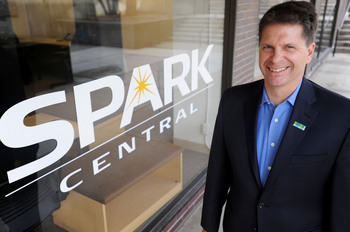 Angela Cesere | AnnArbor.com
MEDC
today distributed $6 million in funding to 12 organizations throughout the state to support incubators — an economic development strategy aimed at giving early-stage companies a cheap boost as they're entering growth mode.
SPARK operates business incubators in downtown Ann Arbor and downtown Ypsilanti and a 57,000-square-foot business incubator in Plymouth Township. The Ypsilanti incubator, named SPARK East, will specifically benefit from the MEDC funds.
"MEDC support for Ann Arbor SPARK's East incubator extends and enhances opportunities for startups throughout the region," SPARK CEO Paul Krutko said in an emailed statement. "Business incubators play an important role in our economy. The startups that receive assistance through SPARK East attract investment, retain talent and create jobs here in the region. Â Ann Arbor SPARK business incubators provide the critical support that start-ups need to become drivers of economic success."
The funding comes after the Michigan Legislature passed legislation in June mandating the distribution of business incubator grants to organizations throughout the state.
Other winners included Oakland County's Automation Alley ($625,000), TechTown in Detroit ($875,000), the Macomb-Oakland University Incubator ($500,000) and other operations in Lansing, Flint, Kalamazoo, the Grand Rapids area and the Upper Peninsula.
"Early-stage companies require seed capital and access to a strong network of public and private resources," said MEDC CEO Michael Finney, SPARK's founding CEO, in a statement. "We are confident that with the funding of these organizations and the types of services they will provide, we will continue to accelerate the growth of innovative technology start-ups in Michigan."
Contact AnnArbor.com's Nathan Bomey at (734) 623-2587 or nathanbomey@annarbor.com. You can also follow him on Twitter or subscribe to AnnArbor.com's newsletters.