Posted on
Sun, Sep 26, 2010 : 6:01 a.m.
University of Michigan forming startup business incubator at ex-Pfizer site
By Nathan Bomey
The University of Michigan bought the former Pfizer campus in northeast Ann Arbor to expand its research and accelerate its own economic development activity. Now it plans to use a portion of the site to launch a business incubator that will help cultivate its startup companies.
The incubator, led by the U-M Technology Transfer Office and called the Venture Accelerator, will provide space to a handful of startup companies led by faculty entrepreneurs. It will be housed alongside offices for the Tech Transfer Office and the Business Engagement Center, groups that are moving to the ex-Pfizer site - now called the North Campus Research Complex - at the end of the month.
"Hopefully the companies that spin out of there will be in a much better position to grow," said Ken Nisbet, executive director of the Tech Transfer Office. "This is a tremendous opportunity to bring together the venture community to help mature these companies."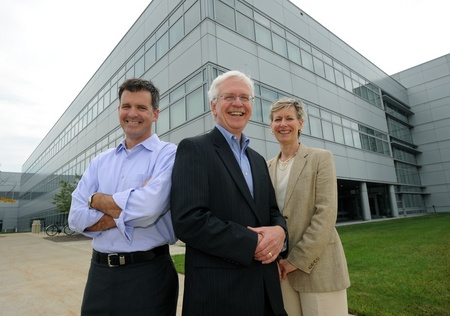 Lon Horwedel | AnnArbor.com
This move marks the first time the university has decided to invest its resources to set up a place where its own startup companies can operate. University officials said for months that they were looking for ways to use some space at the 2-million-square-foot ex-Pfizer site to offer space to the university's startups.
The Venture Accelerator joins a growing network of business incubators in the Ann Arbor region - a network that economic development officials believe is critical to the growth of the region's entrepreneurial community.
About 100 startup companies in the Ann Arbor area are using local incubator space, according to an informal survey conducted by AnnArbor.com.
Faculty-led companies that receive consulting services from the U-M Tech Transfer Office's Venture Center - an effort launched in 2009 to advise potential U-M startups - will populate the Venture Accelerator.
The Venture Accelerator, Tech Transfer Office and Business Engagement Center will be clustered in a 32,000-square-feet in a former Pfizer building at 1600 Huron Parkway, just north of the major drug manufacturing complex at the site.
The university hopes that startups will flourish in the space, in particular because they'll have direct access to business services literally next door. Startup companies often don't have the cash to pay for commercial office space until they've developed further, meaning that access to incubator space can crucial to their growth.
To be sure, "not all of our projects are going to be in the accelerator," Nisbet said. "But when they get ready to become a company, they will have this as an option. We intend to make this a very attractive option for our portfolio of startups."
Nisbet said U-M would subsidize the space to minimize rental costs for its startup companies, which will be offered cheap space for a year or two. He said the level of investment had not been determined. But the Tech Transfer Office, which licenses university technology to startup companies and established corporations, expects to hire someone to manage the space and handle logistics.
Nisbet said he hopes to have a few startups using the space within months, though he said it could be 2 to 3 years before it's at full capacity. The space has room for startups of all kinds, including laboratory space for biotech companies.
Michael Finney, CEO of economic development group Ann Arbor SPARK, which operates three incubators of its own, said the Venture Accelerator adds an important element to Ann Arbor's entrepreneurial community. He said he doesn't view it as competition for SPARK's incubators.
"This will create a resource that will allow them to easily transition opportunities into companies, and it really is a combination of incubator and business acceleration services," Finney said. "We view it as a real positive."
Nisbet sees the new U-M incubator as complementary to the region's other incubators.
"It's just going to be: Where's the best place for a company to mature?" he said.
The region's business incubation network now includes:
-Ann Arbor SPARK's business incubators in downtown Ann Arbor and in downtown Ypsilanti, which are operating at near capacity with 10 tenants apiece. An additional 30 companies use virtual services offered by the incubators.
-The 57,000-square-foot Michigan Life Science Innovation Center in Plymouth Township, a facility SPARK manages. The building, a former Pfizer complex, houses 17 companies and is operating at 95 percent capacity with companies like Esperion Therapeutics and Lycera Corp.
-TechArb, a 2,600-square-foot incubator U-M launched in 2009 to house startup companies led by student entrepreneurs. About a dozen companies work out of TechArb, which is located down the hall from Google and SPARK in the McKinley Towne Centre downtown.
-A technology management not-for-profit company called the Michigan Research Institute provides incubator space to startup companies at its 30,000-square-foot facility on Morgan Road in Pittsfield Township.
-The 2,000-square-foot TechBrewery on Jones Drive in Ann Arbor offers low-cost desk space to entrepreneurs and early-stage startup companies, particularly in the information technology sector.
"Our incubator as are essentially full," Finney said. "The whole idea behind business incubation is you support these companies in a variety of ways in the hope that they will ultimately move out into the community and into commercial space. There is some that make it and some that don't make it."
Contact AnnArbor.com's Nathan Bomey at (734) 623-2587 or nathanbomey@annarbor.com. You can also follow him on Twitter or subscribe to AnnArbor.com's newsletters.