Posted on
Wed, May 22, 2013 : 1:08 p.m.
Ann Arbor tech startup FlockTag raises more than $1 million to grow business
By Ben Freed
Melanie Maxwell | AnnArbor.com
As panelists and speakers at the
Michigan Growth Capital Symposium
in
Ypsilanti
continued to deliver
good news and positive predictions
about investment in area startups, one Ann Arbor technology company offered a concrete example for its optimism.
FlockTag, a tech company working to digitize customer rewards for smaller businesses, announced at the conference that it has raised more than $1 million in a Series A round with $250,000 still available for investors who could help the company move forward. CEO David Lin said that the money will keep FlockTag, which previously raised $650,000 in seed funding, operating through the first quarter of 2014.
"The money will help extend our runway as we continue to grow and become profitable," Lin said.
The new round of funding includes $500,000 from Ann Arbor-based Amherst Fund LLC. Amherst President and CEO Matt Turner said he has been involved with every round of funding the company has raised and plans to continue investing as it moves forward.
"As time has gone along, the company has only gotten more and more exciting," Turner said.
"At each stage it's become more and more real, and it's evident that this is something that could be really big."
Turner described the Amherst fund as a "family fund," halfway between an angel investor and established venture capital fund. He said he hopes to attract another VC fund to finish out the current round and build momentum for the company's next fundraising effort.
"We're looking for someone to come in and invest now who can then turn around and be a leader or help with the networking to find a leader for the larger Series B round that will hopefully close next year," he said.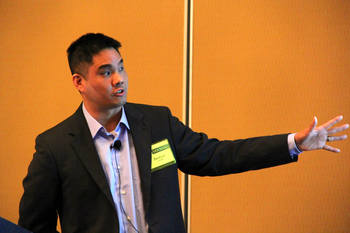 Ben Freed | AnnArbor.com
The
dual premise behind the company
is that small and medium-sized businesses need help delivering rewards and targeted deals to their customers, and at the same time consumers want those rewards and deals delivered in an easy and convenient manner.
FlockTag began as a replacement for the "buy x amount, get one free" cards that many shoppers and diners carry around in large stacks. FlockTag cards use near field technology to "check in" at stores and restaurants by tapping the card on a sensor attached to an Android tablet.
The loyalty platform is a compelling hook, but is really more of a means to an end for the company. The main goal is to collect consumer data that can be turned around and used for hyper-targeted advertising.
"The story we tell to shops is that people are ignoring you and going to shop at a business right near by," Lin said.
"We can help you with that by identifying those same people and offering them incentives to try out your store."
Approximately 100 companies in seven cities across the Midwest use the FlockTag system. There are more than 100,000 customers who have used their FlockTags more than 1 million times.
The company's revenue model is a combination of subscription fees by stores that use the product profit sharing from successful marketing campaigns. FlockTag also takes a cut of "Groupon" type deals that are offered to targeted users who have been identified as potential customers by the system.
In his presentation at the MGCS, Lin estimated that within 5 years his company could be generating $33 million in annual revenue.
The fundraising success by FlockTag makes it the fourth Ann Arbor-area company to raise $900,000 or more in the past month, joining Seelio, IROA Technologies and Esperion.
Ben Freed covers business for AnnArbor.com. You can sign up here to receive Business Review updates every week. Reach out to Ben at 734-623-2528 or email him at benfreed@annarbor.com. Follow him on twitter @BFreedinA2