Posted on
Thu, May 24, 2012 : 2:58 p.m.
Ann Arbor: What would you like to see at the downtown Borders store?
By Paula Gardner
Previous story: Deal signed for redevelopment of downtown Ann Arbor's ex-Borders store
A southeast Michigan real estate investor just took the first giant step toward redevelopment of the former Borders flagship store in downtown Ann Arbor.
While we can presume that Ron Hughes signed his deal for a long-term lease of the property on East Liberty among some plans — or at least a vision — for what he wants to do, there's still room for the rest of us to chime in on what we'd like to see there.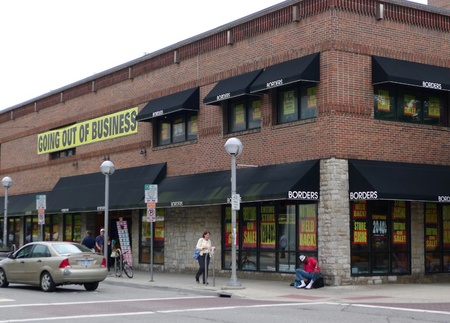 Steve Pepple | AnnArbor.com
It's a key piece of downtown property, once serving as a downtown retail anchor as Jacobson's and then as Borders. The loss of the store, retailers said, fed into a decline of East Liberty over the last year as the once-hot street near the University of Michigan suffered a wave of retail closings and concerns about panhandling.
So, then, what should be there? What would satisfy Ann Arbor on that property? And what would the developer find commercially viable?
Here are my top 5 possibilities:
1. Student housing. I'm not endorsing this one — I want to see how the student rental market nets out by about mid-September after the current wave of building subsides and opens new luxury apartments near downtown. But it's pretty clear that Hughes has a track record with a high-rise (The Landmark, formerly 601 Forest) and existing partners who might consider another deal in Ann Arbor. The terms of the deal aren't clear — but it is possible that they include a ground lease that could make vertical construction on the existing building possible.
2. A large-scale national retailer. That "Crate and Barrel" rumor just wouldn't die about six years ago, and suddenly it seems like a store like that just might — maybe — work in Ann Arbor. Retail is rebounding and siting experts love Ann Arbor, and there could be more nationals coming downtown. Urban Outfitters has made it work for years; now corporate sister Anthropologie is one new possibility for downtown that I've been hearing lately.
3. Multi-tenant retail. Breaking up the space and giving it a fresher look would fit another recent trend: Smaller spaces, which also suit the types of restaurants we're seeing coming to the campus area. (Yes, I mean fast-casual chains). That raises questions about ventilation and what a restaurant would mean for the adjoining offices that First Martin Corp. recently bought. The work would be expensive, but possibly worth it if Hughes could line up a critical mass of prospective tenants. And if one or more space could be priced for an independent or two, all the better.
4. A full-service grocery. It's the other perennial rumor, this time just a bit more viable because we're talking about a larger (44,000-square-foot) building. Many in Ann Arbor maintain that they really, really need this. Others say you can find what you need, just not in a name-brand superstore. And this option raises the question: What happens to the second level?
5. A B.O.B? A Big Old Borders along the line of the Big Old Building in Grand Rapids could be a fun addition to campus. Hey, we know students like to drink — they've put a few downtown bars into the state's top-sellers. A multi-themed concept that would draw from a bigger pool — like downtown workers or locals — could be a game-changer for downtown. The downside: The wrong concept could result in a "Super-Dooleys" trouble spot. (Sorry, I know I date myself by referring to the former student bar on Maynard).