Posted on
Wed, Nov 23, 2011 : 2:27 p.m.
Ann Arbor's 2011 Ultimate Black Friday Shopping Expedition: Get ready for a long night
By Nathan Bomey
(See previous story: Black Friday store hours guide: Ann Arbor area big box stores to begin rolling out deals Thanksgiving night)
Black Friday divides America into two camps: deal shoppers and deal mockers.
If you're in the second camp, shield your eyes. I'm about to spell out Ann Arbor's 2011 Ultimate Black Friday Shopping Expedition.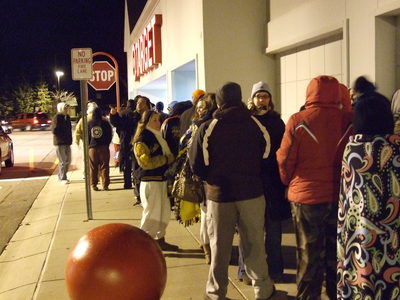 Nathan Bomey | AnnArbor.com
Follow this shopping guide step by step, and you'll surely be filled with holiday cheer.
Just don't forget to pack a turkey sandwich. It's going to be a long night.
8:45 p.m. Thanksgiving: Start the night off right by heading to Arborland Center's Toys "R" Us, which opens at 9 p.m. Spend a few minutes in the doll aisle debating with fellow shoppers whether the "Play and Giggle" triplets are cursing.
The talking dolls, which are exclusive to Toys "R" Us, have sparked a controversy because some people believe one of the phrases they utter is, "OK, crazy b****."
9:45 p.m.: Disturbed by the cursing dolls, decide you're boycotting Toys "R" Us and heading to the Walmart superstore on Ellsworth Road in Ypsilanti Township to get in line for deals that start at 10 p.m.
Ponder whether to purchase the 15.6-inch Compaq Presario dual-core laptop with 1-gigahertz processor, 2 gigabytes of memory and 250-gigabyte hard drive for $198. Briefly wonder how the Compaq brand still exists.
11 p.m.: Make your way to the Best Buy on Lohr Road in Pittsfield Township to get in line for the store's opening at midnight. Hope to grab a "ticket" that gives you the right to purchase the 42-inch SHARP LCD 1080p HDTV for $199.
Chat with shoppers who look like they've been camping out in line for hours. Consider asking why they didn't just work some extra hours and pay for a full-priced TV.
11:35 p.m.: Maintain your resolve when a Best Buy manager informs you that, unfortunately, you needed to get in line last March to get the 42-inch TV.
11:55 p.m.: Arrive at Target and marvel at the line of shoppers waiting to get into the store. Don't videotape yourself walking the length of the line.
Midnight: Rush into Target, trampling shoppers in search of $3.99 DVDs.
12:05 a.m. Friday: Disgusted by the poor selection, pull out your iPhone and sign the Change.org petition protesting Target's decision to open at midnight, which set off a chain reaction of other stores doing the same.
1 a.m.: Armed with a coupon from AnnArbor.com's Thursday print edition for $10 off a $25 purchase, head to Briarwood Mall's Macy's store, which opens at midnight. Remembering that this is the time of night when you usually brush your teeth, bust out the coupon and snag the $99.99 Sonicare toothbrush, which is on sale for $34.99.
1:15 a.m.: Search the mall for toothpaste.
1:30 a.m. Stop in your tracks at Abercrombie & Fitch, which plans to have shirtless male models stationed outside its doors. Wonder how they burned off their Thanksgiving dinners so fast.
1:45 a.m.: Stroll over to the Champs Sports store to see if they have any Air Jordan III Black/Cement shoes left.
2 a.m.: Spurned at Champs, decide to wash your sorrows away with a cinnamon sugar pretzel at Auntie Anne's.
2:15 a.m.: Feeling like you need to be pampered, go splurge at Bath & Body Works for lotions and bubble bath you'll never actually use.
3 a.m.: Experiencing buyer's remorse for the first time all night, find a comfy chair at the mall and ponder whether perhaps you should be giving thanks instead of indulging your desires for more deals.
3:15 a.m.: Shrug off your conscience and drive to Kohl's.
3:30 a.m: Deciding you need some bling, purchase the $1,600, three-carat T.W. diamond bracelet at Kohl's for $249.99.
3:50 a.m.: Head to Meijer, which opens at 4 a.m. Feeling nostalgic, purchase the $15 Lego City Mobile Police Unit set for $4.99.
4:30 a.m.: Waltz over to the new Dick's Sporting Goods store on Lohr Road. Waiting for the store to open at 5 a.m., assemble your Lego set on the sidewalk.
5:55 a.m.: Head back to Macy's and try to score free McDonald's gift cards, which will be handed out at 6 a.m.
5:57 a.m.: Curse the ghost of Ray Kroc when you come away empty-handed.
6:15 a.m.: Head to McDonald's anyway.
7:38 a.m.: Watch the sunrise and briefly forget what day it is.
7:40 a.m. Collect yourself, head to ABC Warehouse on Eisenhower Parkway and marvel at the sight of a department store that bucked the trend and decided not to open until 8 a.m.
9:45 a.m.: Find your way to Puffer Red's in Ypsilanti to see how long the line is to get the new Air Jordan shoe at 10 a.m.
10:15 a.m.: Feeling guilty for shopping at major national retailers, decide to shop local tomorrow as part of Small Business Saturday.
Contact AnnArbor.com's Nathan Bomey at (734) 623-2587 or nathanbomey@annarbor.com. You can also follow him on Twitter or subscribe to AnnArbor.com's newsletters.