Ann Arbor flower shop plays special role in 'The Five Year Engagement'
Posted on Fri, May 4, 2012 : 5:55 a.m.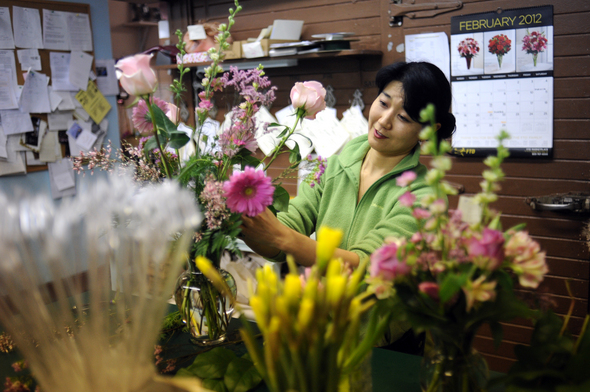 Melanie Maxwell | AnnArbor.com

When Chelsea Flower Shop owner Nobuko Sakoda got a call last April from the set decorator for "The Five-Year Engagement," she wasn't sure if it was real.

Set decorator Sophie Neudorfer was asking if Sakoda could prepare nearly 100 different flower arrangements for about a dozen scenes in the movie, which was mostly filmed on location in Ann Arbor.

Despite her hesitation — and the fact that it was her flower shop's busiest time of the year — Sakoda simply couldn't turn down the request.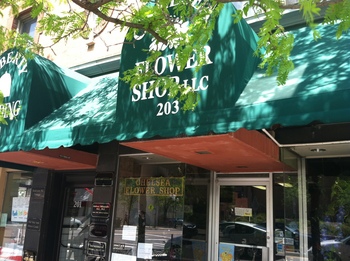 Lizzy Alfs | AnnArbor.com
"I was thinking, 'Oh my gosh, I can do this, but it's going to be a terrible amount of work,'" she recalled.
The following day, Sakoda and her other employees at the 65-year-old flower shop, located on East Liberty Street in downtown Ann Arbor, set to work preparing thousands of flowers for the movie scenes.
"(Sophie) came here with a big notebook and said, 'I need flowers for the scene at a bar, the birth of babies, a New Years Eve scene, four funeral scenes, a barbeque scene,'" Sakoda said.
"She went on and on and on, and the time they wanted these flowers was before Administrative Professionals' Day, the University of Michigan's graduation and Mother's Day," she continued.
During the month-long operation, Sakoda and her employees would prepare arrangements for a particular scene, and then a "big Hollywood truck" would come pick the flowers up at 5:30 in the morning.
"I'd get here at 4:30 or 5:00 a.m. and there would be the truck parked right here in front of the store," Sakoda said. "They were so efficient. They also gave us a check up front."
Sakoda said that check — which was for an undisclosed amount of money — confirmed all the hard work was worth it.
"Business wise, this was very good for us," she said. "And they were very generous with paying. The first proposal I made for the flowers, I thought I asked for a lot of money, but they are from Los Angeles so they are used to higher prices. They said they could pay us more, and they did."
With this year's graduation behind her and a slight lull before Mother's Day, Sakoda has an assignment for herself: Get to the theater to watch the movie, which was released in theaters last weekend.
"We're definitely going to go see the movie," she said.