Posted on
Tue, Jul 30, 2013 : 2:47 p.m.
Ann Arbor's Blimpy Burger to close in August; What's next?
By Lizzy Alfs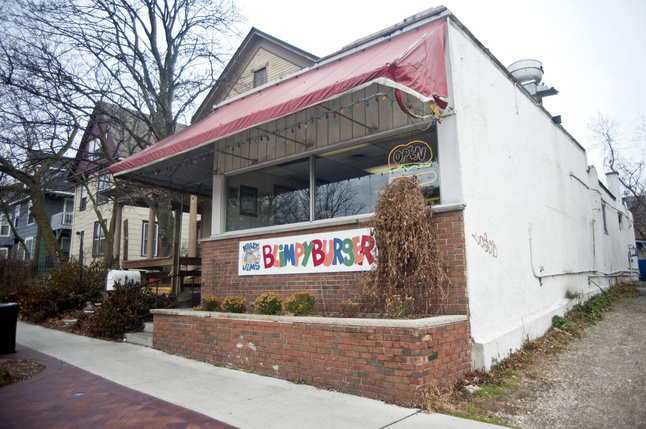 Joseph Tobianski | AnnArbor.com
Fans of
Krazy Jim's Blimpy Burger
have several weeks left to order a triple burger and fries.
But after the iconic Ann Arbor restaurant closes in mid- to late-August, it's unclear when people will be able to satisfy their Blimpy Burger craving again.
"There's no doubt that we will be closed a month or two at least, maybe three," said owner Rich Magner. "I would have liked to transition much quicker than that, but it is what it is."
MLive
Magner has to vacate the Blimpy Burger building at 551 S. Division St. by Aug. 31. By purchasing adjoining parcels that includes the Blimpy Burger property, the University of Michigan plans to build a 600-bed graduate residence.
That means Blimpy Burger will have to close sometime in mid- to late-August so Magner and his employees can pack up equipment and vacate the building. Magner has not set a date for Blimpy's last day of business.
"Sometime mid-month we're going to have to make a move in terms of shutting down," he said. "I have to figure out how much time we're going to need."
What's next for the 60-year-old restaurant is unclear; Magner mentioned starting a Kickstarter campaign to help fund the cost of renovations at a new space, and he's in the early stages of negotiations for two spaces in the downtown area.
But, he added: "I will still entertain other things right until I sign something."
Although Magner was hoping to avoid a time lapse between Blimpy's closure and relocation, he said he's looking forward to a short break. For Blimpy's staff, it might mean finding temporary employment, he said.
Magner told AnnArbor.com in May the vibe at a new Blimpy Burger location would stay the same, but he's toying with new business ideas — such as catering and adding salads or soups to the menu. Ideally, Magner said he would like to have more seats and dining space.
Lizzy Alfs is a business reporter for AnnArbor.com. Reach her at 734-623-2584 or email her at lizzyalfs@annarbor.com. Follow her on Twitter at http://twitter.com/lizzyalfs.