Posted on
Sun, Jun 9, 2013 : 5:59 a.m.
University of Michigan's proposed 600-bed graduate residence: Game changer in higher education and Ann Arbor
By Kellie Woodhouse

View New residence hall area in a larger map
In the near future, University of Michigan expects to raze eight houses and a parking lot in downtown Ann Arbor and erect an eight-story, 600-bed graduate student residence hall at a cost of $185 million.
While the new dormitory will change the landscape of Ann Arbor and further expand the footprint of campus, it's also exploring new frontiers in higher education. The 370,000-square-foot building will include seven-bedroom furnished apartments and an entire floor dedicated to community spaces.
Melanie Maxwell | AnnArbor.com
The large apartments are a departure from the norm in graduate housing; according to Ann Arbor real estate and housing officials, such students —typically in their mid-20s or older— usually seek one- or two-bedroom apartments. The high-occupacy apartments, in which graduate students will be placed randomly, are intended to encourage partnership and collaboration.
And while traditional college housing for graduate students focuses on family-friendly offerings, this new building is intended for single graduate students.
"What happens to students in graduate school is, because they specialize so quickly, they get quite isolated," said Mary Sue Coleman, U-M's president.
The large apartment and community areas, Coleman said, are "designed to break down the intellectual barriers" between students.
Coleman said that "very few universities" are building graduate student residence halls that foster collaboration. Peter Logan, communications director for U-M housing, said the school believes no other university in the U.S. has built a graduate residence hall with seven-bedroom apartments.
Vennie Gore, president of the national Association of College and University Housing Officers and head of housing at Michigan State University, said he's heard of no other graduate student housing project that emphasizes community and collaboration as much as U-M's planned dorm.
The new project also has the potential to draw a new demographic of older students to the neighborhood just south of downtown. Of the 15,480 graduate students enrolled in the fall of 2012, 80 percent were between 22 and 30 years old and 11 percent were between 31 and 35.
Making way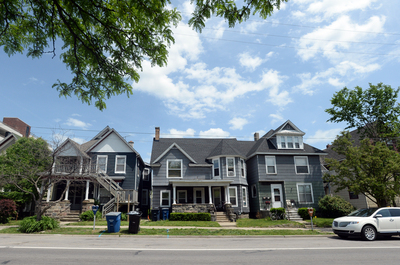 Melanie Maxwell | AnnArbor.com
The residence hall, approved April 18 by regents, will be near West Quad and South Quad, two soon-to-be renovated undergraduate dorms.
In December 2012, the university bought 551 and 545 S. Division Street, on which sits two apartment buildings and the Blimpy Burger building, for $1.5 million. In April 2013, the school's regents approved the purchase of 535 and 537 S. Division Street and 401 and 409 E. Madison Street for $3.17 million. David Copi, of Copi Properties, owns 541 and 543 S. Division St. and has agreed to sell them to the university, although the sale is not final, according to his son Sam Copi. The university had threatened eminent domain if Copi would not willingly sell the properties.
The properties, coupled with an existing surface parking lot that the university owns on Thompson Street, will be razed to make way for the new building.
The project is partially funded by the largest donation in university history. Charles Munger, the vice chairman of Berkshire Hathaway Inc. who attended U-M for two years in the 1940s, donated $100 million toward the building and $10 million toward fellowships for graduate residents. The university is in the process of developing the fellowship program, Coleman said.
"Graduate housing? It's not something universities are able to put aside money for," said regent Andrea Fischer Newman, who credited Coleman for developing the relationship with Munger that led to the $110 million donation.
Munger, 89, also has donated $20 million to the university for the renovation of its 240-bed Lawyers Club dormitory, which is restricted to law students. After a yearlong $39 million renovation, U-M's only central campus residence hall for graduate students will reopen in the fall.
Munger also has contributed to five four- and five-story graduate apartment buildings at Stanford University, which the
San Francisco Chronicle
dubbed
"generic." Those apartments, built in 2009, are intended for collaboration, but to a lesser scale. The apartments in Munger's Stanford project range from studios to four bedroms.
"I think he saw the Michigan project as an opportunity to refine what they did at Stanford and to really expand the things that worked well but that they hadn't done enough of at Stanford," Coleman said of Munger.
Unlike the Lawyer's Club, the new building, which will be named after Munger, won't focus on one discipline; instead it will be open to students from all 19 of the school's colleges.
The building is set to rival some of Ann Arbor's newest student high-rises. The top floor, replete with a skylight ceiling, won't boast a single apartment. Instead, it will include lounges and work areas, a gym and running track and a commissary that will carry food at low prices. Fellows will have access to a fellows' room on the eighth floor.
Each bedroom in the seven-bedroom apartments will have its own bathroom and access to large living and kitchen areas.
There also will be a few three- and six-bedroom apartments in the building and the university anticipates some of the apartments will be used by visiting faculty.
"You're starting to see housing being mixed with a number of different things for students ... many more functions that are involved in the campus housing community, [including] collaboration," Gore said. "You're beginning to see spaces becoming more flexible."
The university declined to release a rendering of the proposed residence hall.
Housing a draw
Housing has become an increasingly important factor for graduate students torn between two or three schools.
According to James Baumann, who also is with the national housing officers association, a student's first question about a college usually centers around his or her academic program. The second question is almost always about housing.
While this sentiment used to apply primarily to undergraduates, it's becoming increasingly befitting to graduate students. That's especially true at campuses like Stanford and New York University, where available housing near campus is limited and expensive, so prospective graduate students need an affordable option. At a school like U-M, where downtown graduate housing isn't as expensive as in major metropolitan areas, the appeal to students comes from a different set of factors, such as the convenient location, amenities and building design.
For Kelsey Vanoverlap, location and amenities drew her to the Lawyer's Club. The first-year law student lives in a two-bedroom apartment in Kerrytown but is moving to the newly renovated Lawyer's Club on the Law Quad in the fall, even though the cost is double the rent she is paying for her off-campus apartment.
"This is a 10-minute walk and that's a 30-second walk," she said. "It's a little more expensive, but you're paying for the convenience."
She said the ability to be around like-minded students also is a draw.
Vanoverlap added: "That was a big drawback for other schools that didn't have housing."
U-M officials are expecting the new graduate dorm to attract applicants and lure students who would otherwise be on the fence about which graduate school to attend. They think it will be a draw for international students and students from out of state.
Withstanding law students, who have access to the Lawyers Club, existing on-campus housing for graduate students is lackluster. The vast majority of graduate students live off campus in neighborhoods like Kerrytown and the West Side, or in apartment communities outside of downtown.
Logan says the school can't accommodate all the requests it receives for graduate housing with existing facilities. Each year a few hundred graduate students are turned away.
Part of the crunch is because the school has transformed three residences —Northwoods I, II and III— into undergraduate housing, even though the apartment and townhouse-style buildings were originally meant for graduate students and students with families. Altogether, switching the housing has eliminated nearly 1,190 graduate beds.
Most graduate students in Northwoods IV and V, which are located on North Campus, are in their 30s or late 20s. Many have families and children who play together in courtyards. A large percentage of the graduate students living there are international.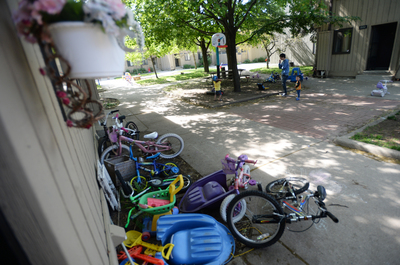 Melanie Maxwell | AnnArbor.com
"Forty years ago universities were building apartments for graduate student families. That's sort of how, as I recall, when I was in graduate school myself, that was sort of the rage," Coleman said. "But theses facilities, they're not really popular anymore."
The school can accommodate 1,240 graduate students with existing facilities. One thousand graduate students, many with their families, live in Northwoods IV and V and another 240 law students can fit into the lawyers club, which will reopen this fall after a $39 million renovation.
A one-bedroom apartment in Northwoods can cost up to $970 a month and a three-bedroom townhouse can cost up to $1,250. A one-bedroom apartment with a 12-meal-per-week plan at the Lawyer's Club costs between $11,660 and $13,260 for an 8-and-a- half-month lease. The price-point for a bed in the proposed graduate hall hasn't been released.
Once U-M finishes its Residential Life Initiative —a decade-long project to renovate many of the school's central campus undergraduate dormitories— in 2015 with the renovation of West Quad, the school could possibly switch 550 Northwoods beds back to graduate housing. Those beds, with the addition of the 600 beds in the Munger dormitory, would double the university's graduate housing capacity.
U-M anticipates housing 10,460 students this fall— 1,180 students less than the college's current capacity because South Quadrangle will be closed for renovations.
A new neighborhood dynamic?
Players in Ann Arbor's real estate and rental housing businesses say the new dorm could alter the composition of the area just south of downtown.
Right now most rentals between South Fourth Avenue and South Division Street, between East Madison and East William Streets, are filled with undergraduate students who attend U-M. Yet developers say that new high-rises targeted primarily to undergraduates —such as Zaragon Place and Landmark— are attracting undergraduates and leaving openings in the area for graduate students.
Amy Khan, president of the Ann Arbor-based CMB Property Management, says that while the area remains primarily inhabited by undergraduates, there's more graduate students living in the neighborhood than in years past.
"We manage a property kitty-corner from where it's going up and we just think it's going to draw more graduate students [to the area]," Khan said of the new dorm. "That will probably change how we market some of our nearby locations."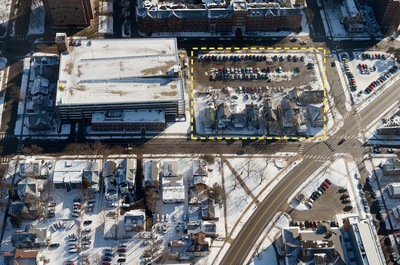 Melanie Maxwell | AnnArbor.com
Khan said the area in the south part of downtown has "the biggest mix" of undergraduates and graduates— unlike Kerrytown, which is known for housing graduate students, or the State Street and Packard areas, which are known for housing undergraduates.
"That area is halfway between campus and Main Street, so it's kind of like that middle road," said Bennett Borsuk, director and co-founder of the Ann Arbor-based Cabrio Properties.
Of the proposed graduate student residence, he added: "It will change the demographics in some of the nearby properties a little bit and it may push where graduate students are living."
One of Ann Arbor's newest high-rises, Zaragon West, which abuts campus and the area just the south of downtown, offers one- to four-bedroom apartments, and is thus attracting a mix of graduate and undergraduate students.
Typically graduate students seek apartments with fewer bedrooms, while undergraduates flock to apartments with several bedrooms. High-rises such as Landmark, which only offers five- and six-bedroom apartments or Zaragon Place, which primarily offers four-bedroom apartments, are populated primarily by undergraduates. Such high-rises are relatively new, and downtown Ann Arbor's student housing scene is still adapting to their presence. The eight-story Corner House was built in 2008, followed by the 10-story Zaragon Place and 10- story 411 Lofts in 2009.
Khan said that since luxury student apartments began springing up in Ann Arbor, she's seen an influx of graduate students in one- and two-bedroom apartments that used to be rented by undergraduates. For example, CMB's Corner House Apartments, near the corner of State and Washington streets, used to be primarily inhabited by undergraduates. Now Khan says graduate students are moving into the one- and two-bedroom apartments.
"It's getting a mix," she said. "In the beginning it was pretty much all undergraduates."
A flood of new beds
The addition of 600 beds to the downtown area also will make downtown housing more competitive. The new dorm, coupled with the end of U-M's housing renovation initiative that's taken between 430 and 1,180 beds offline each year since 2007, will likely affect Ann Arbor's student housing market.
"That does change the campus capacity and it may have an effect on off-campus housing," Logan said, also agreeing that the new graduate dorm "could change the population mix" of the area surrounding it.
Gore said when colleges build new dorms "typically what you see happening is the really good properties will remain full.
"The properties that are located further away from campus will lose students."
Fall 2012 enrollment at U-M was 43,426, up 1,500 students from two years before— with the bulk of the uptick occurring in graduate programs.
"Private developers are always looking at colleges and universities, and especially the tier one universities," Gore said. "They're trying to figure out what's the capacity? What's the opportunity for growth?"
Two high-rises are under construction in downtown Ann Arbor right now: Varsity Apartments and Ann Arbor City Apartments. Two other high-rises have been approved for 413 Huron Street and Church Street. Zaragon West, City Place and Landmark apartment complexes opened in 2012, joining 411 Lofts and the original Zaragon Place. Monthly rents in the new apartment projects range between $800 and $1,745 per bedroom.
When U-M's new dorm opens, its existing dorm renovations end and the new private high-rises open, the Ann Arbor housing market will be flooded with hundreds of new beds.
"It will definitely make finding stuff easier for people and it will affect the pricing as well," Borsuk said. "Right now there's very limited availability."
While Borsuk and others have predictions about exactly how the university's proposal will affect downtown Ann Arbor if built, they all say that the scope and shape of the impact will be hard to pin down until the building is operational.
"It's a guessing game," Khan said.
Kellie Woodhouse covers higher education for AnnArbor.com. Reach her at kelliewoodhouse@annarbor.com or 734-623-4602 and follow her on twitter.