Posted on
Wed, Jun 1, 2011 : 4:30 p.m.
Ann Arbor's Passport Restaurant and Lounge, in former Chi-Chi's space, adds to lunch offerings and free live entertainment
By Angela Smith
You might call it the Chi-Chi's curse.
Chi-Chi's, a Mexican restaurant once located at 3776 South State St. in Ann Arbor, closed in 2004 when the chain folded.
Cherry Blossom Restaurant moved into the space in 2006, but it too went under, in 2008.
The imposing right-angled building sat vacant again until October of 2010 when Passport Restaurant and Lounge opened.
Since then, Passport has become a place where you can find free live entertainment, well-priced lunches and a packed parking lot — even on weeknights.
Has Passport broken the Chi-Chi's curse?
"I hope so," says owner Jenny Wu. "We're getting on the right track."
If anyone would know how to break the streak of bad luck, she would. Wu worked in the building as a college student when it was owned by Chi-Chi's. A Pioneer High School alumna, and a University of Michigan Business School grad, she moved here from Shanghai when she was young.
She's no stranger to the task of running a restaurant — or two. Her mother started the Chinese restaurant Lucky Kitchen in downtown Ann Arbor, and Wu took it over in 1993.
Lucky Kitchen has since opened a second location near U-M's North Campus, and in 2010 Wu wanted to do something "outside of the wok," so to speak. She and her husband opened Passport last fall.
Passport's biggest challenge right now, Wu says, is attracting a lunch crowd.
"But we're willing to do what we can to improve in that area," she says.
Passport already offers a $4.99 15-minute express lunch, which features teriyaki chicken, wraps, and wasabi roast beef sandwiches, among other items.
Beginning today, Passport started offering an internationally themed lunch buffet from 11 a.m. to 3 p.m. on weekdays. For $7.99, guests can choose from a spread of dishes from around the world. Wu says she hopes to offer a variety of cultural flavors: a taco bar one day, a sushi bar another.
Wu says the dinner hour often draws a crowd. The restaurant offers Japanese tatami rooms, which Wu says are popular for intimate or large special occasion dining. The private rooms feature climb-in booths and fold-away walls so that parties as small as 2 or as large as 60 can feel like they have a semi-private venue.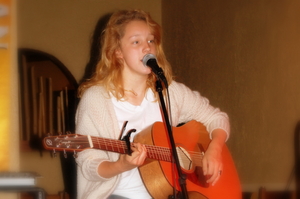 Angela Smith | For AnnArbor.com
Thanks to the restaurant's desserts and specialized martinis, Wu says, she sees many guests who come in for a special occasion, like a birthday or an anniversary, but she'd like people to think of Passport for casual gatherings as well. The restaurant and the food have received positive reviews from AnnArbor.com writers and other critics.
One of the biggest attractions for Passport is the lounge, with a full bar and a disco ball. The lounge offers free live entertainment almost every night of the week, though Wu says the lounge may eventually charge a cover.
Salsa dancing, live jazz, and a "Weekly Wine Down" are just a few of the items on the restaurant's calendar.
Last month, Passport also began featuring a "Young and Talented" evening featuring local performers. Ann Arbor's Anna Elizabeth, a 16-year-old singer, songwriter and guitar player, is playing this Thursday at 6 p.m.
Anna began playing guitar as a young teenager, and began writing her own shortly after. She attends Greenhills School in Ann Arbor.
"I'm excited to be playing multiple shows throughout the summer. They allow a relaxed setting to occur where I can interact with the guests and eat amazing food after." She adds, "the desserts are to die for and the sushi and spring rolls are excellent."
Angela Smith is a freelance writer for AnnArbor.com.