Posted on
Fri, Mar 29, 2013 : 2:59 p.m.
Starbucks, Great Clips among tenants now open at Ann Arbor's Plymouth Road Plaza
By Lizzy Alfs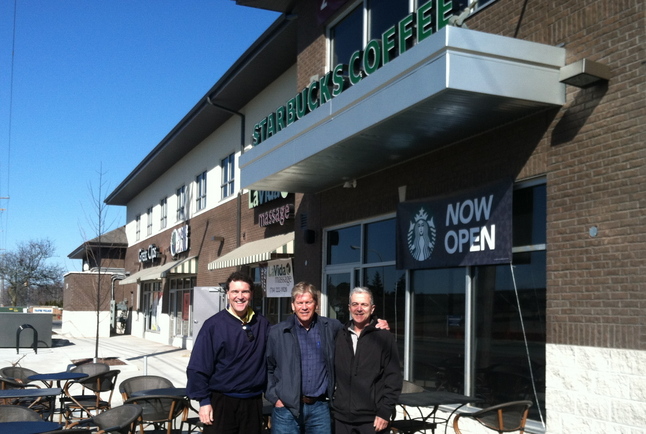 Lizzy Alfs | AnnArbor.com
A mixed-use development on the north side of Ann Arbor opened its doors this week after eight months of construction.
Tenants in the two-story, 21,000-square-foot Plymouth Road Plaza are: DFCU Financial, Great Clips, The Big Salad, LaVida Massage and Starbucks Coffee. The developers still are marketing 9,000 square feet of office space on the second floor for lease.
"This is the best location for us. It's right on the road, so it's very visible. The building is brand new so I had the ability to build-out exactly how I wanted to," said Julie Gabriel, owner of the LaVida Massage franchise.
Local developers Louis Johnson and Jack Edelstein, in a partnership with Plymouth Road Mall owner Vern Hutton, received city approvals for the project in 2007, but it was sidelined when the economy turned south.
Edelstein said improving economic factors and U-M's purchase of the former Pfizer site revived the development this year. It's situated on a 1-acre parcel on the underutilized parking lot in front of Plymouth Road Mall, just east of Nixon Road.
The project's general contractor was Dave Hughes of Vanston/O'Brien.
Great Clips and Starbucks Coffee are officially open for business, while LaVida Massage will celebrate its grand opening on Monday, April 1. Gabriel said the massage center focuses on custom massages and facials. She's also looking to get involved with events in the Ann Arbor area.
"Being involved in the community is important to me, as well as all of my therapists," she said.
The Big Salad, which was founded in 2008 in Grosse Pointe, is planning to open Wednesday, April 3.
"There aren't many (fast-casual and healthful) restaurant options," said franchise owner Kevin Vlazny. "I like it. I'm excited."
The Big Salad and Starbucks have outdoor patio seating, while Starbucks and DFCU Financial have drive-thru lanes. The credit union is aiming for a May 13 opening.
Edelstein estimated there will be 80 employees working at the new development, which doesn't include the second-floor office space.
"Having a new building with this type of image and all the customers that are going to come to this, it's going to be harmonious with what's going on (in the mall) behind it," Johnson said.
The center will have a grand opening celebration from 2 to 6 p.m. on April 26 with a live band and special promotions.
Lizzy Alfs is a business reporter for AnnArbor.com. Reach her at 734-623-2584 or email her at lizzyalfs@annarbor.com. Follow her on Twitter at http://twitter.com/lizzyalfs.