Posted on
Sat, Aug 11, 2012 : 5:59 a.m.
More retail construction in Ann Arbor: Plymouth Road project breaks ground for Starbucks, Little Caesars
By Lizzy Alfs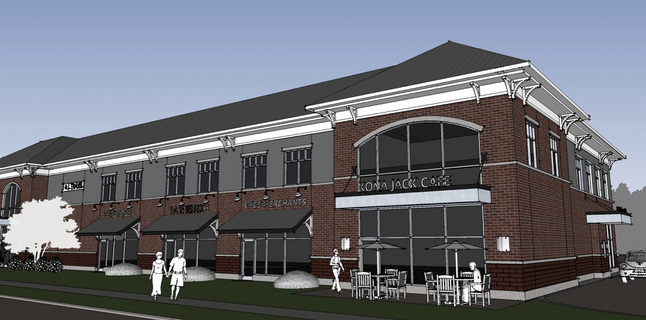 Rendering courtesy of Jack Edelstein
Improved economic factors and U-M's
purchase
of the former
Pfizer
site in Ann Arbor have allowed developers to move forward with a project they first proposed in 2006.
Construction started last week for the two-story, 21,000-square-foot commercial and office building called Plymouth Road Plaza. It's being built on the underutilized parking lot in front of the Plymouth Road Mall, just east of Nixon Road.
Louis Johnson and Jack Edelstein got city approvals for the project in 2007, but it was sidelined when the economy turned south and Pfizer announced it would shutter its 174-acre Ann Arbor research center.
Five years later, the project is off the ground.
"We've had a lot of interest," Edelstein said. "I think certainly with the (University of Michigan) moving into the former Pfizer lot, there's a lot of activity there…I've heard through word-of-mouth that traffic has definitely increased."
The 1-acre property is currently fenced off and construction crews are on site. Edelstein said the goal is to complete the building by Nov. 30 so tenants can start their own build-outs and open by early spring.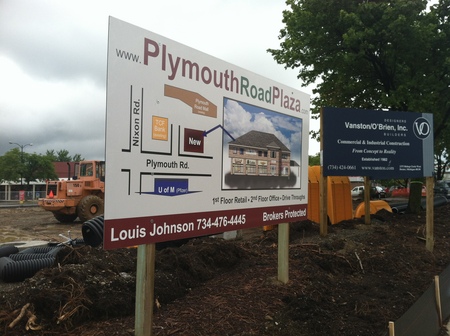 Lizzy Alfs | AnnArbor.com
Starbucks, Little Caesars Pizza, Dearborn Financial Credit Union and La Vita Body Spa have already signed leases for the first-floor of the building, Edelstein said.
Negotiations are under way with a food establishment for the remaining retail space on the first-floor and an office tenant for the 9,000-square-foot second-floor. Johnson, who owns Johnson Group Realtors and Builders, is handling the leasing.
The new building will have two drive-thrus for the end cap retail spaces, one for Starbucks and one for the credit union. There will be an outdoor seating area and the building will be "highly energy efficient," Edelstein said.
It will be situated close to the sidewalk, giving it visibility from Plymouth Road — which is something that has challenged the existing Plymouth Road Mall.
"We recognized this as an opportunity to do an infill project to both add value to this land and also to increase business and traffic to the existing mall," Edelstein said. "A vast portion of the property is not being used."
Plymouth Road Mall is owned by Vern Hutton, who also partnered in the new project. Tenants in that shopping center include Songbird Cafe, Carpenter Brothers Hardware, Domino's Pizza, Way One Market and several others.
The project comes shortly after the neighboring Traver Village shopping center reconfigured its south end cap following Blockbuster's closure. The project relocated the site's frontage to give retailers storefronts directly off Plymouth Road.
Lizzy Alfs is a business reporter for AnnArbor.com. Reach her at 734-623-2584 or email her at lizzyalfs@annarbor.com. Follow her on Twitter at http://twitter.com/lizzyalfs.